The Sandman Will Keep You Awake - The Loop
Play Sound
This article's content is marked as Mature
The page Mature contains mature content that may include coarse language, sexual references, and/or graphic violent images which may be disturbing to some. Mature pages are recommended for those who are 18 years of age and older.


If you are 18 years or older or are comfortable with graphic material, you are free to view this page. Otherwise, you should close this page and view another page.
| | | |
| --- | --- | --- |
| " | Look, Darren's mine. There's nothing you could do about it. I owned him, he does whatever I say. I'm in complete control of him. He's my puppet and I'm his puppetmaster. | " |
| | ~ Dr. Judith Fessbeggler about controlling Darren Silverman. | |
Judith Fessbeggler is the main antagonist and anti-hero of the 2001 comedy film Saving Silverman. She is a beautiful, yet domineering psychologist.
She was portrayed by Amanda Peet.
History
Before she became the controlling girlfriend of Darren Silverman and the worst enemy of his two best friends Wayne and J.D., beautiful but totally controlling psychotherapist, Dr. Judith Fessbeggler was into strong-willed and assertive men and was engaged to a certain man named Josh. Together, they went on a vacation. But his idea of their vacation was to compete in a kick-boxing tournament in Thailand. Judith cheered him on. When Josh beat his last opponent and was on the verge of winning the tournament, that opponent in his anger, did not back down. He uses a swift kick on Josh and knocked him down. Judith watched and cried as her fiance was declared dead at the end of the match. After that, Judith decided that she no longer love tough guys.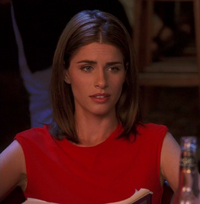 Few years later, Judith met Darren through a chance encounter in a local bar after his friends' band gig since the trio of best pals and Neil Diamond fans have called themselves "Diamonds in the Rough". Darren while being pushed by his two pals to meet her, suddenly became her new boyfriend when Judith says to an amateur magician at the bar, "This is my boyfriend Darren. So hit the pricks, Porky". The man whose feelings now utterly hurt, replies with a farewell "Nice to meet you, Darren... Satan".
Unfortunately, 6 weeks into their relationship, Judith is still making Darren watch her change clothes, and though sleeping together is satisfying for her, Darren gets nothing but a sore jaw. Judith isolates Darren from his friends, demands that Darren quit the band, receive humiliating medical procedures, and attend relationship counseling under her care. Even worse to Wayne and J.D.'s surprise, Judith made Darren burn all his Neil Diamond albums.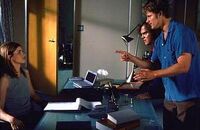 Wayne and J.D. decide to save Silverman from her by attempting to bribe her, arm wrestle her, and shock her with faked photographs of Darren cheating, all to no avail. To Judith, the two fools are only prolonging the inevitable.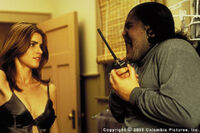 The friends, undaunted, try to reunite Darren with his "one and only", Sandy Perkus, when she returns to Seattle to take her final vows as a nun. When Darren and Judith announce their engagement, Wayne and J.D. kidnap Judith. J.D. in his bird mascot suit, was about to leave the imprisoned Judith after he gave her food when she suddenly said "See ya later J.D." and he replied "Take it easy, Judith--" and realized she easily tricked him into revealing the identity of her kidnappers. When they visit Coach Norton in jail, his advice is that they should just kill her However they couldn't and would not kill her because Judith was right thanks to her psychological know-how.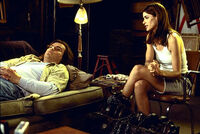 Chained to an engine block in J.D.'s basement, Judith convinces J.D. he is gay using her psychological know-how and a fake therapy she gave J.D. as well. She knocks him unconscious to steal his keys and escape, only to be tranquilized with a dart gun by Wayne.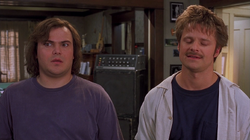 Returned to the basement, Judith seduces Wayne into releasing one of her hands, so she, after beating both Coach Norton and Wayne, escapes again. She runs to Darren's house in time to see him kiss Sandy, but shames him into confessing his engagement to Judith. Sandy, disheartened, returns to the convent again. Darren has Wayne and J.D. arrested after he beat them up and tossed them at poor Sandy's car, but it also was all at the delightful joy of Judith.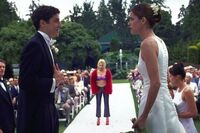 After escaping from jail with the help of Coach Norton, J.D. and Wayne rush to the convent on the brink of Sandy's final vows as a nun. They convince her that Darren still loves her. They then kidnap the famous Neil Diamond who is to help Darren and Sandy reunite. At the wedding, Neil stalls the proceedings with song while Sandy arrives to stop the wedding and rescued Darren who then made the right choice to be with her instead of Judith because she was his one and only someone. As Wayne arrives, he and Judith beat each other up (as love play) then finally kissed each other because they were in love, Darren and Sandy reunite, and J.D. arrives holding Coach in his arms, and come out as gay to each other. On stage at the Neil Diamond concert that night, the priest weds Darren to Sandy, Wayne to Judith, and J.D. to Coach; the entire cast sings "Holly Holy" and lived happily ever after.
Gallery

Villains

Villains
Animated Features
Noah the Elder | Leopard Seal | Killer Whales | Surtr | Nyra | Kludd | Allomere | Jatt and Jutt | Pure Ones | Doomberg | Lord Business | Super Secret Police (Bad Cop & Sheriff Not-A-Robot) | Duplo Aliens | Joker | Harley Quinn | Phantom Zone Criminals (Zod, Sauron, Kraken, Lord Voldemort, Agent Smith, Jaws, Gremlins, Medusa, Lord Vampyre, Wicked Witch of the West, Flying Monkeys, The Swamp Creature & Daleks) | Catwoman | Poison Ivy | Two-Face | Bane | Riddler | Salvatore Maroni | Nolan Sorrento | Innovative Online Industries (I-R0k, F'Nale Zandor & Sixers)
Live-Action Films
Toecutter | Toecutter's Gang (Bubba Zanetti, Nightrider & Johnny the Boy) | Lord Humungus | Lord Humungus' Marauders (Wez) | Aunty Entity | Ironbar Bassey | Hughie Warriner | Jaapie Botha | Colonel Breyton | Sala | Sky Bandits | Xander Drax | Charlie Zephro | Skulls of Touganda | Quill | Singh Brotherhood (The Great Kabai Sengh, The Evil Kabai Sengh & Kabai Sengh) | Ray Zephro | Styles | Jack Farley | Morgan | Breen | Agent Smith | Cypher Reagan | Agents (Agent Jones, Agent Brown & Agent Johnson) | Susan McCallister | Jim Whitlock | Mako Sharks | Kathy Morningside | Jeremy Melton | Judith Fessbeggler | Lewis Strutt | Stanley Jobson | Gabriel Shear | Mr. Tinkles | Calico | The Russian | Alonzo Harris | Patrick Koster | Roger | Jacobim Mugatu | Terry Benedict | Lestat | Akasha | Spiders (Consuela & Tank) | Mayor Wade | Jack Ferriman | Francesca | Mr. Gray | Byrus | Machines (The Architect) | The Merovingian | Agent Thompson | Agent Jackson | Twins | Bane | Vamps | Deus Ex Machina | Trainman | Henry James | Jay McPherson | China | Luther | Martin Asher | Patience Phillips/Catwoman | Hedare Beauty (Laurel Hedare & George Hedare) | Gabriel | Mammon | Balthazar | Lucifer Morningstar | Bo Sinclair | Vincent Sinclair | Arthur Slugworth | Boss Hogg | Sheriff Rosco P. Coltrane | Bill Cox | Oliver Potter | Willy Bank | Alpha Male | Darkseekers | Royalton Industries (Arnold Royalton & Cruncher Block) | Snake Oiler | Agent 23 | KAOS (Siegfried) | Dalip | Shtarker | Spider | Smokie | Lord Henry Blackwood | Lord Coward | Irene Adler | Kitty Galore | Paws | James Moriarty | Sebastian Moran | Keith Clayton | Angelique Bouchard | Dr. Julia Hoffman | Collins Family | Mickey Cohen | Tom Buchanan | Jay Gatsby | Myrtle Wilson | George Wilson | Daisy Buchanan | Donaka Mark | Pearly Soames | Lucifer | Mimics | Nicolai Itchenko | Vladimir Pushkin | Slavi | Guy Danlily | Miss Hannigan | Annie's Fake Parents | Balem Abrasax | Titus Abrasax | Immortan Joe | Cult of the V8 (Rictus Erectus, Prime Imperator, Bullet Farmer, People Eater, Organic Mechanic, Coma-Doof Warrior, Nux, Slit, Ace, Morsov & War Boys) | Daniel Riddick | Susan Riddick | Slappy the Dummy | Monsters (Giant Praying Mantis, Will Blake, Lawn Gnomes, Madame Doom, Brent Green, Haunted Car, Count Nightwing, The Haunted Mask, Igor, Headless Horseman, Nila Rahmad, Grim Reaper & Bride of Frankenstein) | Rhonda George | Léon Rom | Rowan North | Mayhem | Martin Heiss | Electrocuted Ghost | Gertrude Aldridge | Marshmallow Man | Bartholomew Bogue | McCann | Denali | King Vortigern | Mordred | Nolan Sorrento | Innovative Online Industries (I-R0k, F'Nale Zandor & Sixers) | Damian Lewis | Arthur Fleck | Penny Fleck | Clowns (Clown & Ambulance Clown) | Wall Street Three | Penny Fleck's Boyfriend | The Analyst
See Also
20th Century Studios Villains | Amblin Entertainment Villains | Batman Villains | Buena Vista International Villains | Cats & Dogs Villains | Catwoman Villains | Constantine: The Hellblazer Villains | Disney Villains | Lantern Entertainment Villains | Mad Max Villains | Metro-Goldwyn-Mayer Villains | New Line Cinema Villains | Paramount Villains | Sony Pictures Villains | Sherlock Holmes Villains | Stephen King Villains | Steven Spielberg Villains | Tarzan Villains | The Equalizer Villains | The LEGO Movie Villains | The Matrix Villains | Tim Burton Villains | Universal Studios Villains | Warner Bros. Villains