She-Hulk Trailer Dropped - The Loop
Play Sound
| | | |
| --- | --- | --- |
| " | Do you know what it feels like to be hit by a 2,000-pound car? | " |
| | ~ Justin before murdering Principal Kwan. | |
Justin Gaines was a former student of Smallville High School and a metahuman with telekinetic abilities.
He appeared as the main antagonist of the episode "Crush" in the First Season of Smallville.
He was portrayed by Adam Brody, who also portrayed Nikolai Wolf in Jennifer's Body.
History
Early life
Justin Gaines wanted to be an artist and was a gifted cartoonist who created his own comic book series called Flaming Crows Feet for the Smallville High newspaper the Torch. One night, Danny Kwan was driving and accidentally injured Justin in a hit-and-run car accident that permanently paralyzed his hands.
After losing his hands, Justin developed the power of telekinesis and became driven by anger, wanting revenge against anyone he deemed to have wronged him.
Season One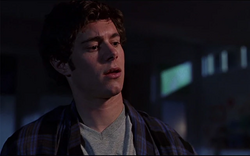 Justin was recovering from surgery in Metropolis Children's Hospital spending time in the art room when Dr. Nathan Wells comes in to check on him. Justin complained about the function loss of his hands.
He has been in hospital for five months since he was in a hit-and-run accident, but his rehabilitation has not gone well, his hands are crippled. Justin was unable to draw or paint anymore and became deeply resentful.
Dr. Nathan Wells attempted to console him saying he had originally been a musician who lost his career, but made the best of his situation when he parlayed his handiwork into a career in medicine.
Justin mentioned that Wells had five malpractice suits against him, so he figures he probably did something wrong in his case as well.
After the doctor leaves for a gala, Justin revealed a good portrait of Dr. Wells and used a marker to cross out his hands while using his abilities to cause an elevator accident which severed the doctor's arms, out of anger for the perceived failure to cure him.
Justin later returned to Smallville and came back to school where he noticed Chloe Sullivan was angry with Clark Kent. Chloe was happy to see him as they had been sharing email messages for the past six months during his recuperation.
Justin offers to buy Chloe a cup of coffee and although she saw Clark over his shoulder, she agrees and they head off together. Justin played on this by pretending to be the caring, sensitive man she was looking for.
Clark caught up with them later back at the Torch. Justin admits that that he didn't remember anything about the accident for a long time, but now he thinks that part of the license plate was DDI.
Chloe was excited about looking into it for him as she and Justin will investigate the accident without Clark's help and she has decided to go to the journalism student convention with Justin.
Later Justin tried using his hands to draw a portrait of Chloe but became frustrated by his crippled hands. He tore up the page and threw it away, then picks up five pencils and pieces of chalk with his mind and starts creating a beautiful portrait.
At school the next day, Clark tries to convince Pete that Justin might not be any good because of the clipping he saw in his portfolio. Justin over hears them and tells Clark to let him have his chance with Chloe.
Justin finds Chloe at the Torch. She is excited to tell him that she sent her contact at the DMV the partial license plate number he gave her. Justin gives her the portrait he did. Then he tells her that when the car hit him and he was lying in the road, he thought of her. He admits that he had a crush on her and he regretting not doing anything about it.
Chloe was touched and they kiss passionately; all the office supplies in the room begin to float. When Chloe opens her eyes, she is startled and everything falls to the floor. Justin admits that he's been telekinetic ever since the accident, but he doesn't want to become an addition to Chloe's Wall of Weird.
Chloe wasn't freaked out- they kiss again just as Clark bursts in without knocking. Chloe leaves the room to talk to Clark, and while she is away, a fax arrives from the DMV with a hit on the partial license plate number with a match.
That night, when Principal Kwan arrives home, he finds a garbage can in his driveway. When he gets out of his car to move the can, Justin confronts him about the accident.
Kwan says that it wasn't him, but Justin slams him up against the garage door. He pulls up the lawn lights and impales Kwan's jacket, so he can't move away. He turns on the car, puts it in gear and crashes it into Kwan and through the garage door and against the far wall.
However, Clark later found out that Kwan's son Danny was the actual driver responsible. Chloe later goes to Justin's house because he wasn't in school that day. Chloe found a sketchbook in his bedroom filled with comics of Dr. Well's accident and Principal Kwan's murder. She guesses that Clark was right to suspect Justin.
When Justin enters the room, he tries to kiss Chloe, but she makes an excuse and a quick exit, but Justin notices his sketchbook is out of place. Chloe calls from the Kent Farm in a panic. She tries to tell Clark how Justin caused the accidents, but Justin is there and he uses his mind to take the phone from her hand.
He closes the door and throws her across the room. He picks her up and drops her, spraining her ankle. Finally, he hits her on the head with a horseshoe, knocking her unconscious.
Just as he advances on her with a chain saw, Clark arrives and takes the hit. He tells Justin that he killed the wrong man. Justin throws Clark across the barn, but Clark, being far more powerful than Justin imagined, super-speeds right back to him and defeats him by throwing him against a wall.
At the end of Crush, Chloe states that Justin's parents said that he was admitted into a psychiatric ward.

Villains
Protagonists