Click to help Cruella!

This scum Kabukimon is driving Cruella insane!
IT MUST BE REWRITTEN OR ADDED TO!!
So sayeth the great Lord of Darkness Sauron, or he will send Darth Vader to terminate you.

Help improve this article by rewriting, expanding, updating the poorly written text of the article. ✓
Jafar says: Read my lips and come to grips with the reality!


This article is a stub and is in need of expansion. You can help Villains Wiki by expanding it.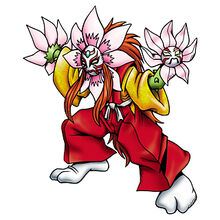 Kabukimon is a minor villain in Digimon Fusion and the anime reboot of Digimon Adventure.
Appearance
Kabukimon is a Armor Level Digimon who has lily hands and climbing arms, he is a kind of mutant.
Biography
Digimon Fusion
Kabukimon is a member of the Bagra Army. He serves as one of Musyamon's henchmen in Digimon Fusion. When he battled against the Dorulumon, could not infer that whether he destroyed.
Digimon Adventure
Kabukimon served as a servant of ShogunGekomon with Gekomon, and he has served his master faithfully. His master took over the hot springs for his own private bath, and he did not realize that the hot springs are for everyone. When his master took over Gomamon, Joe, Hikari, and Takeru tried to come up with a way to save Gomamon from his lord. And then, they decided to make a bait from a hot spring, and lure ShogunGemon there, and they managed to lure him and his master to a bait-hot spring where they started rescuing Gomamon. And in the battle they succeeded in defeating him and his master, and so the hot springs were returned to the use of all, and of course Joe also let him bathe in the hot springs with ShogunGekomon and Gekomon.
Attacks
Gallery