We're Getting Mutants in the MCU - The Loop
Play Sound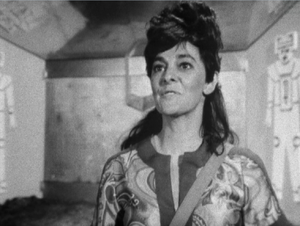 Kaftan is a major antagonist in the Doctor Who story "The Tomb of the Cybermen".
She was portrayed by Shirley Cooklin.
Biography
Kaftan was a member of the Brotherhood of Logicians, a group that believed humanity should be ruled by those with superior intellect. The group hoped to recruit the Cybermen to assist them so Kaftan funded Professor Parry's expedition to Telos, in order to discover their hibernation tombs. She agreed Parry had full control of the expedition but arranged for herself and her colleague Eric Klieg to accompany them, along with her powerful servant Toberman.
On uncovering the tombs, Kaftan offered fifty pounds to anyone who could open them, resulting in a crewman from the ship who had transported them being electrocuted. The Doctor, Jamie and Victoria stumbled upon the group and helped them enter the tombs. As the party divided up into groups to explore, Kaftan joined Victoria and expedition member Viner in examining the revitalisation room. Victoria was trapped in a revitalisation chamber when the power was turned back on and Kaftan nearly killed her by activating it but was stopped by the Doctor.
Kaftan had Toberman sabotage their ship, preventing Parry from prematurely ending the expedition. When the male members of the party descended to explore the tombs, Kaftan stayed behind on the surface with Victoria but allowed Toberman to accompany the others. She drugged Victoria and sealed the tombs, holding Victoria at gunpoint when she recovered. She ignored Victoria's warnings of a Cybermat behind her and was stunned by it. While she was out, Victoria summoned Captain Hopper and Callum from the ship, then confused Kaftan by pretending there was a Cybermat behind her again, allowing her to be overpowered.
By now, Klieg had reactivated the Cybermen but they turned on him and he was forced to flee with the Doctor, Jamie and Parry, leaving Toberman behind. Kaftan and Klieg were locked in a weapons testing room but retrieved a gun, which they intended to use to force the Cybermen to agree to their demands. Holding the rest of the party at gunpoint, they managed to summon the Cyber Controller and Toberman. The Controller agreed to supply them with power units in return for being revitalised but then double crossed them, with Klieg being knocked out by Toberman, partly converted to a Cyberman. The Controller opened the hatch to the tombs in order to summon his Cybermen but Kaftan sealed it again. The Controller promptly killed her.