Wiki Targeted (Entertainment)
Play Sound
This article's content is marked as Mature
The page Mature contains mature content that may include coarse language, sexual references, and/or graphic violent images which may be disturbing to some. Mature pages are recommended for those who are 18 years of age and older.


If you are 18 years or older or are comfortable with graphic material, you are free to view this page. Otherwise, you should close this page and view another page.
| | | |
| --- | --- | --- |
| " | I am Kaine! My actions will speak for me! | " |
| | ~ To Doctor Octopus, Spectacular Spider-Man #221. | |
| | | |
| --- | --- | --- |
| " | Wherever he is... I hope my brother has found peace. | " |
| | ~ Peter Parker/Spider-Man | |
Kaine, now known as Kaine Parker, is a former supervillain turned hero and ally from Marvel Comics. He is the first clone of Spider-Man created by the mad scientist, the Jackal. First thought as a success, Kaine eventually became deformed and degenerate as he slowly dead and was left mentally unstable due to a flaw in the cloning process. He would become the arch nemesis of the original Scarlet Spider and later an opponent to Spider-Man. After helping stopped the Jackal and Spider Queen during the events of Spider-Island, Kaine became a local vigilante during his stay in Houston, Texas as he eventually became a reluctant superhero while trying to make amends for his past.
Biography
Kaine is the name of Spider-Man's clone created by Professor Miles Warren aka the Jackal in an attempt to frame him for crimes, however things didn't go according to plan and he began to degenerate so he throws him out, he feels rejected, some time after his creation he figures that he has all of Spider-Man's powers and more one of which is glimpses into the future and one he calls "The Mark of Kaine" in which he burns away hand prints on his victim's faces, after a time he begins stalking Ben Reilly a perfect clone of Spider-Man and believes he is the real thing because the Green Goblin told him so and also because he thinks he's his father's favorite. Some time later he falls in love with and dates a female police officer named Louise Kennedy, he later finds out she's working for criminals and he kills her and frames Ben Reilly for the murder because they had identical fingerprints
One day he has a vision of Mary Jane being murdered by an unknown villain (he loves her because he has Peter Parker's memories) so he decides to prevent this from happening, he hunts down and murders several villains including Doctor Octopus and the Grim Hunter. Several surviving villains go into hiding because they believe Spider-Man has gone mad, and Mysterio forms together the Sinister Seven to defend against Kaine. Kaine also kidnaps Reilly's girlfriend Elizabeth Tyne and seemingly kills her in order to torment him.
Eventually Peter Parker is arrested for the murders because he Kaine and Riley have identical fingerprints and they are clones of him, Reilly switches places with Parker because they are in good terms and look enough alike, Parker is captured by his rouges gallery and a mock trial is arranged, during the trial Kaine goes mad and admits he is behind the murders he and Spider-Man fight and he has him arrested, of course he doesn't stay in jail long and went after Relly. Some time later they encounter his creator The Jackal and his latest clone Spidercide and do battle with them Spidercide impales Kaine with a spike and he falls from the building seemingly to his death.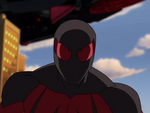 He is later revealed to have survived by climbing inside one of Jackal's regeneration pods, he later reveals that Elizabeth isn't dead but he had her flee the country and she reunites with Reilly, Kaine chooses this time to attack he eventually beats him unconscious in a flaming building he tells him that neither of them deserves to live and that Elizabeth will die with them, Ben tells him to spare her because she's innocent, he then decides to spare them and tries to kill himself by police fire but Ben stops him he then decides to make peace with him and turn himself in to the police.
He spent some time in prison until it was destroyed and he fled the scene, he later learned that Ben Reilly the man who had come to accept him as his brother was dead the Green Goblin had murdered him so he became dedicated into hunting him down, he also learned that Peter and Mary Jane's daughter was alive so he attempted to save her, he killed many Scriers to retrieve a parcel which he thought contained baby May but didn't, he was later captured by Norman Osborn (The Green Goblin) and imprisoned.
He did not resurface until years later where it revealed at some point he encountered Kraven the Hunter, killed his butler, and buried Kraven alive whom later dug himself out three days later, he is later seen hunting down Raptor because he had told him he would cure his degeneration, Raptor reveals that he lied about curing him and in response Kaine kills him, he is later attacked by Kraven's family in revenge for what he did earlier barely escaping with his life he later teams up with Spider-Man in order to defeat them, they are separated and Kaine is captured and beaten within an inch of his life, he is then killed as a sacrifice to resurrect the original Kraven, after the events Spider-Man buries him and marks his grave with "Kaine Parker", he later rises from his grave having mutated with extra appendages.
Gallery
Kaine
Tarantula
Scarlet Spider
Videos

Villains
Comics
Abomination | Absorbing Man | Agony | A.I.M. | Alistair Smythe | Annihilus | Answer | Arcade | Arnim Zola | Awesome Android | Baron Zemo | Basilisk | Beetle | Beyonder | Black Cat | Blackie Drago | Blastaar | Blizzard | Blob | Bombshell | Boomerang | Brothers Grimm | Burglar | Bullseye | Bushwacker | Cadaverous | Calypso | Carlton Drake | Carnage | Carrion | Chameleon | Chance | Constrictor | Crime Master | Crossbones | Daemos | Dark Avengers | Deadpool | Demogoblin | Diablo | Doctor Doom | Doctor Faustus | Doctor Octopus | Doppelganger | Dormammu | Electro | Enforcers | Equinox | Fancy Dan | Firelord | Freak | Frightful Four | Ghost | Gog | Goliath | Grant Ward | Graviton | Green Goblin (Norman Osborn, Harry Osborn and Bart Hamilton) | Grey Goblin | Grizzly | Hammerhead | Hand | Hazmat | High Evolutionary | Hitman | Hobgoblin | Hood | Human Fly | Hybrid | HYDRA | Hydro-Man | Inheritors | Iguana | Jackal | Jack O' Lantern | Jigsaw | J. Jonah Jameson | Johnny Ohm | Jonas Harrow | Juggernaut | Justin Hammer | Kaine | Karn | Killer Shrike | King Cobra | Kingpin | Knull | Kraven the Hunter | Lasher | Lady Deathstrike | Leader | Lightmaster | Living Brain | Living Laser | Lizard | Loki Laufeyson | Madame Masque | Madame Viper | Maestro | Magneto | Mandarin | Man-Spider | Man-Wolf | Mania | Masters of Evil | Menace | Mephisto | Mesmero | Mister Brownstone | Mister Fear | Mister Hyde | Mister Negative | Mojo | Molten Man | Montana | Morbius | Morlun | Moses Magnum | Mysterio (Quentin Beck, Daniel Berkhart and Francis Klum) | Nekra | Nightmare | Niles Van Roekel | Nitro | Onslaught | Overdrive | Owl | Ox | Phil Urich | The Prowler | Psycho-Man | Puma | Punisher | Punisher (Earth-95126) | Ramrod | Raze | Red Ghost | Red Skull | Rhino | Rhino II | Richard Fisk | Ringer | Riot | The Rose | Roxxon Energy Corporation | Sabretooth | Sandman | Sauron | Scarecrow | Scorcher | Scorpion | Scorn | Scream | Sebastian Shaw | Secret Empire | Sentinels | Seth Youngblood | Shocker | Shriek | Silver Sable | Sinister Six | Skip | Skrulls | Solus | Patton Parnel | Spider-Man Revenge Squad | Spider-Slayers | Spot | Street | Super-Apes | Supercharger | Swarm | Symbiotes | Tarantula | Taskmaster | Terminus | The Thousand | Thunderball | Thunderbolts | Tinkerer | Titania | Titanium Man | Tombstone | Trapster | Tyrannus | Ultimatum | Ultron | Venom (Eddie Brock) | Vermin | Vulture | Walrus | Whiplash | White Rabbit | Whirlwind | Will-O'-The-Wisp | Wizard | Worthy | Wrecker | Zodiac | Zombie Spider-Man | Zombie Giant-Man
Movies
Spider-Man: Green Goblin | Dennis Carradine | Bank Robbers | Harry Osborn | J. Jonah Jameson
Spider-Man 2: Doctor Octopus | Harry Osborn | J. Jonah Jameson | Green Goblin
Spider-Man 3: Venom | Sandman | New Goblin | J. Jonah Jameson | Green Goblin | Dennis Carradine
The Amazing Spider-Man: Lizard | Gustav Fiers | Cash Register Thief | Norman Osborn
The Amazing Spider-Man 2: Electro | Green Goblin | Donald Menken | Rhino | Alistair Smythe | Ashley Kafka | Felicia Hardy | Gustav Fiers | Norman Osborn
Spider-Man: Homecoming: Bestman Salvage (Vulture, Tinkerer, Shocker #1, Shocker #2 & Randy Vale) | Mac Gargan | Aaron Davis
Spider-Man: Into the Spider-Verse: Kingpin | Doctor Octopus | Prowler | Tombstone | Scorpion | Green Goblin | Vanessa Fisk | Richard Fisk
Spider-Man: Far From Home: Mysterio's Crew (Mysterio, William Ginter Riva, Victoria Snow, Gutes Guterman, Janice Lincoln, & Doug) | Elementals (Molten Man, Hydro-Man, Sandman, Cyclone and Elemental Fusion) | Skrulls (Talos) | Obadiah Stane | J. Jonah Jameson
Television
Spider-Man (1967)
Vulture | Green Goblin | Electro | Rhino | Mysterio | Doctor Octopus | Scorpion | Human Fly | Kingpin | Lizard | Spider-Slayer | Sandman | Dr. Matto Magneto | Enforcers (Cowboy and Ox) | Frederick Foswell | J. Jonah Jameson
Spider-Man (1981)
Doctor Doom | Kingpin | Doctor Octopus | Lizard | Black Cat | Sandman | Magneto | Mysterio | Ringmaster | Green Goblin | Sidewinder | Kraven the Hunter | Red Skull | Chameleon | Vulture | Hammerhead | Wizard
Spider-Man and His Amazing Friends
Green Goblin | Kraven the Hunter | Doctor Doom | Swarm | Chameleon | Electro | Brotherhood of Mutants (Magneto, Blob, Toad, and Mastermind) | Mysterio | Loki Laufeyson | Ymir | Mordred | Kingpin | Doctor Faustus | Red Skull | Juggernaut | Shocker | Sandman | Dracula | Scorpion | Beetle | Doctor Octopus | A.I.M.
Spider-Man: The Animated Series
Kingpin | Green Goblin (Norman Osborn and Harry Osborn) | Doctor Octopus | Hobgoblin | Venom | Vanessa Fisk | Richard Fisk | Insidious Six (Scorpion, Rhino, Mysterio, Chameleon, Shocker, and Vulture) | Black Cat | Lizard | Morbius | Spider-Carnage | Spider-Slayers (Alistair Smythe) | Carnage | Baron Mordo | Dormammu | Silver Sable | Hydro-Man | Prowler | Doctor Doom | Red Skull | Electro | Hammerhead | Tombstone | Kraven the Hunter | Calypso | Herbert Landon | Jackal | Spot | J. Jonah Jameson
Spider-Man: The New Animated Series
Harry Osborn | Electro | Kraven the Hunter | Turbo Jet | Kingpin | Lizard | Shikata | Silver Sable
The Spectacular Spider-Man
Green Goblin | Tombstone | Doctor Octopus | Hammerhead | Venom (Eddie Brock) | Sinister Six (Rhino, Vulture, Electro, Sandman, Mysterio, and Kraven the Hunter) | Chameleon | Tinkerer | Enforcers (Shocker, Ricochet and Ox) | Molten Man | Silver Sable | Harry Osborn | Lizard | J. Jonah Jameson | Black Cat | Miles Warren | Frederick Foswell | Calypso | Roderick Kingsley | Morris Bench | Cletus Kasady
Ultimate Spider-Man
Doctor Octopus | Green Goblin | Harry Osborn | Taskmaster | HYDRA (Arnim Zola, Crossbones, Morbius, and Baron Mordo) | Sinister Six (Kraven the Hunter, Rhino, Electro, Scorpion, Vulture, and Hydro-Man) | Batroc the Leaper | Beetle | Lizard | Frightful Four (Wizard, Trapster & Klaw) | Juggernaut | Sandman | Venom | Loki Laufeyson | The Collector | Grandmaster | Carnage | Wolf Spider | Shocker | Shriek | Swarm | Dracula | Spider-Slayers (Kaine) | Absorbing Man | Abomination | Annihilus | Arcade | Attuma | Awesome Android | Blastaar | Blizzard | Boomerang | Chitauri | Deadpool | Destroyer | Doctor Doom | Dormammu | Skurge | Enforcers (Montana, Fancy Dan, Ox) | Frost Giants | Grizzly | Hammerhead | Jack O'Lantern | Korvac | The Leader | Living Laser | Man-Wolf | Maximus | Melter | Mesmero | M.O.D.O.K. | Molten Man | Mister Negative | Mysterio | Nightmare | Norma Osborn | Phalanx | Sabretooth | Toad | Ulik | Whirlwind | Wrecker | Piledriver | Thunderball | Ymir | Zodiac | Scorpio | Zzzax | J. Jonah Jameson
Spider-Man (2017)
Symbiotes (Venom, Scream, Scorn, and Mania) | Dark Goblin | Hobgoblin | Doctor Octopus | Vulture/Goblin King | Alistair Smythe | Rhino | Jackal | Hammerhead | Electro | A.I.M. (M.O.D.O.K.) | Spider-Slayers | Lizard | Tinkerer | Swarm | Scorpion | Sinister Six | Kraven the Hunter | Man-Wolf | Silver Sable | Beetle | Spot | Prowler | Molten Man | Mister Negative | Chameleon | HYDRA (Crossbones and Arnim Zola) | Black Cat | Ghost | Blizzard | Absorbing Man | Crimson Dynamo | Overdrive | Mysterio | Jack O'Lantern | Paladin | Puma | Shocker | Living Brain | Sandman | Technovore | Baron Mordo | Knull | J. Jonah Jameson
Video Games
Spider-Man: Return of the Sinister Six: Sinister Six (Doctor Octopus, Electro, Hobgoblin, Mysterio, Sandman and Vulture)
Spider-Man and Venom: Maximum Carnage: Carnage | Shriek | Doppelganger | Demogoblin | Carrion
Spider-Man and Venom: Separation Anxiety: The Jury | Sentry | Ramshot | Screech | Bomblast | Firearm | Wysper | Life Foundation | Symbiotes (Carnage | Riot | Lasher | Agony | Scream)
Spider-Man (2000): Doctor Octopus | Symbiotes | (Carnage, Venom) | Jade Syndicate | Monster Ock | Scorpion | Rhino | Mysterio, J. Jonah Jameson, Lizard
Spider-Man 2: Enter Electro: Electro | Beetle | Hammerhead | Lizard |Sandman | Shocker
Spider-Man (2002): Green Goblin | Shocker | Vulture | Spider-Slayers | Scorpion | Kraven the Hunter | Dennis Carradine | Harry Osborn | J. Jonah Jameson
Spider-Man 2: Doctor Octopus | Harry Osborn | Rhino | Mysterio | Shocker | Puma | Black Cat | Vulture | Calypso | J. Jonah Jameson
Ultimate Spider-Man: Bolivar Trask | Venom | Vulture | Silver Sable | Shocker | R.H.I.N.O. | Electro | Beetle | Green Goblin | Sandman | Carnage
Spider-Man 3: Venom | Sandman | New Goblin | Lizard | Scorpion | Kraven the Hunter | Calypso | Kingpin | Rhino | Morbius | Shriek | H-Bombers (Mad Bomber) | J. Jonah Jameson
Spider-Man: Web of Shadows: Spider-Man | Venom | Kingpin | Black Cat | Vulture | Electro | Tinkerer | Rhino
Spider-Man: Shattered Dimensions: Mysterio | Kraven the Hunter | Hammerhead | Hobgoblin | Electro | Sandman | Vulture | Scorpion | Deadpool | Juggernaut | Silver Sable | Goblin | Serena Patel | Carnage
Spider-Man: Edge of Time: Peter Parker | Atrocity | Walker Sloan
The Amazing Spider-Man: Spider-Slayers (Alistair Smythe) | Lizard | Rhino | Vermin | Scorpion | Felicia Hardy | Iguana | Nattie
The Amazing Spider-Man 2: Carnage | Kingpin | Green Goblin | Shocker | Kraven the Hunter | Black Cat | Electro | Chameleon | Norman Osborn | Cash Register Thief
Marvel's Spider-Man: Sinister Six (Doctor Octopus, Mister Negative, Electro, Vulture, Rhino and Scorpion) | Inner Demons | Norman Osborn | Silver Sable | Kingpin | Shocker | Tombstone | Taskmaster | Black Cat | Screwball | Hammerhead | Walter Hardy | Yuriko Watanabe
Marvel's Spider-Man: Miles Morales: Roxxon Energy Corporation (Simon Krieger) | The Underground (Tinkerer) | Prowler | Rhino | Kingpin | Norman Osborn | Doctor Octopus | Vulture