Wiki Targeted (Entertainment)
Play Sound

✓
| | |
| --- | --- |
| | This Article Contains Spoilers - WARNING: This article contains major spoilers. If you do not wish to know vital information on plot / character elements in a story, you may not wish to read beyond this warning: We hold no responsibility for any negative effects these facts may have on your enjoyment of said media should you continue. That is all. |
This article's content is marked as Mature
The page Mature contains mature content that may include coarse language, sexual references, and/or graphic violent images which may be disturbing to some. Mature pages are recommended for those who are 18 years of age and older.


If you are 18 years or older or are comfortable with graphic material, you are free to view this page. Otherwise, you should close this page and view another page.
Jafar says: Read my lips and come to grips with the reality!


This article is a stub and is in need of expansion. You can help Villains Wiki by expanding it.                       
Kaine is a recurring supporting antagonist in the popular historical seinen anime and manga series,, Kingdom. She is one of Ri Boku's closest vassals since their days on the Gan Mon northern border regions of the state of Zhao.
She was voiced by Chisa Yuuki.
Personality
A deadly serious person, Kaine seems to be organized at all times and has a wide vision of what is happening around her.
Biography
Ri Boku/Li Mu
Battle of Bayou Arc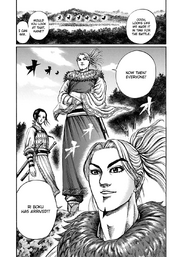 During Zhao's invasion into the lands Qin during the fourth day of Battle of Bayou, Kaine arrives with Ri Boku.
Born and raised in the province of Gan Mon in the northern part of Zhao, which was continuously raided and pillaged by the Xiongnu in that region. As a youth, Kaine's parents were brutally killed, and she was orphaned by the Xiongnu Horse Tribes. All generals who were sent there failed to subdue the threat as they were usually too hot-headed and impatient to pursue effective strategies. Consequentially, they kept dying until Ri Boku, a relatively new and young general, was appointed there. He was able to halt the Xiongnu's raids by simply avoiding confrontation. Instead of facing them directly, he drilled the villagers into learning to evacuate and taking shelter inside the walls of Gan Mon castle during the attacks.
Initially, she and her friends did not like this strategy and always wanted to face them head-on instead of cowardly evacuating, want to seek revenge for her family's death at the hands of the Xiongu. However, Kaine soon came to realize that Ri Boku had suffered the same past as her; having been orphaned in a war and losing his brothers, and close friends. Driven mad by vengeance, he and his battalion disobeyed orders and charged at the enemy camp but his satisfaction at killing the enemy general soured upon discovering his recklessness led to his entire unit (containing the rest of his family and friends) being completely wiped out. Instead of choosing to remain the path of revenge, he chose to become a strategist in order to save his comrades' lives as often as possible instead of endangering them. Unaware that Kaine now understood Ri Boku's actions, her friend reported to central Zhao that Ri Boku was neglecting his duties, so he was relieved and replaced by yet another hot-headed commander. The result was devastating, and Gan Mon Castle was soon overrun, the replacement general was immediately killed, most of the Zhao's forces in the region were killed, and refugees were forced to flee south. In the aftermath of a battle, her friend Zhao was killed and besides Kaine, there were only a handful of survivors. Meanwhile, wounded, Kaine regretted what Ri Boku's exile did to Gan Mon. Soon after Zhao and her comrades were buried, Ri Boku returned and started anew; much to Kaine and the survivors' relief. Sometime afterward, he and Kaine were able to amass enough skilled soldiers to wipe out an army of Xiongnu raiders, a battle that Yo Tan Wa witnessed the aftermath of upon setting out on her own campaign against the horsemen tribes.
After Ri Boku left to follow his path in warfare and politics, Kaine came along with him as his bodyguard.
Links

Villains
Ai Kingdom
Leaders: Rou Ai | Bi Ki
Officials: Ko Reki
Generals: Han O Ki | Han Roki | Wa Tegei
Assassins
Muta | Clan Shiyuu | Shiyuu Elders | Yuu Ren | Yuu Tribe | Clan Shukyou | En Tei | Jo Kan | Sa Ji

Chu Kingdom
Leaders: Shun Shin Kun
Ri En | Ka Rin
Great Generals: Kan Mei | Kou En
Generals: Bei Man | Rin Bu Kun | Gou Ma Sho | Haku Rei | Kou Yoku
Strategists: Jin Ou | Ju Ko Ou
Officials: Chou Kou
Soldiers: Bam Yuu | Gou Toku | Ka En
Affiliates: Gen'U | Kai Shi Bou | Kyou En | Man'U | Ren Pa | Sen To Un

Qin Kingdom
Leaders: Ei Sei | Ryou Fui | Sei Kyou | Shou
Great Generals: Haku Ki | Kan Ki
Generals: Ryuu
Commanders: Koku'Ou | Ma Ron | Rai Do | Ogiko | Saki | Zen Ou | Ran Dou
Soldiers: Gan Jin | Gi Kou | Kan Ki Army
Officials: Shi Shi | Ri Shi | Ketsu Shi

Wei Kingdom
Prime Minister: Gek Ka Kou
Great Generals: Earl Shi | Gai Mou | Go Hou Mei | Go Kei | Haku Ki Sai | Rei Ou
Generals: Ga Gyuu | Gyo En | Jun Ei | Ran Bi Haku | Ryuu Han
Soldiers: Shuu Kou | Kou Ri Gen
Strategists: Jun Sou | Ha Ri
Affiliates: Four Heavenly Kings of Ren Pa

Yan Kingdom
Great Generals: Gaku Ki | Geki Shin | Ordo
Soldiers: Yuki | Otaji

Zhao Kingdom
Leaders: Tou Jou | Sen
Prime Minister: Kaku Kai
Great Generals: Three Great Heavens | Rin Shou Jo | Chou Katsu | Hou Ken | Ri Boku | Ko Chou | Shi Ba Shou | Gaku Jou
Generals: Ba Tei | Chou Sou | Chou Ga Ryuu | Gaku Haku Kou | Gyou'Un | Kei Sha | Kou Son Ryuu | Ri Haku | Fuu Ki | Ryuu Tou | Ryuu Haku Kou | Earl Kou | Earl Rai | Ko Haku Kou | Kin Mou | Man Goku | Shun Sui Ju | Shin Sei Jou | Ba Nan Ji | Mai Kou | Chou Haku | Gaku Ei | Gou Ki | Kou Ki Ou
Commanders: Gi Ka | Kaine | Fu Tei | Jo Shou | Jo Rin
Soldiers: Ten Spears
Affiliates: Bunen | Goba | Geeli | Rozo | Tork | Quanrong