Jurassic World: Dominion Dominates Fandom Wikis - The Loop
Play Sound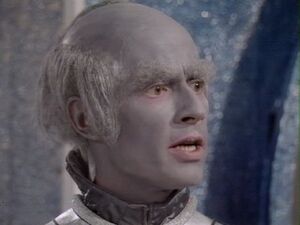 Kalik is the main antagonist of the Doctor Who story "Carnival of Monsters".
He was portrayed by the late Michael Wisher, who also portrayed Davros in "Genesis of the Daleks".
Biography
Commissioner Kalik was an official with the immigration commission on the planet Inter Minor. He was the brother of President Zarb, but strongly opposed his brother's liberal policies which included opening their borders to aliens and providing more rights to the Functionary class. Kalik personally shot a Functionary who tried to rebel, sending him for medical examination prior to execution as per orders.
Kalik was part of a three-man committee assessing whether to grant visas to visiting entertainers Vorg and Shirna. He opposed the idea of entertainment and pressured his colleague Orum to vote with him against Chairman Pletrac. They did take a viewing of Vorg's Miniscope but Kalik's discovery that it contained not recordings but live specimens of other species who had been miniaturised prompted even the moderate Pletrac to unsuccessfully try to have it destroyed.
Kalik's interest was piqued when the Doctor and Jo, who had become trapped in the scope, strayed into an environment full of the carnivorous Drashigs. He convinced Vorg he had a duty to protect them, while actually arranging for the Drashigs to pursue the Doctor and Jo out of their environment into the scope's inner workings. He explained to Orum that he intended for the Drashigs to get loose and attack the city: Zarb's policies would be blamed and Kalik would be able to depose him. In order to stop the Drashigs being quickly quelled, Kalik had Orum remove a vital component of the space port's eradicator and planted it in Vorg's belongings.
When the Doctor emerged from the scope, Kalik stopped Pletrac using the eradicator on him in order to stop his sabotage being discovered. With Vorg and Shirna about to be deported with the miniscope and the Drashigs still not loose, Kalik resorted to prizing open the scope's outer casing himself. He succeeded, only to become the emerging Drashigs' first victim.