This article's content is marked as Mature
The page Mature contains mature content that may include coarse language, sexual references, and/or graphic violent images which may be disturbing to some. Mature pages are recommended for those who are 18 years of age and older.


If you are 18 years or older or are comfortable with graphic material, you are free to view this page. Otherwise, you should close this page and view another page.

✓



Click To Help Dr. Wily!

Dr. Wily has declared that this article is still under construction.
Please don't delete or edit this article yet, it may contrast with the original author's edits.
After I finish this article, the world will be mine! MWAHAHAHAHA!
The Kamikaze is the infamous protagonist of Pyrozen online game series, Mass Mayhem. He is a violent terrorist that wreck havoc by killing (or even injuring) many living things (including innocent people, animals, authorities as well as zombies) and destroying properties, vehicles, etc...
Weapons, equipments and vehicles
Common weapons and equipments
Kamikaze bomb: Common weapon (except in EBZA) blowing up anyting and/or anyone nearby, as well his user himself in the process. In Mass Mayhem, it count five to explode if run out of rockets, and cause to blow off a chunk of Earth (see in crimes)
Rocket launcher: Most common weapon that is able to guide missiles, slice individuals with those, trigger space to blow those up, and fall to the ground to explode like an air strike if run out of fuel
Jetpack: Common flying device (except in EBZA) that will even run out of fuel.
Mass Mayhem 2
TBA
Mass Mayhem 3
TBA
Mass Mayhem 4
TBA
Mass Mayhem: Extra Bloody Zombie Apocalypse
TBA
Mass Mayhem: 2099 A.D.
TBA
Crimes
Kamikaze' common crimes are murder of innocents and destruction of buildings and vehicles (which then count three to explode in Mass Mayhem 1, 2, 3 and A.D. 2099). All of the crimes he commited depends on himself: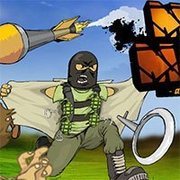 Mass Mayhem
Slaughter of farm animals
Destruction of jets, causing them to crash, and may destroy anything and/or anyone nearby in the process like all other flying vehicles in the other parts of the game series
Destruction of a piece of Earth surrounding Northern portion of America (except Southern part of Florida) and nearby small portion of Atlantic Ocean to send off atmosphere by causing it to send off atmosphere (see in weapons, equipments and vehicles).
Mass Mayhem 2
Murder of nine gangs; U.S. Army, Al Qaida, thugs, Kamikazes, K.K.K., bikers, skinheads, mafiosos and Nazis
Destruction of burning cross (K.K.K.'s area), church (mafiosos' area tank (U.S. Army's area; bit resistant to be destroyed), explosive barils, Reich Chancellery Eagle statue (Nazis' area) bikes (bikers' area; causing them to explode) sprayed train (thugs' area; a few times to blow it up) and/or satellite.
Mass Mayhem 3
Urban zone
Murder of zombies which aren't harmful like most of the individuals
Destruction of helicopters, causing them to crash
Draw of an intention to a shark to devour anyone who are on water of the beach
Destruction of a ferris wheel, causing it to roll to anyone in its path until it ends up shattered at dead end in the process
Wild zone
Murder of gazelles, zebras and/or wild boars in savannah, and a yeti inside a cave of snowy mountains
Disrespect of nature by destroying savannah trees
Mass Mayhem 4
Damage of highway bridge, causing the traffic to crash off the bridge
Intrusion inside the underground facility by destroying secret obstacle
Damage of fragile situation inside the mines, causing an earthquake
Destruction of light aircrafts, future fighter jets and/or airplanes
Destruction of nuclear power plant, causing an explosion destroying the left side of the power station and church or the right side and cemetery, and killing everyone in these areas in the process
Mass Mayhem: 2099 A.D.
TBA
Appearance
TBA
Personality
TBA
Trivia
There are some references from the player to Terminator series:

While fighting the zombies in Mass Mayhem: Extra Bloody Zombie Apocalypse, he says "Hasta la vista, zombies" which refers to Terminator's famous quote; "Hasta la vista, baby" in Terminator 2: Judgement Day.
In Mass Mayhem: 2099 A.D., there is one of types of appearance ressembling to cyborgs from Terminator series.

In Mass Mayhem: 2099 A.D., one of types of appearance ressembles Bane from The Dark Knight: Rises.
Community content is available under
CC-BY-SA
unless otherwise noted.