Jurassic World: Dominion Dominates Fandom Wikis - The Loop
Play Sound

✓
| | |
| --- | --- |
| | This Article Contains Spoilers - WARNING: This article contains major spoilers. If you do not wish to know vital information on plot / character elements in a story, you may not wish to read beyond this warning: We hold no responsibility for any negative effects these facts may have on your enjoyment of said media should you continue. That is all. |
This article's content is marked as Mature
The page Mature contains mature content that may include coarse language, sexual references, and/or graphic violent images which may be disturbing to some. Mature pages are recommended for those who are 18 years of age and older.


If you are 18 years or older or are comfortable with graphic material, you are free to view this page. Otherwise, you should close this page and view another page.
Jafar says: Read my lips and come to grips with the reality!


This article is a stub and is in need of expansion. You can help Villains Wiki by expanding it.                       
| | | |
| --- | --- | --- |
| " | WHO IS THE STRONGEST!? WHO IS THE STRONGEST!? WHO IS THE STRONGEST!? KAN MEI!! HIS BREATH CAN SHATTER BOULDERS! WITH ONE SWING HE SINKS MOUNTAINS INTO THE EARTH!! THE STRONGEST MAN AMONG MEN UNDER THE HEACENS! WHO IS IT!? KAN MEI! | " |
| | ~ Kan Mei and The Kan Mei Army's war chant. | |
| | | |
| --- | --- | --- |
| " | What a coindence. I also pride myself on being the strongest man in all of China. If you claim to be the same...Then we must settle this...Right here and now on this stage under the gaze of all in China. Just which of us is the Real Man | " |
| | ~ Kan Mei to Mou Bu as they meet on the battlefield. | |
| | | |
| --- | --- | --- |
| " | Let me tell you something interesting. As someone who has realized he is without peer, how do you think I feel about fighting on the battlefield? There is only one emotion. Boredom. That is all. Then for what do I fight!? Because I seek a worthy opponent!? Wrong!! Because it is my Duty! To crush, from head on, those fools who would mistakenly believe themselves to be strong! I do it to fulfill my duty as one who transcends humanity! My duty as a Great General of a true superstate! Such is...The Giant of Chu! Kan Mei!!! | " |
| | ~ Kan Mei expressing his pride to Mou Bu during their duel. | |
Kan Mei is a central antagonist in the historical seinen anime and manga series, Kingdom.
Appearance
Kan Mei was an extremely muscular and huge man, being one of the tallest men in the series as he was even bigger than Ordo and Mou Bu. He had black hair styled in a horn-like haircut with a long ponytail that reached his shoulders and a short goatee on his chin. In his younger days, his hair was simply just a ponytail. Kan Mei appeared to in his 40s and attire was that of a decorated armor unique to his rank and title of a Great General. His forearms are covered in multitude of scars from various conflicts, and he was known for his particularly loud voice, which could be heard across a great distance.
Personality
Kan Mei was an extremely prideful man that held absolute confidence in himself due to his superhuman strength and endless number of successive victories on the multiple battlefields. He admitted that boredom was all that filled him as he had yet to find an opponent that could "stir his blood" but he didn't let it shake his duties in being a proud symbol of military might for the superstate of Chu as a Great General.
Gallery
Images
Videos
Trivia
Kan Mei is based on the historical figure, Han Ming. However, in actual history Han Ming was most likely a scholar, rather then a great general.
Links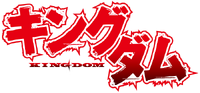 Villains
Ai Kingdom
Leaders: Rou Ai | Bi Ki
Officials: Ko Reki
Generals: Han O Ki | Han Roki | Wa Tegei
Assassins
Muta | Clan Shiyuu | Shiyuu Elders | Yuu Ren | Yuu Tribe | Clan Shukyou | En Tei | Jo Kan | Sa Ji

Chu Kingdom
Leaders: Shun Shin Kun
Ri En | Ka Rin | Chu Prince

Great Generals: Kan Mei | Kou En
Generals: Bei Man | Rin Bu Kun | Gou Ma Sho | Haku Rei | Kou Yoku
Strategists: Jin Ou | Ju Ko Ou
Officials: Chou Kou
Soldiers: Bam Yuu | Gou Toku | Ka En
Affiliates: Gen'U | Kai Shi Bou | Kyou En | Man'U | Ren Pa | Sen To Un

Qin Kingdom
Leaders: Ei Sei | Ryo Fui | Sei Kyou | Sho
Great Generals: Haku Ki | Kan Ki
Generals: Ryuu
Commanders: Koku'Ou | Ma Ron | Rai Do | Ogiko | Saki | Zen Ou | Ran Dou
Soldiers: Gan Jin | Gi Kou | Kan Ki Army
Officials: Shi Shi | Ri Shi | Ketsu Shi

Wei Kingdom
Prime Minister: Gek Ka Kou
Great Generals: Earl Shi | Gai Mou | Go Hou Mei | Go Kei | Haku Ki Sai | Rei Ou
Generals: Ga Gyuu | Gyo En | Jun Ei | Ran Bi Haku | Ryuu Han
Soldiers: Shuu Kou | Kou Ri Gen
Strategists: Jun Sou | Ha Ri
Affiliates: Four Heavenly Kings of Ren Pa

Yan Kingdom
Great Generals: Gaku Ki | Geki Shin | Ordo
Soldiers: Yuki | Otaji

Zhao Kingdom
Leaders: Tou Jou | Yuu Boku
Prime Minister: Kaku Kai
Great Generals: Three Great Heavens | Rin Shou Jo | Chou Katsu | Hou Ken | Ri Boku | Ko Chou | Shi Ba Shou | Gaku Jou
Generals: Ba Tei | Chou Sou | Chou Ga Ryuu | Gaku Haku Kou | Gyou'Un | Ji Aga | Jyou Ka Ryuu | Kan Saro | Kei Sha | Kou Son Ryuu | Ri Haku | Fuu Ki | Ryuu Tou | Ryuu Haku Kou | Earl Kou | Earl Rai | Ko Haku Kou | Kin Mou | Man Goku | Shun Sui Ju | Shin Sei Jou | Shou Mou | Ba Nan Ji | Mai Kou | Chou Haku | Gaku Ei | Gaku Shou | Gou Ki | Kou Ki Ou
Commanders: Ba Fuu Ji | Gi Ka | Kaine | Fuu On | Fu Tei | Jo Shou | Jo Rin | Un Gen | Un Kei
Soldiers: Ten Spears
Affiliates: Bunen | Goba | Geeli | Rozo | Tork | Quanrong