She-Hulk Trailer Dropped - The Loop
Play Sound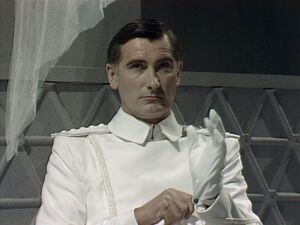 Kane is the main antagonist of the Doctor Who story "Dragonfire".
He was portrayed by Edward Peel.
History
Kane was the co-leader of a criminal organisation on the planet Proamon with his lover Xana. They were eventually tracked down by the authorities. Xana died resisting arrest while Kane was sentenced to permanent exile. He was sent to the planet Svartos, one of the few places where he could survive, since he had a body temperature so low he could freeze people to death with his touch: The planet had a permanent dark side. The spaceship that carried him there was disabled, with the power source, the Dragonfire, encased in the head of a bio-engineered creature which became known as the Dragon, equipped with heat rays.
Kane spent 3000 years in exile on Svartos. He turned the spaceship into a trading colony, Iceworld, and employed an army of mercenaries. Some he manipulated into volunteering, marking them by having them take a coin which had been frozen by his touch and burned their hands. Others he froze, robbing them of identity and memory and making them follow his orders. He dreamed of revenge on his home planet.
When the trader Sabalom Glitz came to the planet, Kane saw a way to track down the Creature. Having bought Glitz's crew off him for freezing as mercenaries and had him lose his money on a rigged card game, Kane encouraged him to search for the treasure supposedly located in the lower levels, giving him a map fitted with a tracking device. The Doctor ended up accompanying Glitz on his quest. Kane attempted to recruit Ace to his army but she refused, resulting in him sending his mercenaries after her and Mel.
Kane employed a sculptor to create an ice statue of Xana, then killed him. Since his body needed to have its temperature lowered artificially at certain periods, his captain Belazs and sergeant Kracauer attempted to kill him by sabotaging the equipment but he survived and killed them both.
Having heard via the bugged tracking device that the Doctor, Mel, Ace and Glitz had located the Creature and the Dragonfire, Kane sent two of his troops after them. He had his mercenaries herd Iceworld's inhabitants into Glitz's old ship and launched it into space, then blew it up, killing them all. Although his troops were killed before they could retrieve the Dragonfire, Kane captured Ace and threatened to kill her if the Doctor and Glitz didn't bring the Dragonfire to him.
The Doctor complied and Kane was finally able to repower Iceworld and launch it towards Proamon. However, with his navigation systems working for the first time in 3000 years, Kane was finally able to learn what the Doctor had already realised: Proamon had been destroyed thousands of years earlier when its sun went nova and he had no-one left to get revenge on. Shocked by the news, Kane opened the control room's sun filter and was struck by direct sunlight which rapidly melted him.