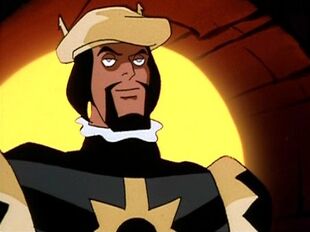 Kanto is a New God and villain in the Superman media serving under Darkseid.
Biography
Real name Iluthin, Kanto is one of Darkseid's most powerful assassins. He was sent to Earth by Darkseid to supply greedy criminals Apokolipitan weapons. Mannheim was suspicious about Kanto giving them free weapons. Kanto introduced his boss to Mannheim when the latter followed him to Apokolips.
In the comics, he often wears the clothing and personality of a nobility-bound medieval European assassin.
A student at Granny Goodness' orphanage, Kanto is accused by Kanto 13 and others of stealing Darkseid's weapons and is punished accordingly. He is exiled to Earth during the planet's Renaissance era. Once there, he trains under Italian teachers and even falls in love with a woman named Claudia. Kanto 13 tracks Iluthin to Earth and ends the life of Claudia at their wedding, leading the two to battle until Kanto 13 falls, and is taken out by Darkseid for failing his mission. This leads Kanto returning to Apokolips to serve Darkseid.
Amalgam Comics
In the Amalgam universe, Kanto surprisingly had the same name when he served under Thanoseid. But his origin in this case had aspects of Validus, when it was revealed that he was the time-lost son of the Steve Trevor/Frank Castle fusion and the Amalgam version of Princess Diana, who in Amalgam lost out on being Wonder Woman to her adopted sister, Ororo Munroe, normally Storm. Thanoseid had raised him not only as an assassin but as a trap, hoping to one day trick his parents into killing him. This effort failed, and this version of Kanto indicated he might join his parents' side one day.
Television History
Justice League Unlimited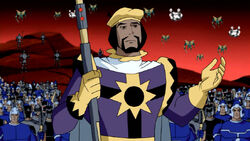 Kanto appeared in Justice League Unlimited siding with the forces of Virman Vundabar during the civil war on Apokolips against Granny Goodness.

Villains
Comics
Alex Luthor | Amanda Waller | Amazo | Anti-Monitor | Atlas | Atomic Skull | Barbatos | Bernadeth | Bizarro | Black Adam | Black Banshee | Black Zero | Blanque | Blackrock | Bloodsport | Brainiac | Bruno Mannheim | Bug-Eyed Bandit | Captain Boomerang | Captain Cold | Cheetah | Chemo | Circe | Coldcast | Cyborg Superman | Dabney Donovan | Dark Knights | Darkseid | Deathstroke | Dev-Em | The Devastator | Doctor Manhattan | Doctor Polaris | Doomsday | Eclipso | Equus | Eradicator | Faora Hu-Ul | Funky Flashman | General Zod | Gorilla Grodd | Heat Wave | Hector Hammond | Hellgrammite | Imperiex | Intergang | Jax-Ur | Joker | Karkull | King Shark | Lex Luthor | Livewire | Lobo | Major Disaster | Manchester Black | Masters of Disaster | Maxwell Lord | Mercy Graves | Metallo | Mongul | Morgaine Le Fey | Morgan Edge | Mxyzptlk | Neron | Neutron | Nick O' Teen | Parasite | Phantom Zoners | Plasmus | Plastique | Prankster | Preus | Prometheon | Prometheus | Preserver | Queen of Fables | Rampage | Reverse-Flash | Royal Flush Gang | Secret Society of Super Villains | Shockwaver | Silver Banshee | Sinestro | Solomon Grundy | Subjekt-17 | Suicide Squad | Superboy-Prime | Superman Revenge Squad | Spellbinder | Talia al Ghul | Thaddeus Killgrave | Titano | Toyman | Ultra-Humanite | Ultraman | Weather Wizard | William Dunn
Theatrical Movies
Superman: Lex Luthor | Otis | Eve Teschmacher | General Zod | Non | Ursa
Superman II: General Zod | Non | Ursa | Lex Luthor | Otis | Eve Teschmacher | Rocky
Superman III: Ross Webster | Corrupted Superman | Vera Webster | Lorelei Ambrosia
Superman IV: The Quest for Peace: Lex Luthor | Nuclear Man
Superman Returns: Lex Luthor
Man of Steel: Sword of Rao (Dru-Zod, Faora-Ul, Nam-Ek, Jax-Ur, Tor-An, Car-Vex, Nadira, & Dev-Em II)
Batman v Superman: Dawn of Justice: Lex Luthor | Doomsday | Anatoli Knyazev | Mercy Graves | Cesar Santos | Amajagh | Joe Chill | Zod | Steppenwolf
Direct-to-video Movies
Superman: Brainiac Attacks: Brainiac | Lex Luthor | Mercy Graves | Mister Mxyzptlk
Superman: Doomsday: Lex Luthor | Superman Clone | Doomsday | Toyman | Mercy Graves
Superman/Batman: Public Enemies: Lex Luthor | Major Force | Metallo | Amanda Waller | Toyman | Solomon Grundy | Gorilla Grodd | Killer Frost | Lady Shiva | Giganta | Mongul | Captain Cold
Superman/Batman: Apocalypse: Darkseid | Female Furies (Granny Goodness, Gilotina, Mad Harriet, Lashina & Stompa) | Doomsday
All-Star Superman: Lex Luthor | Solaris | Parasite | Bar-El & Lilo-El
Superman vs. The Elite: The Elite (Manchester Black, Coldcast, Menagerie & Hat) | Atomic Skull
Superman: Unbound: Brainiac
The Death Of Superman: Doomsday | Lex Luthor | Intergang (Bruno Mannheim) | Mercy Graves | Cyborg Superman
Reign Of The Supermen: Cyborg Superman | Darkseid | Parademons | Lex Luthor | Mercy Graves
Superman: Red Son: Superman | Brainiac | Lex Luthor | Batman | Superior Man
Superman: Man of Tomorrow: Parasite | Lobo | Lex Luthor
Television
Superman: The Animated Series: Lex Luthor | Brainiac | Darkseid | Mercy Graves | Mister Mxyzptlk | Prometheon | Bizarro | Jax-Ur | Metallo | Kalibak | Desaad | Steppenwolf | Female Furies (Granny Goodness, Stompa, Mad Harriet, & Lashina) | Livewire | Parademons | Intergang (Bruno Mannheim & Spider Spinelli) | Kanto | Lobo | Joker | Harley Quinn | Volcana | Toyman | Parasite | Earl Garver | Maxima | Weather Wizard | Sinestro | Karkull | Titano | Penguin | Riddler | Bane | Mad Hatter | Preserver | Roxy Rocket | Society of Shadows (Ra's al Ghul, Talia al Ghul, & Ubu) | Unity | Reverend Amos Howell | Luminus | Superman (Brave New Metropolis) | Lex Luthor (Brave New Metropolis) | Corey Mills | Dr. Vale | De'Cine | Kurt Bowman | General Hardcastle | Joey | Kurt
Superman & Lois: Tal-Rho | Leslie Larr | John Henry Irons | Zeta-Rho | Reno Rosetti | David Fuglestad | Intergang (Thaddeus Killgrave) | Atom-Man | Zod
Video Games
Superman Arcade: Emperor Zaas
Injustice: Superman | Brainiac | Doomsday | Aquaman | Black Adam | Sinestro | Lex Luthor | Joker | Darkseid

Villains
Comics
Abra Kadabra | Amanda Waller | Amos Fortune | Amazo | Anarky | Angle Man | Anti-Justice League | Anti-Monitor| Appellaxians | Aquarius | Asmodel | Atomic Skull | Axis America | Barbatos | The Batman Who Laughs | Black Adam | Black Hand | Black Lantern Corps | Black Manta | Black Spider | Blockbuster | Brainiac | Bronze Tiger | Brother Eye | Brotherhood of Evil | Cadre | Calculator | Calendar Man | Captain Boomerang | Captain Cold | Castle Bat | Catalyst | Catman | Cheetah | Chemo | Cheshire | Circe | Clayface | Clock King | Cluemaster | Copperhead | Construct | Cosmic King | Crazy Quilt | Crime Syndicate of America | Crucifer | Cybogirl | Darkseid | Dark Supergirl | Deadline | Deadshot | Deathstroke | Demolition Team | Demons Three | Despero | Doctor Alchemy | Doctor Destiny | Doctor Double X | Doctor Impossible | Doctor Light | Doctor Manhattan | Doctor Phosphorus | Doctor Polaris | Doctor Poison | Doctor Psycho | Doctor Regulus | Doctor Sivana | Dominators | Doomsday | Dragon King | Dumas | Earthworm | Eclipso | Electrocutioner | Elite | Epoch the Lord of Time | Evil Star | Fatal Five | Felix Faust | Fiddler | Floronic Man | Funky Flashman | Gamemnae | General Eiling | Genocide | Gentleman Ghost | Golden Gilder | Goldface | Gorilla Grodd | Gunhawk | Hector Hammond | Hellgrammite | Human Flame | Hyena | Ibac | Icicle | Imperiex | Injustice League | Intergang | I.Q. | Johnny Sorrow | Joker | Key | Killer Frost | Killer Moth | Kite Man | Kobra | Kobra Cult | Krona | League Buster | League of Assassins | Legion of Doom | Lex Luthor | Libra | Lobo | Mad Hatter | Mageddon | Magpie | Manchester Black | Manhunters | Matter Master | Maxwell Lord | Mekanique | Merlyn | Mirror Master | Mister Atom | Mister Mind | Mister Nebula | Mongul | Mordru | Morgaine Le Fey | Neron | Neutron | Nightshade | Obsidan | Ocean Master | Parademons | Parasite | Penguin | Perpetua | Pied Piper | Plastique | Poison Ivy | Professor Ivo | Professor Zoom | Prometheus | Psycho-Pirate | Queen Bee | Queen of Fables | Ra's al Ghul | Rainbow Raider | Rama Khan | Red Death | Red King | Red Panzer | Red Volcano | Riddler | Roulette | Royal Flush Gang | Satanus | Scarecrow | Science Squad | Secret Society of Super Villains | Shadow-Thief | Shaggy Man | Shark | Simon Stagg | Sinestro | Solomon Grundy | Star Sapphire | Starbreaker | Starro | Steppenwolf | Suicide Squad | Superboy-Prime | Tattooed Man | Terra-Man | T.O. Morrow | Two-Face | Ultra-Humanite | Vandal Savage | Volcana | Warp | Weather Wizard | White Martians | Wizard
Theatrical Movies
Justice League: Steppenwolf | Parademons (Parademon Scout) | Darkseid | Black Clad (Black Clad Alpha) | Lex Luthor | Deathstroke | Ares
Zack Snyder's Justice League: Darkseid's Elite (Darkseid, Steppenwolf, DeSaad, Granny Goodness, & Parademons) | Lex Luthor | Deathstroke | Black Clad (Black Clad Alpha) | Ares | Joker
Direct-to-video Movies
Justice League: The New Frontier: The Centre | Captain Cold
Justice League: Crisis on Two Earths: Crime Syndicate of America (Owlman, Ultraman, Superwoman, Johnny Quick, Power Ring, J'edd J'arkus, & Black Power) | Lex Luthor | White Martians | President Slade Wilson | Rose Wilson
Justice League: Doom: Legion of Doom (Vandal Savage, Bane, Cheetah, Ma'alefa'ak, Metallo, Mirror Master, & Star Sapphire) | Royal Flush Gang (King, Queen, Jack, Ace, & Ten)
Justice League: The Flashpoint Paradox: Professor Zoom | Wonder Woman | Aquaman | Ocean Master | Black Manta | Deathstroke | Lex Luthor | Clayface | Rogues (Captain Cold, Captain Boomerang, Top, Heat Wave, & Mirror Master) | Joker | Yo-Yo
Justice League: War: Darkseid | Desaad | Parademons | Ocean Master
Justice League: Throne of Atlantis: Ocean Master | Black Manta | The Trench | Lex Luthor
Justice League vs. Teen Titans: Trigon | Legion of Doom (Lex Luthor, Cheetah, Solomon Grundy, Toymaster, & Weather Wizard) | Atomic Skull | Ra's al Ghul
Justice League vs. the Fatal Five: Fatal Five (Emerald Empress, Mano, Persuader, Tharok, & Validus) | Bloodsport | Two-Face | Harley Quinn | Poison Ivy

Video Games
Injustice: One Earth Regime (Superman, Wonder Woman, Yellow Lantern, The Flash, Aquaman, Cyborg, Shazam, Nightwing, Raven, Hawkgirl, Sinestro, Black Adam, Killer Frost, Solomon Grundy, Catwoman, Bane, Doomsday) | The Society (Gorilla Grodd, Captain Cold, Reverse Flash, Cheetah, Deadshot, Poison Ivy, Scarecrow) | Brainiac | Joker | Lex Luthor | Deathstroke | Ares | Dr. Fate | The Lords of Order | Darkseid