House of the Dragon Trailer - The Loop
Play Sound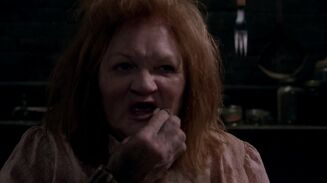 Katja is the minor antagonist of the Supernatural episode "About a Boy".
She was portrayed by Lesley Nicol.
Biography
Katja is an evil witch who lurk in the woods and spends her days capturing children to eat, since she is the witch who kidnapped Hansel and Gretel in the fairy tale.
Long ago, she befriended Hansel, murdered Gretel, and made him eat her heart. Centuries later, she transformed missing adults into children to satisfy her appetite for human flesh.
In the episode, Katja delights in eating soup made from children's meat. She kidnaps Dean's friend Tina and when Dean comes to her rescue, Katja reveals her wicked intentions. In a fierce battle, Dean fights off Hansel with a knife and kills him. Katja, preparing to burn the episode's protagonist, chants an evil spell, but Dean manages to overpower her and push her into an oven, defeating her in the same manner as the original fairy tale.
Gallery