We're Getting Mutants in the MCU - The Loop
Play Sound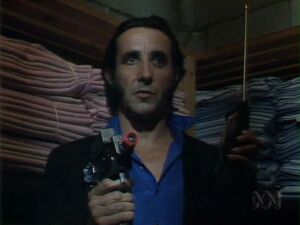 Keillor is the secondary antagonist of the Doctor Who story "Delta and the Bannermen".
He was portrayed by the late Brian Hibbard.
Biography
Keillor was a bounty hunter and presumably a Navarino, who was a tourist on the Nostalgia Tours trip to 1959 Disneyland. He recognised a late arrival to the group as Delta, the Chimeron queen, who had a bounty placed on her head by the Bannermen. He continued to observe her after the tour bus made an emergency landing in the right time period but at the Welsh holiday camp of Shangri-La.
Later that night, Keillor contacted Bannermen leader Gavrok letting him know where Delta was and setting up a transmitter to guide him in. Gavrok told him he would be paid when they arrived. Keillor then realised that the Doctor and local girl Ray had overheard the conversation and held them at gunpoint. Recognising the Doctor, he noted his death would make him richer still. The Doctor tried to get him to let Ray go, since there was no bounty on her, but Keillor replied that he didn't just kill for money but because he enjoyed it. Moments later, Gavrok sent a pulse that caused Keillor's transmitter to explode. Keillor was atomised by the explosion, leaving only his shoes behind.