Jurassic World: Dominion Dominates Fandom Wikis - The Loop
Play Sound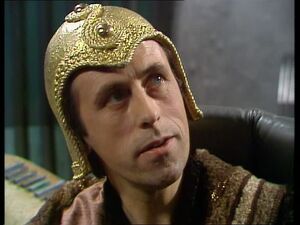 Kelner is a minor antagonist in the Doctor Who story "The Invasion of Time".
He was portrayed by Milton Johns.
Biography
Kelner was castellan of Gallifrey at the time the Doctor returned to claim the presidency. When the TARDIS was first detected arriving on Gallifey without authorisation, Kelner's first thought was to have the occupants shots. However, when the Doctor's true status was revealed, Kelner immediately began acting in an obsequious fashion towards him, indulging his every whim such as having his quarters redecorated with lead. He also attempted to place himself in a better position in the Doctor's eyes than his rival Chancellor Borusa.
When it appeared the Doctor had betrayed Gallifrey to the Vardans, who arrived to take charge of the planet, Kelner was quick to co-operate with the new regime. He was made acting vice-president by the Doctor and began settling old scores, arranging to have several Time Lords exiled from the capitol as possible rebels. He had ambitions to take over from the Doctor when it became convenient but also arranged to have an assassination squad sent after the Doctor by Commander Andred ruthlessly crushed. In the end, Kelner was left in an awkward position when it turned out the Doctor was actually working against the Vardans and had them expelled.
However, the Vardan assault turned out to be a diversion that allowed the Sontarans to invade. While everyone else fled from them, Kelner quickly offered his services to Sontaran leader Stor. He attempted to open up a larger hole in the transduction barrier to allow Sontaran reinforcements in, nearly causing the TARDIS to be plunged into a black star. He then joined Stor and another Sontaran in infiltrating the TARDIS in an attempt to either shut down the force field or locate the Doctor.
When the Doctor managed to kill the Sontaran with him, Kelner was taken prisoner without a fight and quickly revealed Stor's plan to set off a grenade over the Eye of Harmony. He was still present in the TARDIS workshop with the others after the Doctor killed Stor. He was then arrested.
Trivia
While he is not the lead villain, Kelner is the only antagonist to be present throughout the whole story, with the first four episodes focusing on the Vardans and the last two on the Sontarans.