Jurassic World: Dominion Dominates Fandom Wikis - The Loop
Play Sound
This article's content is marked as Mature
The page Mature contains mature content that may include coarse language, sexual references, and/or graphic violent images which may be disturbing to some. Mature pages are recommended for those who are 18 years of age and older.


If you are 18 years or older or are comfortable with graphic material, you are free to view this page. Otherwise, you should close this page and view another page.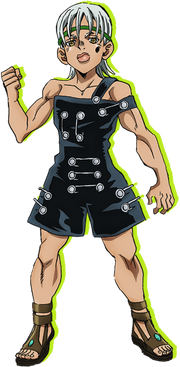 | | | |
| --- | --- | --- |
| " | With Lady Luck's favor protecting me, there's no way I can lose! I'd even win russian roulette with 5 of the chambers full! | " |
| | ~ Ken Ooyanagi | |
Ken Oyanagi, also known as Rock-Paper-Scissors Kid or Rosham Boy, is a minor antagonist in JoJo's Bizarre Adventure: Diamond is Unbreakable. A normal child turned stand user thanks to Yoshihiro Kira, he challenges Rohan Kishibe to several rounds on rock-paper-scissors, in which his stand is at risk. He wields the stand Boy II Man.
Ken is voiced by Chika Sakamoto in Japanese and by Laila Berzins in English.
Biography
Whilst he was climbing a telephone pole, he had been pierced by the Bow and Arrow thanks to Yoshihiro Kira, resulting in a hole in his left cheek and the birth of his Stand, Boy II Man.
He asks Rohan Kishibe if he would like to place janken/rock, paper, scissors, but is turned down. When Rohan goes for a taxi, Ken challenges him to janken, to see who gets the taxi ride. After Rohan wins, he gets the taxi. Later at a restaurant, Ken takes an empty table and makes a scene. After winning another janken game, Rohan kicks him out. At the library, Ken challenges Rohan for a book about plants, but the mangaka punches the janken boy. However, Rohan tells his rival he is victorious as Heaven's Door is sucked into his cheek.
However, Rohan turns Ken into a book to write "I cannot attack Rohan Kishibe" on him then separates him. Rohan learns that Ken's Stand can steal energy from his victims if he wins against them, then suddenly, Ooyanagi changes the words so he can attack. Ken places Rohan's arm under his control and since janken consists of five rounds, the mangaka attempts a fourth round, but loses when Ken uses paper to strangle rock.
Now, a third of Heaven's Door is stolen, and Rohan now becomes determined to win. The two jump into the air and throw paper, resulting in a draw. Just as the boy is throwing paper against rock, Ken chooses rock, resulting in another tie.
Ken knows that Rohan would not dare send for help against a kid, and wins the bet. He seemed unfazed after standing proudly on broken glass. On their next janken round, Ken attempts use scissors to cut Rohan's paper, but his hands move to rock suddenly and Heaven's Door returns to Rohan.
To get revenge, Rohan attempts to make Ken resign from janken, but Boy II Man takes Shizuka hostage and demands a rematch. This time, Rohan does win three rounds again. Not wanting to accept defeat, Ken attempts to take his own life by jumping in front of a truck, but Yoshihiro Kira's photo becomes stuck against the windshield, saving both his and a amused Rohan's lives. In awe at his heroism, Ken swears to never user his stand to harm others again.
Powers and Abilities
| | | |
| --- | --- | --- |
| " | Rock paper scissors is not a game of chance, but a contest of force of will! | " |
| | ~ Ken Ooyanagi | |
Boy II Man's main ability has the ability to steal a person's energy and stand if they lose a game of rock-paper-scissors. Everytime he loses, he gains a third of the the opponent's energy/stand, and if the opponent wins three times, all of their energy and their stand is returned to them. If Ken wins three times, the opponent loses their stand for the rest of their days, and Ken is able to use that stand as well as Boy II Man, making him a surprising threat.