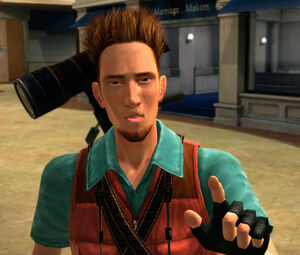 Kent Swanson is a psychopath in the video game: Dead Rising.
He offered to model for Frank and challenged him to take better photos than the ones he took.
If Frank failed to photograph Kent as he requested, he will fail this scoop and Kent will not be encountered again.
If you please, you can kill Kent in this mission. If you attack him, he will say "H-hey! Cut that out! I'm a pacifist!" But if you kill him, you can take his handgun, and it will say 'KENT SWANSON IS DEAD" across the screen. This prevents him from ever showing up again, and you get a handgun.
If Frank failed to show up before noon, Kent will reveal that he has already shot his desired photo, showing Frank a picture of Tad with a parasite crawling into his mouth. He then pointed his gun at Frank's head and stripped him of his clothes and weapons. After declaring that a photograph of Frank being killed will bring him to the top, Kent attacked Frank.
After he was defeated, Kent requested Frank to take a picture of him as he died, saying "It'll look good on your mantle." Frank refused and tossed Kent's camera away in disgust as the fallen photographer died.
Community content is available under
CC-BY-SA
unless otherwise noted.