| | | |
| --- | --- | --- |
| " | DORKS! | " |
| | ~ Kevin's signature insult to the Eds. | |
| | | |
| --- | --- | --- |
| " | GET BACK HERE! | " |
| | ~ Kevin's signature chase. | |
| | | |
| --- | --- | --- |
| " | Okay. Now I'm mad. | " |
| | ~ Kevin's anger nature when Ed and Eddy brick walled his house. | |

Kevin is the former secondary antagonist of the highly acclaimed cartoon series, Ed Edd n' Eddy and and secondary antagonist-turned-anti-hero in the 2009 movie Ed, Edd n Eddy's Big Picture Show. He is the popular boy of the culdesac kids and Eddy's former arch-rival. Out of all the kids, he was the one who tormented them the most.
He was voiced by Kathleen Barr, who also voiced Marie Kanker from the same series and also voiced Queen Chrysalis in My Little Pony: Friendship is Magic.
Biography
Kevin is considered as the jock of the Cul-De-Sac and is usually seen as a cool kid by the other characters, much to Eddy's jealousy. He was constantly tormenting and ridiculing the Eds, especially Eddy, calling them "dorks" and other such things. He is frequently seen riding a bike. He is also frequently seen with Nazz, his love interest. It was mentioned that his garage is full of jawbreakers due to the fact that his father works in a jawbreaker factory. He is also shown to bully Jimmy on occasion. However, even at his worst, he never torments him as much as he torments the Eds.
Kevin hates the Eds and the Eds hate Kevin (or at least Eddy does), they both understand this. But because of this Kevin is always suspecting the Eds are up to something. In fact in the episode "See No Ed", Kevin led a search party to find the Eds because they were nowhere to be seen. As for the Eds, they show contempt towards Kevin for always disrespecting them even when they're doing nothing wrong.
The Eds, in fact, was working on a scam called Chimp World. When Kevin and the kids find Chimp World, Kevin believed the Eds would be there any moment to take their money (but they were somewhere else at the time and had no idea the kids were there).
The kids were playing in Chimp World when it collapsed on top of them. Kevin got out of there to avoid being "scammed" by the Eds like everyone else. This proves Kevin has a paranoia of the Eds.
In an episode, the Eds wanted to be Kevin's friend, for the Jawbreakers he had. Kevin used them just to clean his chimney, after they ruined the house he ran after them, further ruining the relationship with the Eds. While he despises Eddy, he seems to be slightly more friendly with Ed and Edd, but rarely does he engage in casual conversation with them. Even with Eddy, there have been brief moments where they bonded.
Occasionally, he and Edd are seen conversing with each other in "From Here to Ed" and "The Luck of the Ed" and Edd has sometimes helped Kevin get revenge on Ed and Eddy or given him advice (in "A Case of Ed" and "This Won't Hurt an Ed" respectively). Edd seems to be the one that Kevin can nominally get along with, although this is generally as good as it gets.
Kevin and Eddy were archenemies. One reason could be that Eddy harmed Kevin first, or Kevin harmed Eddy first. It seems to be a running trivia for the show, this probably would not have begun if Eddy wasn't a scammer. A few times during the series Kevin has violently beat up Eddy and vice-versa, because of Eddy being a constant nuisance to him. Whenever they have the opportunity, Eddy and Kevin always humiliate each other.
Kevin used to be afraid of Eddy's Brother for unknown reason but possibly he bullied him in the past. He finally overcome his fears before Eddy rammed his brother with a door with the help of Ed.
Very rarely do Eddy and Kevin ever get along (although they do have their moments this is barely shown), once strongly shown in the episode "Little Ed Blue" where Kevin and Eddy are playing catch off of Ed's head, but an angry Ed beats both of them up severely. At the end of the movie Ed, Edd n Eddy's Big Picture Show, Kevin finally becomes friends with the Eds due to finally realizing why Eddy truly wanted to fit in with the Cul-De-Sac kids and be friends with them. 
Moral Event Horizon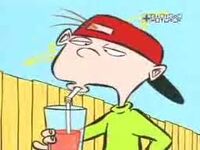 Kevin arguably crossed the Moral Event Horizon (though debatable, as he was redeemed in the movie) in the episode "Your Ed Here", when he discovers that Eddy's middle name is Skipper and forces, Eddy, to do his bidding or he'd tell the other kids (which, essentially, was blackmail.)
As the episode progresses, Kevin forces Eddy to do a number of very embarrassing and humiliating things, including making him dress like Jimmy, forcing him to kiss Edd, act like a seal, and eat a fish.
He even sprays the crotch of Eddy's pants with a water gun to make it look like he soiled himself, but Eddy is still unable to stand up for himself. While doing this, Kevin's sadism is very apparent. Despite this, Kevin decides to tell the other kids anyway, who all proceed to mock and tease Eddy for it. However, Eddy replicates what Kevin did by revealing Double D's middle name, which moves the embarrassing attention off of Eddy and onto Double D.
Eddy would reciprocate this act with one similar in the episode "This Won't Hurt an Ed" when he discovers that Kevin is scared of hypodermic needles. He convinces the kids that it is Booster Shot Day, which causes Kevin to faint. For a majority of the day, he and Ed torment Kevin to the point of him almost having a complete nervous breakdown. However, this is foiled by Edd, who reveals that it wasn't Booster Shot Day at all.
Another example of Kevin potentially crossing the MEH was "Smile For the Ed", in which he ruined Eddy's school photo out of spite then, upon obtaining a copy of it, which resulted in hundreds of copies being made and participated in everyone wearing Eddy's picture just to psychologically torment Eddy. Even after Double D, posing as the principal, ordered all of the photos to be disposed of, Kevin still kept one and used it to ruin Eddy's attempt to do a retake photo in order to impress his mother. As with the above, however, Kevin did redeem himself making this act more jerkish than evil.
Ed, Edd, n Eddy's Big Picture Show
In Ed Edd n' Eddy's Big Picture Show, Kevin was seemed to be the main antagonist of the film, as he and the other kids set out on a quest to hunt down and beat the Eds for destroying the Cul-De-Sac with their horrible scam that got them hurt and wanting to hurt them back worse than ever before. He traveled with Nazz as she tries to get close to him in the movie but gets upset with him as Kevin seemed to care about his bike a lot more than her.
Later Nazz got captured by the Kankers offscreen and Kevin got captured by them too as they tricked him into capturing as Marie disguised herself as Eddy.
At the end of the movie, Kevin and the others were captured and still wanting to hurt Eddy, Double D and Ed, but eventually the Eds succeed into reaching Eddy's brother's house and meet him. Kevin and Rolf were scared as Nazz just admires how handsome he is, feeling like failures but eventually they see Eddy being mistreated by his brother, being beaten up very badly worse than any of them ever could to Eddy and hurting Double D, seeing that Eddy's brother is an adult who abuses children, and despite everything that happened, Rolf decides to stand up to Eddy's brother and makes Kevin stand up to him to, as Kevin yells at Eddy's brother telling him to leave Eddy alone, as everyone else sides with Kevin, seemily about to fight Eddy's brother but Ed removes a piece from the door Eddy is holding onto that launches right into Eddy's brother's face knocking Eddy's brother out in pain saying "uncle" and defeating him.
After that Eddy tearfully tells, Double D, Ed and everyone the truth about his brother, finding out the real reason for Eddy's scams, that Eddy has been a ousted his whole life by him and acted like a jerk just to impress him and thought I'd make everyone like him. Kevin and the others now understand why and feel sympathy for him now as they become friends with the Eds now, as Kevin admits to Eddy that it was cool how he want all this way to face his own brother, but Kevin other kids also grow a hatred for Jonny 2x4 now after he beats up the Eds as he arrived and gets his revenge on them feeling proud of himself and Plank (this is despite Jonny not even knowing that the Eds did make amends for their actions). Kevin, Sarah, Rolf and Nazz all beat up Jonny and Kevin then invites the Eds to his house for a jawbreaker party. As Kevin is no longer enemies with the Eds anymore, as they are now friends.
Trivia
Kevin used to have severe aichmophobia (fear of needles/injections) until Double D helped him overcome this fear.
Originally, Kevin was built-up as the possible main antagonist of the film, until the introduction of Eddy's Brother. This is because he was the most ruthless out of all the kids hunting down the Eds.
Despite being a male, he was voiced by the female actress Kathleen Barr.
Due to his odd sense of humor, many fans consider Kevin to be the most likable character in the series even more much so than Sarah in comparison.
Kevin's personality is very similar to Dash Baxter from Danny Phantom.
Villains
Animated Features
Meowrice | Meowrice's Henchmen | Mouse King | Mouse Queen | Joker | Phantasm | Salvatore Valestra | Arthur Reeves | Chuckie Sol | Buzz Bronski | Grundel Toad | Berkeley Beetle | Mr. Mole | Mrs. Toad | Ms. Fieldmouse | Queen Gnorga | King Llort | Darla Dimple | Max | Mrs. Prysselius | Thunder Karlsson and Bloom | Ruber | Griffin | Ruber's Minions | Bladebeak | Eric Cartman | Saddam Hussein | Sheila Broflovski | Satan | Mr. Garrison | Chef | Randy Marsh | Shelly Marsh | Gerald Broflovski | Kent Mansley | Kralahome | Master Little | The Jokerz (Dee Dee Twins, Chucko & Woof) | Count Grisham | Cheswick | Mojo Jojo | Gangreen Gang | Anubis | Seto Kaiba | Dark Yugi | Pegasus J. Crawford | Mokuba Kaiba | Marik Ishtar | Ebenezer Scrooge Puppet | Barkis Bittern | Maudeline Everglot | Stan Beals | Wasps | Noah the Elder | Leopard Seal | Aguila | Stone Generals (Gato & Mono) | Karai | Foot Clan | Eddy's Brother | Kanker Sisters | Kevin | Sarah | Surtr | Nyra | Kludd | Allomere | Jatt and Jutt | Pure Ones | Lord Business | Super Secret Police (Bad Cop & Sheriff Not-A-Robot) | Duplo Aliens | Mr. Ross | Future Mordecai | Rigby | Benson Dunwoody | Muscle Man | Hunter | Pigeon Toady | Wolf Pack | Penguins | Joker (Lego) | Harley Quinn (Lego) | Phantom Zone Criminals | Catwoman (Lego) | Poison Ivy (Lego) | Two-Face (Lego) | Lord Garmadon | Slade (Teen Titans Go!) | Balloon Man (Teen Titans Go!) | Lex Luthor (Teen Titans Go!) | Stonekeeper | Rex Dangervest | Velociraptors (Lego) | Foot Clan (Shredder) | League of Assassins (Ra's al Ghul (Batman vs. TMNT), Ubu (Batman vs. TMNT) & Talia al Ghul (Batman vs. TMNT)) | Joker (Batman vs. TMNT) | Harley Quinn (Batman vs. TMNT) | Scarecrow (Batman vs. TMNT) | Mr. Freeze (Batman vs. TMNT) | Poison Ivy (Batman vs. TMNT) | Bane (Batman vs. TMNT) | Two-Face (Batman vs. TMNT) | Penguin (Batman vs. TMNT) | Hexagon (Trigon (TTG) & Trigon (Original)) | Spinel | Pink Diamond | Scorpion | Quan Chi | Shang Tsung | Goro | Shao Kahn | Kano | Baraka | Reptile | Moloch | Motaro | Dick Dastardly (2020) | Muttley (2020) | Rotten Robots | Dusty | Cerberus
Live Action Films
Rhedosaurus | Giant Carpenter Ants | Jack Torrance | Hotel Caretaker | Lorraine Massey | Socs (Bob Sheldon, Randy Adderson, Paul Hoden & David) | Mrs. Cade | Scut Farkus | Grover Dill | Stripe | Ruby Deagle | Gremlins | Mama Fratelli | Audrey II | Orin Scrivello | Mr. Igoe | Max | David | Sergeant Nagata | Beetlejuice | Sandworms | Joker | Bob the Goon | Alicia Hunt | Carl Grissom | Max Eckhardt | Vinnie Ricorso | Joe Chill | Witches (Grand High Witch, Susan Irvine, Nicola Cuttle, Pamela, Lois Leffour, Mildred, Elizabeth, Henrietta, Jacqueline & Beatrice) | Brain Gremlin | Daffy | George | Lenny | Secretary Gremlin | Bat Gremlin | Electric Gremlin | Cushing Catheter | Penguin | Max Shreck | Catwoman | Red Triangle Circus Gang | Charles "Chip" Shreck | Switchblade Sam | Dr. Charles Nichols | Frederick Sykes | Lawrence Van Dough | Ferguson | HAL 9000 | Lestat | Armand | Santiago | Clarice Kensington | Miss Minchin | Riddler | Two-Face | Sugar | Spice | NygmaTech (Frogmen) | Neon Gang | Salvatore Maroni | Jonas Miller | Mr. Swackhammer | Monstars | Martians (Martian Leader, Martian Ambassador & Martian Girl) | John Wesley | Poison Ivy | Mr. Freeze | Bane | Grant Frost | Agent Smith | Cypher | Agents (Agent Jones, Agent Brown & Agent Johnson) | Susan McCallister | Jim Whitlock | Mako Sharks | William Wharton | Percy Wetmore | Jeremy Melton | Mr. Tinkles | Thrax | Mayor Phlegmming | Bruiser | Joe Cramp | Thrax's Henchmen | Lord Voldemort | Quirinus Quirrell | Draco Malfoy | Severus Snape | Mountain Troll | Scrappy-Doo | N' Goo Tuana | Zarkos | Demons | Luna Ghost | Akasha | Spiders (Consuela & Tank) | Lucius Malfoy | Basilisk | Gilderoy Lockhart | Acromantula (Aragog & Acromantula Colony) | Mr. Gray | Mr. Chairman | Bob Smith | Robo Dog | Jonathan Jacobo | Peter Pettigrew | Dementors | Marge Dursley | Clara Dalrymple | Sir Trenton | Trenton's Pride | Ra's al Ghul | Scarecrow | Carmine Falcone | League of Shadows (Decoy of Ra's al Ghul) | Victor Zsasz | Joe Chill | Arthur Slugworth | V | Barty Crouch Jr. | Nagini | Bellatrix Lestrange | Adam Sutler | Lewis Prothero | Norsefire | Peter Creedy | Colonel Coetzee | Captain Poison | Zodiac Killer | Arthur Leigh Allen | Xerxes | Dolores Umbridge | Agent 23 | Siegfried | Dalip | Joker | Two-Face | Sal Maroni | Gambol | Joker's Thugs | Principal Deedle | Ezekial Gallows | Prudence Prufrock | Lord Henry Blackwood | Lord Coward | Esther Coleman | Decoy Queen | Kitty Galore | Paws | Mayor Brown | Wanda Grubwort | Lake Monster | Mal Cobb | Blue Jones | Angelique Bouchard | Dr. Julia Hoffman | Bane | Talia al Ghul | Barsad | Catwoman | John Daggett | Tom Buchanan | Jay Gatsby | Myrtle Wilson | George Wilson | Daisy Buchanan | Precursors | Kaiju (Trespasser, Knifehead, Mutavore, Otachi, Leatherback, Raiju, Scunner & Slattern) | Artemisia | M.U.T.O. | Dr. Mann | Victoria Vinciguerra | Léon Rom | Skull Devil | Preston Packard | It | Bowers Gang (Henry Bowers, Patrick Hockstetter, Belch Huggins & Vic Criss) | Alvin Marsh | Butch Bowers | Mathias Vogel | Ana Miller | Nolan Sorrento | Innovative Online Industries (I-R0k, F'Nale Zandor & Sixers) | Claire Wyden | Brett Wyden | George, Ralph and Lizzie | The Meg | Jack Morris | Shere Khan | Tabaqui | Howard Clifford | Ditto | Sebastian | Ann Laurent | King Ghidorah | Rodan | Alan Jonah | Asher Jonah | Emma Russell | The Banana Splits (Fleegle, Drooper, Snorky & Bingo) | Poppy | Karl | Leo | Cry Baby | Kelly | The Principal | The Biology Teacher | Tom Rogan | Arthur Fleck | Penny Fleck | Randall | Clowns (Joker) (Clown & Ambulance Clown) | Wall Street Three | Penny Fleck's Boyfriend | Rose the Hat | The True Knot | Andrei Sator | Priya Singh | Terrance Mendoza | Butch | Mechagodzilla | Apex Cybernetics (Walter Simmons, Ren Serizawa, & Maia Simmons) | Warbats | Hellhawks | Shang Tsung | Sub-Zero | Mileena | Reiko | Kano | Kabal | Goro | Reptile | Nitara | Shao Kahn
Shorts
Daffy Duck | Sylvester | Tasmanian Devil | Wile E. Coyote | Elmer Fudd | Yosemite Sam | Marvin the Martian | Instant Martians | Gossamer | Tom | Jerry | Spike
Television
The Grinch | Cousin Mel | I.M. Slime | Snow Miser | Heat Miser | North Wind
See Also
Adventure Time Villains | Batman Villains | Ben 10 Villains | Catwoman Villains | Cats & Dogs Villains | Cartoon Network Villains | DC Animated Movie Universe Villains | DC Extended Universe Villains | DC's Legends of Tomorrow Villains | Eraser Villains | Game of Thrones Villains | Gremlins Villains | Hanna-Barbera Cinematic Universe Villains | Harry Potter Villains | Lethal Weapons Villains | Looney Tunes Villains | Melanie Martinez Villains | Middle-Earth Villains | MonsterVerse Villains | Mortal Kombat Villains | New Line Cinema Villains | Pokemon Villains | Powerpuff Girls Villains | Primal Villains | Regular Show Villains | Rick and Morty Villains | Robot Chicken Villains | Rush Hour Villains | Samurai Jack Villains | Scooby-Doo Villains | Steven Universe Villains | Superman Villains | The Banana Splits Movie Villains | The Conjuring Villains | The LEGO Movie Villains | The Matrix Villains | Tom and Jerry Villains | TMNT Villains | Wild Wild West Villains | Xiaolin Showdown Villains | Yu-Gi-Oh! Villains
Community content is available under
CC-BY-SA
unless otherwise noted.