This article's content is marked as Mature
The page Mature contains mature content that may include coarse language, sexual references, and/or graphic violent images which may be disturbing to some. Mature pages are recommended for those who are 18 years of age and older.


If you are 18 years or older or are comfortable with graphic material, you are free to view this page. Otherwise, you should close this page and view another page.
Kie Muramatsu, better known as Applehead, is a minor posthumous antagonist in the Tokyo Ghoul series. She was a ghoul who lived under the guise of an old lady attempting to conceal her true nature as a binge-eating serial killer. She had an abnormally high kill count, described as "a brutal ghoul" who has killed over fifty victims in one year.
On his first day as a Ghoul Investigator, she was the first ghoul Koutarou Amon ever investigated. However, his reluctance to suspect an elderly woman of being a monster allowed Applehead to come close to killing Koutarou. Kie Muramatsu then becomes the first ghoul to be killed by senior investigator Kureo Mado after being partnered with Amon. Following his jarring encounter with the elderly ghoul, Amon began to trust Mado more and hunt ghouls more mercilessly.
Biography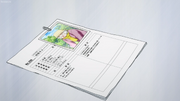 After Koutarou Amon had been paired with seasoned investigator Kureo Mado, their first investigation together concerned the ghoul codenamed "Applehead". Their main suspect was Kie Muramatsu, who was spotted at some of the crime scenes. To prove her innocence, Muramatsu had provided a medical certificate that showed that her Rc factor was that of a human. Realizing the certificate was fake, Mado tricked the ghoul into having a false sense of security by approaching Muramatsu, who was peacefully sitting on a bench, and clearing her of suspision. Amon grew irritated with the eccentricities of Mado and left him soon after, believing the sweet old lady to be innocent.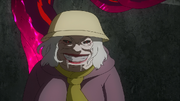 When Amon encountered Muramatsu again moving her luggage, he offered to help her. The luggage was noticeably heavy, so Amon inspected it, noticing blood. Amon was alarmed by a deadly premonition and was easily attacked by Muramatsu, in a tunnel so no one would notice. However, Mado arrived to save Amon and teach him a valuable lesson about ghouls. Muramatsu was decapitated by Mado. In truth, the old lady face was a mask made by Uta.