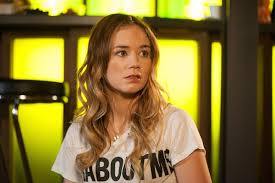 Kim Butterfield is a character in Hollyoaks first appearing in October 2014. She started off as a nice person but is later shown to be dangerous after some history she had with her sister's fiancé Joe. She then has an obsession with Grace Black who she videos and blackmails Dylan Jerkins to stop him from telling Trevor Royle about her scheming. she later becomes obsessed with her older sister who she copies everything she wears and hair styles. she realizes there's something wrong with her sister when she witnesses her killing a kidnapper called Ashley Davidson.
To help Lindsey Butterfield she deposes of Ashley's body by having it cremated. Soon afterwards she spots her killing her husband Freddie Roscoe. At first she thought of calling the police but decides to have local gangster Trevor Royle arrested for his murder. A month later When She tries to calm Lindsey down she gets injected with potassium chloride like she did with her other victims which puts her in a comma. For a while She's tortured by her older sister by having a daily dose of potassium chloride in her system. one day Lindsey forgets and she escapes from hospital. She tries to accuse Lindsey of killing Freddie at his funeral but she stops her and makes her drop the accusations. When Trevor gets realized when the police find evidence of his innocence they start to believe its a member of staff at hospital. Lindsey and Kim work together to prove their innocence. Lindsey betrays her by having her arrested for all the people she killed but planting evidence in her handbag. She is then arrested. She requests Esther to visit her a month later. during the visit she tells her to visit her sister Kath. when she does though she notices something wrong since Kath gets frightened when seeing a picture of Lindsey.
Community content is available under
CC-BY-SA
unless otherwise noted.