Jurassic World: Dominion Dominates Fandom Wikis - The Loop
Play Sound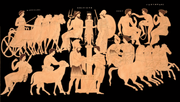 King Oenomaus is a villain in Greek mythology.
Biography
Oenomaus was a son of Ares, the Greek god of war. He was made king of Pisa and married an unnamed woman, siring a daughter named Hippodamia.
Oenomaus received a prophecy that if Hippodamia married, then her consort would kill him. Fearful of this prophecy, he challenged everyone who asked for his daughter's hand to a chariot race. Due to the skill of his charioteer Myrtilus, Oenomaus would always win and would then have the suitor executed.
When Pelops, the son of King Tantalus of Lydia, asked to marry Hippodamia he decided to invoke the god Poseidon before he raced Oenomaus. Poseidon provided him with a chariot pulled by winged horses. Pelops and Hippodamia then sabotaged the king's chariot by replacing the lynchpins attaching the wheels to the axle with pins of wax.
The race went on for a long time, with neither participant giving way to the other. Eventually, Oenomaus caught up to Pelops and prepared to kill him. Just then, the wax pins fell out and caused the chariot to crash. Myrtilus survived, but Oenomaus was killed.