| | | |
| --- | --- | --- |
| " | The underworld will now be run like a business.. and the Chairman of the Board will be .. The Kingpin! | " |
| | ~ Wilson Fisk declaring himself as "The Kingpin" and as the ruler of the underworld of crime. | |
Wilson Grant Fisk, or also better known as the Kingpin, is one of the main antagonists of Marvel Comics, most commonly appearing as an enemy to Spider-Man, Daredevil, Ghost Rider, and the Punisher. He is the most powerful crime lord of New York City's underground, while presenting himself to the public as a successful and philantropic businessman.
As the overlord of all crime in New York, he is often depicted as the arch-nemesis of Daredevil and the main antagonist of the Daredevil comic book series as a whole as well as the main antagonist to other street level superheroes such as Jessica Jones, Luke Cage and Iron Fist. He is also a major antagonist in both the Spider-Man and Punisher comics.
Biography
Past
Wilson Fisk grew up in poverty and was tormented by his classmates for being overweight. Tired of being bullied, he began to train himself in physical combat. When he gained a powerful physique, he forced his former tormentors into joining his gang, and thus, his desire for absolute control began. Later on in life, he met a crime boss named Don Rigoletto. At first, he fostered an alliance with Rigoletto, but then, betrayed him and murdered him. Fisk then took over Rigoletto's gang, and took Rigoletto's place as the most powerful crime boss in New York City. He would later join the international terrorist syndicate HYDRA and become a prominent figure as one of their heads of operations.
The Daredevil Grudge
Although the Kingpin started off as a Spider-Man villain, Frank Miller, during his classic run on Daredevil comics, effectively transferred him to become the arch-nemesis of the Man Without Fear. Miller had Fisk focus on street level crime and New York City politics, rather than the superhuman and supernatural exploits of times past.
It was in Miller's later storyline, Born Again, that the Kingpin earned this title. Using information from Murdock's former girlfriend, drug addicted porn star Karen Page, the Kingpin slowly began to ruin Matt Murdock's life, destroying his home, having him barred from practicing law, and leaving him an insane derelict. It was only thanks to a reunion with his long-lost mother that Matt regained his confidence to fight again. Eventually, Matt's efforts saw to it that the Kingpin was exposed as a criminal, fleeing as a homeless fugitive, a harsh taste of ironic justice.
Other Media
Police Academy: The Animated Series
Kingpin appears as a guest star, serving as the main antagonist in the TV animated series Police Academy from 1988.
Spider-Man: The Animated Series
In the TV animated series Spider-Man from 1994, Kingpin appeared as the most-recurring antagonist for the majority of the show's run. He is also one of the few villains to be present in all 5 seasons. He was voiced by the late Roscoe Lee Browne.
Daredevil (Film)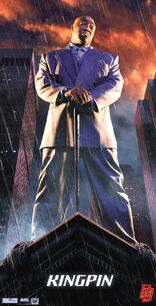 Kingpin appears as the main antagonist of the 2003 movie Daredevil. In this movie, Kingpin was portrayed by the late Michael Clarke Duncan.
The Amazing Spider-Man 2 (video game)
Kingpin appears as the secondary antagonist of the video game adaption of The Amazing Spider-Man 2.
Marvel Cinematic Universe
Kingpin appears on the Netflix series, Marvel's Daredevil, set in the Marvel Cinematic Universe. He is the main antagonist of season 1, a minor antagonist of season 2 and the main antagonist of season 3. He is portrayed by Vincent D'Onofrio.
TV Movie
His first live action portrayal was in a team-up TV-Movie between Daredevil and the Bixby/Ferring Hulk, played by John Rhys-Davies.
Spider-Man: Into the Spider-Verse
Kingpin appeared in the animated movie Spider-Man: Into the Spider-Verse as the main antagonist, where he is the Miles Morales' arch-nemesis. He is voiced by Live Schreiber who also voices the Storm King from My Little Pony: The Movie (2017).
Personality
In recent years, the Kingpin has evolved from a typical mob boss and comic-book villain to a complex and conflicted character. He has attempted to retire from crime life and has even spared Spider-Man's life after promising his fiancé to no longer be a criminal. However, while he is a caring family man, the Kingpin is ruthless as a crime boss. He is willing to murder traitorous goons with his own bare hands and is bad tempered, especially when fighting Superheroes. However, the Kingpin is calm and methodical with his plans, willing to take as much time and sacrifices needed to fulfill his goals.
Powers and Abilities
Peak Human Strength: Fisk is composed almost entirely of muscle that has been developed to enormous size, much like a sumo wrestler, and he possesses peak human strength with 2% of his body being fat. His vast bulk shields him from many forms of injury, either providing padding or causing penetration wounds to only strike him relatively superficially.
Master Martial Artist: Fisk has extraordinary skill in hand-to-hand combat, specializing in a number of martial arts, including sumo wrestling, judo, and hapkido. His fighting skills and unusual agility for a man of his size compensate for a great difference between his human level of strength and that of Spider-Man when the two engage in unarmed combat (Spider-Man also has severe inhibitions about using his strength against an opponent without superhuman powers for fear of killing him or her).
Criminal Genius: Fisk is a criminal genius and a highly skilled planner and organizer. He employs numerous henchmen, scientists, and even superhumans, almost all of whom are fiercely loyal to him due to dedication, fear, or both.
Indomitable Will: Fisk has a great willpower. He was able to resist psychic attacks from Zebediah Killgrave the Purple Man.
Multilingualism: Fisk is fluent in English, Spanish, Mandarin, Japanese, Russian and various others.
Trivia
The Kingpin's design is inspired by Kasper Gutman from The Maltese Falcon and his actor Sydney Greenstreet.
Kingpin was created by the late Stan Lee and John Romita Sr.

Villains
Comics
Abomination | Absorbing Man | Agony | A.I.M. | Alistair Smythe | Annihilus | Answer | Arcade | Arnim Zola | Awesome Android | Baron Zemo | Basilisk | Beetle | Beyonder | Black Cat | Blackie Drago | Blastaar | Blizzard | Blob | Bombshell | Boomerang | Brothers Grimm | Burglar | Bullseye | Bushwacker | Cadaverous | Calypso | Carlton Drake | Carnage | Carrion | Chameleon | Chance | Constrictor | Crime Master | Crossbones | Daemos | Dark Avengers | Deadpool | Demogoblin | Diablo | Doctor Doom | Doctor Faustus | Doctor Octopus | Doppelganger | Dormammu | Electro | Enforcers | Equinox | Fancy Dan | Firelord | Freak | Frightful Four | Ghost | Gog | Goliath | Grant Ward | Graviton | Green Goblin (Norman Osborn, Harry Osborn and Bart Hamilton) | Grey Goblin | Grizzly | Hammerhead | Hand | Hazmat | High Evolutionary | Hitman | Hobgoblin | Hood | Human Fly | Hybrid | HYDRA | Hydro-Man | Inheritors | Iguana | Jackal | Jack O' Lantern | Jigsaw | J. Jonah Jameson | Johnny Ohm | Jonas Harrow | Juggernaut | Justin Hammer | Kaine | Karn | Killer Shrike | King Cobra | Kingpin | Knull | Kraven the Hunter | Lasher | Lady Deathstrike | Leader | Lightmaster | Living Brain | Living Laser | Lizard | Loki Laufeyson | Madame Masque | Madame Viper | Maestro | Magneto | Mandarin | Man-Spider | Man-Wolf | Mania | Masters of Evil | Menace | Mephisto | Mesmero | Mister Brownstone | Mister Fear | Mister Hyde | Mister Negative | Mojo | Molten Man | Montana | Morbius | Morlun | Moses Magnum | Mysterio (Quentin Beck, Daniel Berkhart and Francis Klum) | Nekra | Nightmare | Niles Van Roekel | Nitro | Onslaught | Overdrive | Owl | Ox | Phil Urich | The Prowler | Psycho-Man | Puma | Punisher | Punisher (Earth-95126) | Ramrod | Raze | Red Ghost | Red Skull | Rhino | Rhino II | Richard Fisk | Ringer | Riot | The Rose | Roxxon Energy Corporation | Sabretooth | Sandman | Sauron | Scarecrow | Scorcher | Scorpion | Scorn | Scream | Sebastian Shaw | Secret Empire | Sentinels | Seth Youngblood | Shocker | Shriek | Silver Sable | Sinister Six | Skip | Skrulls | Solus | Patton Parnel | Spider-Man Revenge Squad | Spider-Slayers | Spot | Street | Super-Apes | Supercharger | Swarm | Symbiotes | Tarantula | Taskmaster | Terminus | The Thousand | Thunderball | Thunderbolts | Tinkerer | Titania | Titanium Man | Tombstone | Trapster | Tyrannus | Ultimatum | Ultron | Venom (Eddie Brock) | Vermin | Vulture | Walrus | Whiplash | White Rabbit | Whirlwind | Will-O'-The-Wisp | Wizard | Worthy | Wrecker | Zodiac | Zombie Spider-Man | Zombie Giant-Man
Movies
Spider-Man: Green Goblin | Dennis Carradine | Bank Robbers | Harry Osborn | J. Jonah Jameson
Spider-Man 2: Doctor Octopus | Harry Osborn | J. Jonah Jameson | Green Goblin
Spider-Man 3: Venom | Sandman | New Goblin | J. Jonah Jameson | Green Goblin | Dennis Carradine
The Amazing Spider-Man: Lizard | Gustav Fiers | Cash Register Thief | Norman Osborn
The Amazing Spider-Man 2: Electro | Green Goblin | Donald Menken | Rhino | Alistair Smythe | Ashley Kafka | Felicia Hardy | Gustav Fiers | Norman Osborn
Spider-Man: Homecoming: Bestman Salvage (Vulture, Tinkerer, Shocker #1, Shocker #2 & Randy Vale) | Mac Gargan | Aaron Davis
Spider-Man: Into the Spider-Verse: Kingpin | Doctor Octopus | Prowler | Tombstone | Scorpion | Green Goblin | Vanessa Fisk | Richard Fisk
Spider-Man: Far From Home: Mysterio's Crew (Mysterio, William Ginter Riva, Victoria Snow, Gutes Guterman, Janice Lincoln, & Doug) | Elementals (Molten Man, Hydro-Man, Sandman, Cyclone and Elemental Fusion) | Skrulls (Talos) | Obadiah Stane | J. Jonah Jameson
Television
Spider-Man (1967)
Vulture | Green Goblin | Electro | Rhino | Mysterio | Doctor Octopus | Scorpion | Human Fly | Kingpin | Lizard | Spider-Slayer | Sandman | Dr. Matto Magneto | Enforcers (Cowboy and Ox) | Frederick Foswell | J. Jonah Jameson
Spider-Man (1981)
Doctor Doom | Kingpin | Doctor Octopus | Lizard | Black Cat | Sandman | Magneto | Mysterio | Ringmaster | Green Goblin | Sidewinder | Kraven the Hunter | Red Skull | Chameleon | Vulture | Hammerhead | Wizard
Spider-Man and His Amazing Friends
Green Goblin | Kraven the Hunter | Doctor Doom | Swarm | Chameleon | Electro | Brotherhood of Mutants (Magneto, Blob, Toad, and Mastermind) | Mysterio | Loki Laufeyson | Ymir | Mordred | Kingpin | Doctor Faustus | Red Skull | Juggernaut | Shocker | Sandman | Dracula | Scorpion | Beetle | Doctor Octopus | A.I.M.
Spider-Man: The Animated Series
Kingpin | Green Goblin (Norman Osborn and Harry Osborn) | Doctor Octopus | Hobgoblin | Venom | Vanessa Fisk | Richard Fisk | Insidious Six (Scorpion, Rhino, Mysterio, Chameleon, Shocker, and Vulture) | Black Cat | Lizard | Morbius | Spider-Carnage | Spider-Slayers (Alistair Smythe) | Carnage | Baron Mordo | Dormammu | Silver Sable | Hydro-Man | Prowler | Doctor Doom | Red Skull | Electro | Hammerhead | Tombstone | Kraven the Hunter | Calypso | Herbert Landon | Jackal | Spot | J. Jonah Jameson
Spider-Man: The New Animated Series
Harry Osborn | Electro | Kraven the Hunter | Turbo Jet | Kingpin | Lizard | Shikata | Silver Sable
The Spectacular Spider-Man
Green Goblin | Tombstone | Doctor Octopus | Hammerhead | Venom (Eddie Brock) | Sinister Six (Rhino, Vulture, Electro, Sandman, Mysterio, and Kraven the Hunter) | Chameleon | Tinkerer | Enforcers (Shocker, Ricochet and Ox) | Molten Man | Silver Sable | Harry Osborn | Lizard | J. Jonah Jameson | Black Cat | Miles Warren | Frederick Foswell | Calypso | Roderick Kingsley | Morris Bench | Cletus Kasady
Ultimate Spider-Man
Doctor Octopus | Green Goblin | Harry Osborn | Taskmaster | HYDRA (Arnim Zola, Crossbones, Morbius, and Baron Mordo) | Sinister Six (Kraven the Hunter, Rhino, Electro, Scorpion, Vulture, and Hydro-Man) | Batroc the Leaper | Beetle | Lizard | Frightful Four (Wizard, Trapster & Klaw) | Juggernaut | Sandman | Venom | Loki Laufeyson | The Collector | Grandmaster | Carnage | Wolf Spider | Shocker | Shriek | Swarm | Dracula | Spider-Slayers (Kaine) | Absorbing Man | Abomination | Annihilus | Arcade | Attuma | Awesome Android | Blastaar | Blizzard | Boomerang | Chitauri | Deadpool | Destroyer | Doctor Doom | Dormammu | Skurge | Enforcers (Montana, Fancy Dan, Ox) | Frost Giants | Grizzly | Hammerhead | Jack O'Lantern | Korvac | The Leader | Living Laser | Man-Wolf | Maximus | Melter | Mesmero | M.O.D.O.K. | Molten Man | Mister Negative | Mysterio | Nightmare | Norma Osborn | Phalanx | Sabretooth | Toad | Ulik | Whirlwind | Wrecker | Piledriver | Thunderball | Ymir | Zodiac | Scorpio | Zzzax | J. Jonah Jameson
Spider-Man (2017)
Symbiotes (Venom, Scream, Scorn, and Mania) | Dark Goblin | Hobgoblin | Doctor Octopus | Vulture/Goblin King | Alistair Smythe | Rhino | Jackal | Hammerhead | Electro | A.I.M. (M.O.D.O.K.) | Spider-Slayers | Lizard | Tinkerer | Swarm | Scorpion | Sinister Six | Kraven the Hunter | Man-Wolf | Silver Sable | Beetle | Spot | Prowler | Molten Man | Mister Negative | Chameleon | HYDRA (Crossbones and Arnim Zola) | Black Cat | Ghost | Blizzard | Absorbing Man | Crimson Dynamo | Overdrive | Mysterio | Jack O'Lantern | Paladin | Puma | Shocker | Living Brain | Sandman | Technovore | Baron Mordo | Knull | J. Jonah Jameson
Video Games
Spider-Man: Return of the Sinister Six: Sinister Six (Doctor Octopus, Electro, Hobgoblin, Mysterio, Sandman and Vulture)
Spider-Man and Venom: Maximum Carnage: Carnage | Shriek | Doppelganger | Demogoblin | Carrion
Spider-Man and Venom: Separation Anxiety: The Jury | Sentry | Ramshot | Screech | Bomblast | Firearm | Wysper | Life Foundation | Symbiotes (Carnage | Riot | Lasher | Agony | Scream)
Spider-Man (2000): Doctor Octopus | Symbiotes | (Carnage, Venom) | Jade Syndicate | Monster Ock | Scorpion | Rhino | Mysterio, J. Jonah Jameson, Lizard
Spider-Man 2: Enter Electro: Electro | Beetle | Hammerhead | Lizard |Sandman | Shocker
Spider-Man (2002): Green Goblin | Shocker | Vulture | Spider-Slayers | Scorpion | Kraven the Hunter | Dennis Carradine | Harry Osborn | J. Jonah Jameson
Spider-Man 2: Doctor Octopus | Harry Osborn | Rhino | Mysterio | Shocker | Puma | Black Cat | Vulture | Calypso | J. Jonah Jameson
Ultimate Spider-Man: Bolivar Trask | Venom | Vulture | Silver Sable | Shocker | R.H.I.N.O. | Electro | Beetle | Green Goblin | Sandman | Carnage
Spider-Man 3: Venom | Sandman | New Goblin | Lizard | Scorpion | Kraven the Hunter | Calypso | Kingpin | Rhino | Morbius | Shriek | H-Bombers (Mad Bomber) | J. Jonah Jameson
Spider-Man: Web of Shadows: Spider-Man | Venom | Kingpin | Black Cat | Vulture | Electro | Tinkerer | Rhino
Spider-Man: Shattered Dimensions: Mysterio | Kraven the Hunter | Hammerhead | Hobgoblin | Electro | Sandman | Vulture | Scorpion | Deadpool | Juggernaut | Silver Sable | Goblin | Serena Patel | Carnage
Spider-Man: Edge of Time: Peter Parker | Atrocity | Walker Sloan
The Amazing Spider-Man: Spider-Slayers (Alistair Smythe) | Lizard | Rhino | Vermin | Scorpion | Felicia Hardy | Iguana | Nattie
The Amazing Spider-Man 2: Carnage | Kingpin | Green Goblin | Shocker | Kraven the Hunter | Black Cat | Electro | Chameleon | Norman Osborn | Cash Register Thief
Marvel's Spider-Man: Sinister Six (Doctor Octopus, Mister Negative, Electro, Vulture, Rhino and Scorpion) | Inner Demons | Norman Osborn | Silver Sable | Kingpin | Shocker | Tombstone | Taskmaster | Black Cat | Screwball | Hammerhead | Walter Hardy | Yuriko Watanabe
Marvel's Spider-Man: Miles Morales: Roxxon Energy Corporation (Simon Krieger) | The Underground (Tinkerer) | Prowler | Rhino | Kingpin | Norman Osborn | Doctor Octopus | Vulture

Villains
Comics
Abomination | Absorbing Man | A.I.M. | Apocalypse | Arcade | Arnim Zola | Aryan | Baron Strucker | Bastion | Batroc | Beyonder | Bi-Beast | Blackheart | Blob | Bolivar Trask | Brotherhood of Mutants | Bushwacker | Cameron Hodge | Cannibals (Marvel Universe Vs) | Cassandra Nova | Collector | Contagion | Crossbones | Crossfire | Crusader | Daken | Damage | Dark Beast | Dark X-Men | Deadpool | Deathwatch | Doctor Doom | Donald Pierce | Dracula | Egghead | Ego | Electro | Galactus | Green Goblin | Hand | HYDRA | Hobgoblin | Holocaust | Hulk | Impossible Man | Iron Monk | Juggernaut | Kingpin | Killer Shrike | Kraven the Hunter | Lady Deathstrike | Lady Mastermind | Lizard | Lt. Ethan Warren | M.O.D.O.K. | Madame Masque | Madame Viper | Maestro | Magneto | Master Mold | Masters of Evil | Master of Illusions | Mauvais | Mister Jip | Mojo | Morlocks | Mister Sinister | Mysterio | Mystique | Nimrod | Nitro | Norman Osborn | Nuke | Omega Red | Onslaught | Overdrive | Prime Evil | Puma | Romulus | Red Skull | Reavers | Sabretooth | Savage Land Mutates | Sauron | Sebastian Shaw | Sentinels | Shadow King | Shingen Yashida | Silver Samurai | Sin | Spiral | Spot | Stryfe | Taskmaster | Tiger Shark | Titanium Man | Toad | Tarantula | Venom | Vermin | Vulture | Wendigo | Whiplash | Whirlwind | White Rabbit | William Stryker | Winter Soldier | Wrecker
Movies
Hulk Vs. Wolverine: Professor Thorton | Deadpool | Lady Deathstrike | Sabretooth | Omega Red
X-Men Origins: Wolverine: William Stryker Jr. | Sabretooth | Deadpool | Agent Zero | Blob
The Wolverine: Silver Samurai | Madam Viper | Shingen Yashida | Noburo Mori | Magneto
Logan: Essex Corp (Zander Rice, Donald Pierce, X-24 & Reavers)

Television
Brotherhood of Mutants (Magneto, Mystique, Scarlet Witch, Juggernaut, Quicksilver, Avalanche, Blob, Pyro & Toad) | Dark Phoenix | Bolivar Trask | Sentinels | Sabretooth | Mutant Response Division (Colonel Moss) | Shadow King | Hellfire Club (Sebastian Shaw, Donald Pierce, Harry Leland, Selene Gallio, Emma Frost & Stepford Cuckoos) | Master Mold | Silver Samurai
Video Games
Black Cat | Brigade | Fault Zone | Hazmat | Johnny Ohm | Niles Van Roekel | Solara | The Wink | Vulture

Villains
Comics
Absorbing Man | Adolf Hitler | A.I.M. | Aleksander Lukin | Anaconda | Arcade | Arnim Zola | Awesome Android | Baron Blood | Baron Wolfgang von Strucker | Baron Zemo | Batroc the Leaper | Black Talon | Black Mamba | Black Widow | Blitzkrieg | Blizzard | Boomerang | Boomslang | Bullseye | Cache | Constrictor | Cottonmouth | Count Nefaria | Cowled Commander | Crimson Dynamo | Crossbones | Dark Avengers | Death Adder | Doctor Faustus | Eel | Electro | Famine | Fer-De-Lance | Firebrand | Fixer | Flag-Smasher | Ghost | Grand Director | Grant Ward | Griffin | Grim Reaper | Grizzly | Heinz Kruger | Herr Kleiser | HYDRA | Hydro-Man | Iron Monger | Jack O' Lantern | Killer Shrike | King Cobra | Kingpin | Klaw | Korath the Pursuer | Korvac | Kraven the Hunter | Lady Deathstrike | Living Laser | Lizard | Lucia Von Bardas | Machinesmith | Madame Viper | Madcap | Magneto | Man-Ape | Mandarin | Master Man | Mentallo | Mesmero | Mister Hyde | M.O.D.A.M. | M.O.D.O.K. | Mole Man | Moonstone | Nightmare | Nightshade | Princess Python | Puff Adder | Punisher | Punisher (Earth-95126) | Quicksand | Rattler | Red Skull | Rhino | Ringmaster | Rock Python | Ronan | Roxxon | Säurespritze | Scarecrow | Scorpion | Secret Empire | Selene Gallio | Serpent Society | Shocker | Shockwave | Sidewinder | Silver Sable | Sin | Skeleton Crew | Slither | Slug | Super-Adaptoid | Superia | Super Patriot | Supreme Intelligence | Tarantula | Taskmaster | Terminus | Thanos | Titania | Titanium Man | Trapster | Typhoid Mary | Unicorn | Ultron | Vermin | Vulture | Whiplash | Whirlwind | Winter Soldier | Worthy | Wrecker | Yellow Claw | Zahnmörder | Zodiac
Movies
Captain America (1990): Red Skull | Valentina de Santis
Captain America: The First Avenger: HYDRA (Red Skull, Arnim Zola, Heinz Kruger, HYDRA Lieutenant, & Velt) | Adolf Hitler | Roeder | Hutter | Schneider
Heroes United: Iron Man and Captain America: HYDRA (Red Skull & Taskmaster)
Captain America: The Winter Soldier: HYDRA/STRIKE (Alexander Pierce, Winter Soldier, Crossbones, Jack Rollins, Jasper Sitwell, Russo, Senator Stern, Arnim Zola, Wolfgang von Strucker, List, Scarlet Witch, & Quicksilver) | Georges Batroc | Ferdinand Lopez | Gerald Durand
Captain America: Civil War: Helmut Zemo | Thunderbolt Ross | Winter Soldier | Scarlet Witch | HYDRA (Vasily Karpov, Josef, & Winter Soldiers) | Hero Mercs (Crossbones)
TV Series
The Falcon and The Winter Soldier: Winter Soldier | Flag Smashers (Flag-Smasher, Dovich, Gigi, DeeDee, Lennox, Nico, Matias, & Diego) | Sharon Carter | Baron Zemo | LAF (Georges Batroc & Louie) | Senator Atwood
What If...?: Red Skull | Arnim Zola | Heinz Kruger | HYDRA's Champion