Cobra Kai Season 4 - The Loop
Play Sound
| | | |
| --- | --- | --- |
| " | (to the tune of the Spider-Man theme) Doo-be do. Doo-be do. Yub-yub, doo-bee do, doo-bee-do. Watch out! Here comes the Spider-Man! You like my new toy? Cost me a fortune but, hey, can't take it with you, right? You came all this way. Watch the test. It's a helluva frickin' light show, you're gonna love this. | " |
| | ~ Kingpin's introduction. | |
| | | |
| --- | --- | --- |
| " | This was never your city. It's mine. | " |
| | ~ Kingpin to Spider-Man - his famous qoute. | |
| | | |
| --- | --- | --- |
| " | The real Spider-Man couldn't even beat me! You're nothing! You took my family. And now I'm gonna make sure you never see yours again! | " |
| | ~ Kingpin before he slams Miles Morales | |
Wilson Fisk, also better known as the Kingpin, is the main antagonist of Sony Pictures Animation's 17th feature film, Spider-Man: Into the Spider-Verse.
He is an infamous crime lord who secretly dominated New York City and built the Super-Collider to bring back his family from other dimensions. He is also the arch-nemesis of both Peter Parker/Spider-Man and Miles Morales.
He was voiced by Liev Schreiber, who also played Stu Wargle in Phantoms, Sabretooth/Victor Creed in X-Men Origins: Wolverine, Ted Winter in Salt, Ray Donovan in the series of the same name and the Storm King in My Little Pony: The Movie.
Appearance
He is a very big man appearing to be obese, but like the mainstream Kingpin, his body is mostly made of pure muscle, making him immensely powerful in physical terms. He also wears a black suit with a tie.
Personality
Just like many of his incarnations, Wilson Fisk is a ruthless crime lord who will do whatever it takes to get what he wants and will kill anyone in his way. He does, however, possess immense love for his wife and son, and was devastated when they tragically died in a car accident after seeing him fight Spider-Man.
This led him to spend a fortune building a device capable of breaching parallel realities in hopes of reuniting with another version of his family, and will not bother acknowledging the potential dangers it could have. He also does not tolerate disobedience, as when he murdered Prowler for not finishing off Miles. Therefore, while Wilson's love for his wife and son makes him sympathetic, his attempts at reuniting with them makes him more dangerous than he already was. Furthermore, he never acknowledges that it is his fault that his family left him and chooses to blame Spider-Man for their deaths.
Overall, this version of Fisk, despite being a tragic figure, is also highly selfish and indifferent towards the amount of suffering he has caused. Despite his love for his family, he has no problem endangering millions of innocent lives if it meant being reunited with them, making him one of Sony Pictures Animation's darkest villains to date.
History
Past
At an undetermined point in time, Wilson Fisk became the head of the company, Fisk Industries, while secretly becoming a major crime lord known as "The Kingpin". He also met and fell in love with a woman named Vanessa and with her fathered a son named Richard, though it is unknown just when this happened and whether Fisk was a criminal by then or not.
Eventually, Kingpin also started to benefit the science research & development company known as Alchemax, with its CEO being Doctor Octopus, and amassed a group of several supervillains that he hired to be enforcers and henchmen on his payroll, such as Green Goblin, Prowler, Scorpion and Tombstone.
His criminal activities also ended up making him a recurring enemy of Spider-Man during the latter's ten years as a superhero, and, during one of their battles, his wife and son walked in on the two of them fighting. Horrified by her husband's true nature, a terrified Vanessa hurriedly left with Richard, leaving a distressed Kingpin and Spider-Man behind. Unfortunately, as a result of their quick getaway, the two of them ended up dying in a car accident, severely traumatizing Fisk.
Building the Super Collider and Killing Spider-Man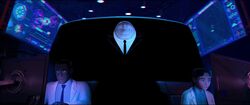 Some time after this, Kingpin, despairing over the loss of his family, began a top-secret Alchemax project that involves building a device called the Super Collider, which he believed would allow him to access alternate universes and thus allow him to reunite with his wife and son at long last. Catching wind of his plot, Spider-Man attempted to stop him, as the device was unstable and, even if successful, could destroy all of New York City. Spider-Man ended up fighting with the Green Goblin and Prowler in doing so, while also coming across Miles Morales, who had stumbled into the scene, and realizing that they share the same powers. As Kingpin's two henchmen and Spider-Man fight while Tombstone and the Alchemax scientists watch from the testing area's control room, Kingpin himself arrives and introduces the Super Collider to his enemy, before having the scientists activate it. However, much to Kingpin's distress, Green Goblin ends up shoving Spider-Man into the Super Collider's energy in an attempt to kill him, causing the experiment go awry and the Super Collider to explode, killing Green Goblin and gravely injuring Spider-Man in the process.
Following the explosion, Kingpin, Prowler and Tombstone search for the injured Spider-Man, who gives a USB drive designed to destroy the Super Collider to Miles, asking him to escape and destroy the machine for him. Kingpin then finds Spider-Man, who reveals that he knows why he is trying to use the Super Collider but insists that it won't work. Rather than listen to Spider-Man, Kingpin kills him in a fit of rage, subsequently ordering his enemy's body to be disposed of and the Collider to be rebuild. Upon noticing that an unseen Miles had witnessed the murder, Kingpin orders Prowler to kill him, though Miles ultimately escapes. News of Spider-Man's death quickly rocks New York, leading to Miles becoming fixated on following through with his promise to destroy the Super Collider. Unknown to Kingpin, an older, fatter and more disheveled version of Spider-Man from an alternate universe is summoned due to Spider-Man's DNA coming in contact with the Super Collider, and he and Miles decide to team up to stop the Super Collider and return the former to his universe.
Conflict with the Other Spider-Men
Going to Alchemax to create a new version of the USB drive (which had previously broke), Spider-Man leaves Miles behind while he infiltrates the building. However, Miles decides to come along upon seeing Kingpin and Tombstone enter the building. Kingpin begins to pressure Alchemax's CEO and the head of his Super-Collider project Olivia Octavius (Doctor Octopus) into finishing the alternate dimension-travelling machine, while, at the same time, Miles and Spider-Man begin to take the information they need, leading to them stealing Olivia's computer and its system unit while being chased down by her and the Alchemax scientists. After Spider-Man and Miles escape with the computer thanks to Spider-Gwen, Kingpin is seen with Tombstone overlooking the forest while recalling how he lost his family. When Doctor Octopus returns without the computer, he asks why he saw two Spider-Men, despite him killing the hero before he is told and that there are actually three. He is enraged at her for failing, though she insists that the appearance of more Spider-Men from other worlds only confirms that the Super Collider will work and that he will be able to summon as many alternate versions of his family as he wants once it is working again. Kingpin sees her point and has her get to work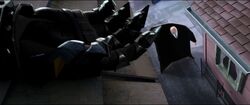 Later, after Miles finds out that his uncle Aaron is really the Prowler and escapes from his apartment, the latter tracks him down and leads Kingpin, Tombstone, Doctor Octopus and Scorpion to Aunt May's house, where they and the other Spider-Men summoned by the Super Collider (Spider-Man Noir, Peni Parker and SP//DR, and Spider-Ham) start to fight for the USB drive. Once Prowler gets a hold of Miles and prepares to kill him, only to back down upon realizing that he is about to kill his nephew, Kingpin notices his hesitation and orders him to kill Miles. Ultimately, Prowler backs down, unable to harm his nephew, and Kingpin shoots him in the back fatally for it. Kingpin turns the gun on Miles, though Peter B. Parker kicks him away and has Miles escape along with his uncle who dies of his wound. Upon his uncle's death, Miles' desire to stop and get revenge on Kingpin is driven even further, but, fearing that Miles' inexperience would get him killed, Peter webs him down in his dorm and leaves with the other Spider-Men to destroy the Super Collider, planning on sacrificing himself by staying behind to insert the drive.
Final Battle and Defeat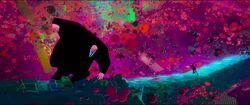 That night, Kingpin hosts a gala ostensibly in honor of the fallen Spider-Man, even inviting his widow Mary Jane Watson to the affair, but in reality only uses it as a distraction while his scientists finish rebuilding and reactivate the Super Collider to summon an alternate version of Kingpin's family. The Spider-Men manage to sneak into the affair and make their way below Fisk Tower to destroy the Super Collider, but end up getting ambushed by Doctor Octopus, Scorpion, Tombstone and Kingpin's mobster henchmen (Kingpin and the other supervillians having anticipated that they would come and foil the plot). However, Miles, now fully embracing his role as Spider-Man, quickly arrives to help, and they succeed in defeating them all. Enraged at the Spider-Men for interfering with the Collider again and ruining his chances of reuniting with his family, Kingpin jumps in to stop them after all but Peter had been sent home, the latter deciding to leave Miles to deal with the villain, fully confident that he will be able to win and shut down the Collider. The two proceed to fight within the Collider, and in that moment, alternate versions of Vanessa and Richard appear, who are all equally horrified at his actions just as the others had been.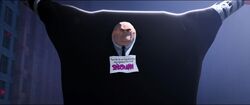 Blaming Spider-Man for taking his family from him once again, Kingpin brutally beats Miles down, sadistically remarking that he's going to make sure he never sees his own family ever again. However, encouraged by his father, Miles stands up to Kingpin, and remarks that he will never be separated from his family, before delivering a venom blast which seemingly incapacitates Kingpin and ends up destroying the Super Collider for good. Afterwards, Miles webs Kingpin up and leaves him to be found and picked up by the New York City Police Department, who discover the Kingpin shortly after Miles and his father make amends.
Equipment and Abilities
Wilson Fisk is a criminal genius who possesses extraordinary physical power due to his near-superhuman physiology.
High Intellect: Wilson Fisk is a genius businessman and a genius criminal mastermind. He funded and orchestrated for several supervillains to be hired. He is also capable of understanding the workings of Olivia Octavius' scientific developments. He is also a strategic master of manipulation and deception, able to trick the people of New York City by posing as a benevolent businessman.
Peak Physical Prowess: Fisk's physical abilities are at the pinnacle of human potential. Therefore, His strength, speed, stamina, senses, agility, reflexes, accuracy, longevity, durability, healing time, flexibility and combat skills are practically superhuman. His large size, iron willpower, sheer stubbornness and combative power allows him to surpass his human limitations to go toe-to-toe or occasionally stomped with superhumans like Spider-Man in physical confrontations.
Master Combatant: Despite his lack of superpowers, Fisk is a strong and powerful world-class fighter with tremendous and savage powerful physical strength in levels that no one can even imagine. At an undetermined point, He was able to go toe-to-toe with his world's Spider-Man and could have killed him if his wife and son didn't walk in on the two of them fighting. Fisk was able to brutally beats Miles Morales down and dodged as well as blocked some of his blows and webbing. The way he fights seems to be a mixture of sumo wrestling, professional wrestling, street fighting, bare knuckle boxing, shuai jiao and his own sheer strength mixed together, making him somewhat of a mixed martial artist.
Indomitable Willpower: Fisk possesses an astounding sense of willpower and stubbornness, able to exceed his strength expectations against superhumans like Spider-Man himself. He is unflinchingly willing to restore his family by any means necessary even if one of the means may include losing some of his wealth to fund the workings of the Particle Collider that would bring alternate versions of his loved ones and cause universal destruction. His unparalleled strength of will also allows to take hits that should kill a normal human. He is also fearless to a fault, willing to fight Spider-Man within the malfunctioning collider despite the unstable and unpredictable effects around the two.
High Pain Tolerance: Due to his immense stature, peak physical prowess and unbending mental fortitude, Fisk has a practically inhuman endurance to pain. He took direct hits from Earth-1610's Spider-Man and later Miles Morales who both possesses superhuman strength and kept fighting. During his fight against Miles, Fisk had a taxi flung at him, bumped into a crane, and landed onto Brooklyn Bridge with Miles' small body to break his fall yet none of them were enough to even tire him out. He was struck by Miles' Venom Strike and then hurled into the ceiling of the super collider, destroying it in the process but Fisk survived although was unconscious till after being webbed up by Miles.
Immense Resources: Wilson Fisk possesses incredible resources and this allows him to hire several supervillains and even fund Alchemax's research and development projects. Said resources also helped him retain good relations with the public before some of his crimes got exposed or at the very least, make it hard to convict him.
Quotes
"
Kingpin: I'd say it's nice to see you again, Spider-Man. But it's not.
Spider-Man: Hey, Kingpin. How's business?
Kingpin: Booming. Ha!
Spider-Man: Nice.
"
~ Kingpin talking to Spider-Man.
| | | |
| --- | --- | --- |
| " | It's not always about the money, Spider-Man. | " |
| | ~ Kingpin before he kills Spider-Man | |
| | | |
| --- | --- | --- |
| " | I can't wait to kill one more Spider-Man! | " |
| | ~ Kingpin about to finish off Miles Morales | |
| | | |
| --- | --- | --- |
| " | You're not stopping this! Not today! | " |
| | ~ Kingpin's confronting Miles Morales. | |
| | | |
| --- | --- | --- |
| " | What? | " |
| | ~ Kingpin to Miles Morales in their battle and also Kingpin's last words before being defeated. | |
Trivia
A crime-map at the Spider-Man base shows that Kingpin is affiliated with his universe's versions of the Shocker, the Enforcers, and the Rose. In the Earth-616 universe however, Rose is actually Kingpin's son who dies as a child in Into the Spider-Verse itself, so this character's identity is unknown.
Kingpin is Schreiber's third animation voice role. The first was My Little Pony: The Movie where he voices the Storm King and the second is Isle of Dogs where he voices Spots.
His vocal effects were provided by Lex Lang, who did the voice of Dr. Neo Cortex from Crash Bandicoot.

Villains
Animated Features
Loc-Nar | The Girl | The Queen | Captain Lincoln F. Sternn | Tyler | The Beast | Constance Nebbercracker | Shaw | Tank Evans | Reggie Belafonte | Mayor Shelbourne | General Grawl | Professor Kipple | Fifi | Doug | Ivan Ivanovitch Sakharine | Allan | Tom | Pedro | Falcon | Aristides Silk | Red Rackham | Queen Victoria | Black Bellamy | Quasimodo Wilson | Esmeralda | Chester V | Live Corp (Chester V's Holograms & Barb) | Bela | Bat Cronies | Ed and Edna | King Leonard Mudbeard | Green Pigs | Douche | Gargamel (2017) | Azrael (2017) | Monty | Smiler | Anti-Virus Bots | Hunter | King Herod | Thaddeus and Rufus | Abraham Van Helsing | Ericka Van Helsing | Kingpin | Doctor Octopus | Prowler | Green Goblin | Scorpion | Tombstone | Vanessa Fisk | Richard Fisk | Zeta | PAL Labs (PAL, PAL Max, Glaxxon 5000 & PAL Max Prime) | Pockets | Lutador | Gigi | Jonathan Loughran
Live-Action Films
Miss Hannigan | Rooster and Lily St. Regis | Christine | John Kreese | Cobra Kai (Johnny Lawrence, Dutch, Bobby Brown, Tommy & Jimmy) | Gozer | Stay Puft Marshmallow Man | Terror Dogs (Zuul & Vinz Clortho) | Library Ghost | Murray Plotsky | Central Park Thief | Lieutenant Colonel Podovsky | Marshall Murdock | Sergeant Yushin | Captain Vinh | Lieutenant Tay | River Pirates (Trong Kinh) | Lifer | Ericson | Jerry Dandridge | Billy Cole | Evil Ed | Jareth | Goblin Army | Chozen Toguchi | Sato Toguchi | Toshio & Taro | Christopher Meddows | Regine Dandrige | Colonel Zaysen | Sergeant Kourov | Tomask | Shop Assistant | Terry Silver | Mike Barnes | Snake | Dennis | Vigo | Janosz Poha | Scoleri Brothers | Mink Coat | Vilos Cohaagen (1990) | Mars Colony Security Force (Carl Hauser, Richter, Lori, Helm, Everett, Benny & Harry) | Dr. Edgemar | Raymond Zhang | Nigel Griffith | Moon | Kara | Luis Cali | Jack Thrope | Carlos | Ruiz | Jorge | T-1000 | Douglas | Skynet | James Hook (1991) | Mr. Smee (1991) | Luc Deveraux | Andrew Scott | Eric Qualen | Richard Travers | Kynette | Delmar | Kristel | Ryan | Heldon | Mike | Ray | Koga | Ishikawa | Glam | Vinnie | Slam | Darren | Gerald Thomas | Colonel Dugan | Ned Randall | Charlie | Gabe | Morgan | Jack Harding | J.J. | Jimmy | Eddy | Fouchet | Casper | Ferguson | Van Pelt | Agatha Trunchbull | Harry Wormwood | Cable Guy | Edgar the Bug | Egor Korshunov | Andrei Kolchak | Vladimir Krasin | Agent Gibbs | Boris Bazylev | Sergei Lenski | Igor Nevsky | Ivan Radek | Arachnids | Mary Ann Rogers | Lothar Zogg | C.J. | Carl | Buelow | Zed | Klaus | Lars | Eric | Zilla | Don Rafael Montero | Harrison Love | K. Edgar Singer | Huxley | Bill the Bug | Pesties | Alley Cats (Smokey, Monty, Lucky, Red & Unnamed Gray Cat) | Snowbell | S.E.T.H. | Deacon | Altaaf Khan | Hilal Kohistani | William Tavington | Genus | Russell Woodman | Green Goblin | Dennis Carradine | Bank Robbers | Harry Osborn | J. Jonah Jameson | Falcon | Chuck Cedar | Mac McGrath | Serleena | Scrad & Charlie | Jarra | Dog Poop | Corn Face | Pineal Eye | Mosh Tendrils | Flesh Balls | Jeff | Creepy | Kylothians | Devlin Bowman | Rachel Wright | Arnold Gundars | Zhu Tam | Gwyneth Harridan | Jenny | Bruce | T-X | T-1 | Johnny Tapia | James Hook (2003) | Mr. Smee (2003) | Don Price | Grigori Rasputin | Karl Ruprecht Kroenen | Ilsa Von Haupstein | Sammael | Ogdru-Jahad (Behemoth) | Warren Vandergeld | Vandergeld Sisters | Heath and Russ | Doctor Octopus | Brother Sum | The Beast | Landlady | The Axe Gang | The Harpists | Big Al | Boogeyman | Warden Hazen | Mr. Electric | Minus | Count Armand | Jacob McGivens | Zorgons | Robot | Jerry McDowell | Calvin Sims | Mr. Walken | Rosco | Bruno | Venom | Sandman | Lance Warner | Camp Canola (Robert Jeffrey Warner) | Fatoush | Grant Walbridge | Salim Yousfobdal | Derek Huff | Ted Jones | Budlofsky | Matheson | Carol Brazier | Veck Simms | James Kent | The Tornado | T-RIP | Serena Kogan | Ted Winter | Master Li | Cheng | Liang | Ted Winter | Roger Wesley | David Ershon | Benjamin Chudnofsky | Frank Scanlon | Shane | Stephanie | Gargamel (2011) | Azrael (2011) | Boris the Animal | Weasel | Lilly | Obadiah Price | Mr. Wu | Boglodites | Vilos Cohaagen (2012) | United Federation of Britain (Carl Hauser, Lori, Harry & Police Synthetics) | Lizard | Gustav Fiers | Cash Register Thief | Norman Osborn | Eli Raphelson | Martin Walker | Emil Stenz | Skip Tyler | Muriel Walker | Frat boy Andy | Vexy and Hackus | Electro | Green Goblin | Donald Menken | Rhino | Ashley Kafka | Felicia Hardy | Agent Kruger | Jessica Delacourt | John Carlyle | Guy Danlily | Miss Hannigan | Annie's Fake Parents | Jungler | Vincent Moore | Hippo | Amerika | Ninja | Yolandi | Vincent Sofel | Donkey Kong | Pac-Man | Eddie Plant | Lady Lisa | Slappy the Dummy | Monsters (Giant Praying Mantis, Will Blake, Lawn Gnomes, Madame Doom, Brent Green, Count Nightwing & The Haunted Mask) | Norman Nordstrom | Rowan North | Mayhem | Electrocuted Ghost | Gertrude Aldridge | Francis Begbie | Sick Boy | Bestman Salvage (Vulture, Tinkerer, Shocker #1, Shocker #2 & Randy Vale) | Mac Gargan | Aaron Davis | Niander Wallace | Luv | Russel Van Pelt | Tommy Madigan | Thomas McGregor | Mr. McGregor | Mrs. McGregor | James Tod | Eddie Brock/Venom | Carlton Drake/Riot | Life Foundation (Roland Treece) | Cletus Kasady | High-T | The Twins | Riza Stavros | Luca Brasi | The Hive | Mysterio's Crew (Mysterio, William Ginter Riva, Victoria Snow, Gutes Guterman, Janice Lincoln, & Doug) | Elementals (Molten Man, Hydro-Man, Sandman, Cyclone & Elemental Fusion) | Jurgen the Brutal | Fiona Landers | Melinda Landers | Sam Landers | Kayako Saeki | Isabel Aretas | Armando Armas | Melanie Cole | Barnabas | Samuel Whiskers | Tom Kitten | Mitten | Raylan | Carnage | Shriek | Kasady Family | Ivo Shandor
See Also
007 Villains | Aardman Villains | Amblin Entertainment Villains | Angry Birds Villains | Bad Boys Villains | The Boys Villains | Community Villains | Final Fantasy Villains | Fright Night Villains | Ghostbusters Villains | Ghost Rider Villains | Godzilla Villains | Goosebumps Villains | Hellboy Villains | Hotel Transylvania Villains | Jackie Chan Adventures Villains | Jerry Bruckheimer Villains | Jumanji Villains | Karate Kid Villains | Marvel Cinematic Universe Villains | Metro-Goldwyn-Mayer Villains | Men in Black Villains | Morbius: The Living Vampire Villains | Muppet Villains | Netflix Villains | Rambo Villains | Resident Evil Villains | Robocop Villains | Sony's Spider-Man Universe Villains | Spider-Man Villains | Stuart Little Villains | Syfy Villains | Terminator Villains | The Boondocks Villains | The Grudge Villains | Total Recall Villains | Trainspotting Villains | Underworld Villains | Universal Soldier Villains | Venom Villlains | XXX Villains

Villains
Comics
Abomination | Absorbing Man | Agony | A.I.M. | Alistair Smythe | Annihilus | Answer | Arcade | Ares | Arnim Zola | Attuma | Awesome Android | Baron Mordo | Baron Zemo | Basilisk | Batroc the Leaper | Beetle | Beyonder | Big Man | Black Cat | Black Widow | Blackie Drago | Blastaar | Blizzard | Blob | Bolivar Trask | Bombshell | Boomerang | Brothers Grimm | Burglar | Bulldozer | Bullseye | Bushwacker | Cadaverous | Calypso | Carlton Drake | Carnage | Carrion | Chameleon | Chance | Constrictor | Count Nefaria | Crime-Master | Crossbones | D'Spayre | Daemos | Dark Avengers | Deadpool | Demogoblin | Destroyer | Diablo | Doctor Doom | Doctor Faustus | Doctor Octopus | Doppelganger | Dormammu | Dracula | Electro | Enclave | Enforcers | Equinox | Fancy Dan | Firelord | Fixer | Freak | Frightful Four | Gabriel Stacy | Galactus | Ghost | Gibbon | Gog | Goliath | Grant Ward | Graviton | Green Goblin (Norman Osborn, Harry Osborn and Bart Hamilton) | Grey Gargoyle | Grizzy | Hammerhead | Hand | Hazmat | High Evolutionary | Hitman | Hobgoblin | Hood | Human Fly | Humbug | Hybrid | HYDRA | Hydro-Man | Ironclad | Impossible Man | Inheritors | Iguana | Jackal | Jack O' Lantern | Jester | Jigsaw | J. Jonah Jameson | Johnny Ohm | Jonas Harrow | Juggernaut | Justin Hammer | Kangaroo | Kang the Conqueror | Kaine | Karn | Killer Shrike | King Cobra | Kingpin | Knull | Kraven the Hunter | Kristoff Vernard | Lady Octopus | Lasher | Lady Deathstrike | Leader | Leap-Frog | Lee Price | Life Foundation | Lightmaster | Living Brain | Living Laser | Lizard | Loki Laufeyson | Lucia Von Bardas | Mad Thinker | Madame Masque | Madame Viper | Maestro | Maggia | Magneto | Mandarin | Man-Spider | Man-Wolf | Mania | Masked Marauder | Master Mold | Masters of Evil | Maximus | Menace | Mephisto | Mesmero | Mister Brownstone | Mister Fear | Mister Hyde | Mister Negative | M.O.D.O.K. | Mojo | Mole Man | Molten Man | Montana | Moonstone | Morbius | Morlun | Moses Magnum | Mysterio (Quentin Beck, Daniel Berkhart and Francis Klum) | Nebula | Nekra | Nightmare | Niles Van Roekel | Nitro | Onslaught | Overdrive | Orka | Owl | Ox | Phage | Phil Urich | Piledriver | Princess Python | The Prowler | Psycho-Man | Puma | Punisher | Punisher (Earth-95126) | Puppet Master | Quasimodo | Quicksilver | Ramrod | Raze | Red Ghost | Red Skull | Rhino | Rhino II | Richard Fisk | Ringer | Ringmaster | Riot | Roland Treece | The Rose | Roxxon Energy Corporation | Sabretooth | Sandman | Sarah Stacy | Sauron | Scarecrow | Scarlet Witch | Scorcher | Scorpion | Scorn | Scream | Sebastian Shaw | Secret Empire | Serpent Society | Sentinels | Seth Youngblood | Shocker | Shriek | Sin-Eater | Silvermane | Silver Sable | Sinister Six | Skip | Skrulls | Solus | Songbird | Patton Parnel | Spider-Carnage | Spider-Man Revenge Squad | Spider-Slayers | Spot | Stegron | Street | Super-Apes | Supercharger | Swarm | Symbiotes | Tarantula | Taskmaster | Terminus | Terrax | Thanos | The Thousand | Thunderball | Thunderbolt Ross | Thunderbolts | Tinkerer | Titania | Titanium Man | Toad | Tombstone | Trapster | Turner D. Century | Typhoid Mary | Tyrannus | U-Foes | Ultimatum | Ultron | Vapor | Vanessa Fisk | Vector | Venom (Eddie Brock) | Vermin | Vulture | Walrus | Whiplash | White Rabbit | Whirlwind | Will-O'-The-Wisp | Wizard | Worthy | Wrecker | X-Ray | Zodiac | Zombie Spider-Man | Zombie Giant-Man
Movies
Spider-Man: Green Goblin | Dennis Carradine | Bank Robbers | Harry Osborn | J. Jonah Jameson
Spider-Man 2: Doctor Octopus | Harry Osborn | J. Jonah Jameson | Green Goblin
Spider-Man 3: Venom | Sandman | New Goblin | J. Jonah Jameson | Green Goblin | Dennis Carradine
The Amazing Spider-Man: Lizard | Gustav Fiers | Cash Register Thief | Norman Osborn
The Amazing Spider-Man 2: Electro | Green Goblin | Donald Menken | Rhino | Alistair Smythe | Ashley Kafka | Felicia Hardy | Gustav Fiers | Norman Osborn
Spider-Man: Homecoming: Bestman Salvage (Vulture, Tinkerer, Shocker #1, Shocker #2 & Randy Vale) | Mac Gargan | Aaron Davis
Spider-Man: Into the Spider-Verse: Kingpin | Doctor Octopus | Prowler | Tombstone | Scorpion | Green Goblin | Vanessa Fisk | Richard Fisk
Spider-Man: Far From Home: Mysterio's Crew (Mysterio, William Ginter Riva, Victoria Snow, Gutes Guterman, Janice Lincoln, & Doug) | Elementals (Molten Man, Hydro-Man, Sandman, Cyclone and Elemental Fusion) | Skrulls (Talos) | Obadiah Stane | J. Jonah Jameson
Spider-Man: No Way Home: Raimiverse (Green Goblin, Doctor Octopus & Sandman) | Webbverse (Electro & Lizard) | J. Jonah Jameson | Venom | Mysterio

Television
Spider-Man (1967)
Vulture | Green Goblin | Electro | Rhino | Mysterio | Doctor Octopus | Scorpion | Human Fly | Kingpin | Lizard | Spider-Slayer | Sandman | Dr. Matto Magneto | Enforcers (Cowboy and Ox) | Frederick Foswell | Mole Man | J. Jonah Jameson
Spider-Man (1981)
Doctor Doom | Kingpin | Doctor Octopus | Lizard | Black Cat | Sandman | Silvermane | Magneto | Mysterio | Ringmaster | Green Goblin | Sidewinder | Kraven the Hunter | Red Skull | Chameleon | Vulture | Hammerhead | Wizard
Spider-Man and His Amazing Friends (1981)
Green Goblin | Kraven the Hunter | Doctor Doom | Swarm | Chameleon | Electro | Brotherhood of Mutants (Magneto, Blob, Toad, and Mastermind) | Mysterio | Loki Laufeyson | Ymir | Mordred | Kingpin | Doctor Faustus | Red Skull | Juggernaut | Shocker | Sandman | Dracula | Scorpion | Beetle | Doctor Octopus | A.I.M.
Spider-Man: The Animated Series
Kingpin | Green Goblin (Norman Osborn and Harry Osborn) | Doctor Octopus | Hobgoblin | Venom | Vanessa Fisk | Richard Fisk | Silvermane | Insidious Six (Scorpion, Rhino, Mysterio, Chameleon, Shocker, and Vulture) | Black Cat | Lizard | Morbius | Spider-Carnage | Spider-Slayers (Alistair Smythe) | Carnage | Baron Mordo | Dormammu | Silver Sable | Hydro-Man | Prowler | Doctor Doom | Red Skull | Electro | Hammerhead | Tombstone | Punisher | Kraven the Hunter | Calypso | Herbert Landon | Jackal | Owl | Spot | Beyonder | J. Jonah Jameson
Spider-Man Unlimited
High Evolutionary | Venom | Carnage | Electro | Kraven the Hunter | Green Goblin | Vulture | Man-Wolf | J. Jonah Jameson
Spider-Man: The New Animated Series
Harry Osborn | Electro | Kraven the Hunter | Turbo Jet | Kingpin | Lizard | Shikata | Silver Sable
The Spectacular Spider-Man
Green Goblin | Tombstone | Doctor Octopus | Hammerhead | Venom (Eddie Brock) | Sinister Six (Rhino, Vulture, Electro, Sandman, Mysterio, and Kraven the Hunter) | Chameleon | Tinkerer | Enforcers (Shocker, Ricochet and Ox) | Molten Man | Silvermane | Silver Sable | Harry Osborn | Lizard | J. Jonah Jameson | Black Cat | Miles Warren | Frederick Foswell | Calypso | Roderick Kingsley | Morris Bench | Cletus Kasady
Ultimate Spider-Man
Doctor Octopus | Green Goblin | Harry Osborn | Taskmaster | HYDRA (Arnim Zola, Crossbones, Morbius, and Baron Mordo) | Sinister Six (Kraven the Hunter, Rhino, Electro, Scorpion, Vulture, and Hydro-Man) | Toad | Batroc the Leaper | Beetle | Lizard | Frightful Four (Wizard, Trapster & Klaw) | Juggernaut | Sandman | Venom | Loki Laufeyson | The Collector | Grandmaster | Carnage | Wolf Spider | Ultimate Green Goblin | Shocker | Shriek | Swarm | Dracula | Spider-Slayers (Kaine) | Absorbing Man | Abomination | Annihilus | Arcade | Attuma | Awesome Android | Blastaar | Blizzard | Boomerang | Chitauri | Deadpool | Destroyer | Doctor Doom | Dormammu | Skurge | Enforcers (Montana, Fancy Dan, Ox) | Frost Giants | Grizzly | Hammerhead | Jack O'Lantern | Korvac | The Leader | Living Laser | Man-Wolf | Maximus | Melter | Mesmero | M.O.D.O.K. | Molten Man | Mister Negative | Mysterio | Nightmare | Norma Osborn | Phalanx | Sabretooth | Skaar | Galactus | Ulik | Whirlwind | Wrecker | Piledriver | Thunderball | Bulldozer | Ymir | Zodiac | Scorpio | Zzzax | J. Jonah Jameson
Spider-Man (2017)
Symbiotes (Venom, Scream, Scorn, and Mania) | Dark Goblin | Hobgoblin | Doctor Octopus | Vulture/Goblin King | Alistair Smythe | Rhino | Jackal | Hammerhead | Electro | A.I.M. (M.O.D.O.K.) | Spider-Slayers | Lizard | Tinkerer | Swarm | Scorpion | Sinister Six | Kraven the Hunter | Man-Wolf | Silver Sable | Beetle | Spot | Prowler | Molten Man | Mister Negative | Chameleon | HYDRA (Crossbones and Arnim Zola) | Black Cat | Ghost | Blizzard | Absorbing Man | Crimson Dynamo | Overdrive | Mysterio | Jack O'Lantern | Silvermane | Lady Octopus | Paladin | Puma | Shocker | Living Brain | Sandman | Technovore | Baron Mordo | Knull | J. Jonah Jameson
Spidey and His Amazing Friends (2021)
Green Goblin | Doctor Octopus | Rhino
Video Games
The Amazing Spider-Man & Captain America in Dr. Doom's Revenge: Doctor Doom | Electro | Hobgoblin | Rhino | Boomerang | Grey Gargoyle | Oddball | Batroc the Leaper | Mysterio
Spider-Man: Return of the Sinister Six: Sinister Six (Doctor Octopus, Electro, Hobgoblin, Mysterio, Sandman and Vulture)
Spider-Man & X-Men: Arcade's Revenge: Arcade | Carnage | Rhino | Apocalypse | Juggernaut | Selene Gallio | Sentinels | Master Mold
Spider-Man and Venom: Maximum Carnage: Carnage | Shriek | Doppelganger | Demogoblin | Carrion
Spider-Man and Venom: Separation Anxiety: The Jury | Sentry | Ramshot | Screech | Bomblast | Firearm | Wysper | Life Foundation | Symbiotes (Carnage | Riot | Phage | Lasher | Agony | Scream)
Spider-Man (2000): Doctor Octopus | Symbiotes | (Carnage, Venom) | Jade Syndicate | Monster Ock | Scorpion | Rhino | Mysterio, J. Jonah Jameson, Lizard
Spider-Man 2: Enter Electro: Electro | Beetle | Hammerhead | Lizard |Sandman | Shocker
Spider-Man (2002): Green Goblin | Shocker | Vulture | Spider-Slayers | Scorpion | Kraven the Hunter | Dennis Carradine | Harry Osborn | J. Jonah Jameson
Spider-Man 2: Doctor Octopus | Harry Osborn | Rhino | Mysterio | Shocker | Puma | Black Cat | Vulture | Calypso | J. Jonah Jameson
Ultimate Spider-Man: Bolivar Trask | Venom | Vulture | Silver Sable | Shocker | R.H.I.N.O. | Electro | Beetle | Green Goblin | Sandman | Carnage
Spider-Man 3: Venom | Sandman | New Goblin | Lizard | Scorpion | Kraven the Hunter | Calypso | Kingpin | Rhino | Morbius | Shriek | H-Bombers (Mad Bomber) | J. Jonah Jameson
Spider-Man: Web of Shadows: Spider-Man | Venom | Kingpin | Black Cat | Vulture | Electro | Tinkerer | Rhino
Spider-Man: Shattered Dimensions: Mysterio | Kraven the Hunter | Hammerhead | Hobgoblin | Electro | Sandman | Vulture | Scorpion | Deadpool | Juggernaut | Silver Sable | Goblin | Serena Patel | Carnage
Spider-Man: Edge of Time: Peter Parker | Atrocity | Walker Sloan
The Amazing Spider-Man: Spider-Slayers (Alistair Smythe) | Lizard | Rhino | Vermin | Scorpion | Felicia Hardy | Iguana | Nattie
The Amazing Spider-Man 2: Carnage | Kingpin | Green Goblin | Shocker | Kraven the Hunter | Black Cat | Electro | Chameleon | Norman Osborn | Cash Register Thief
Marvel's Spider-Man: Sinister Six (Doctor Octopus, Mister Negative, Electro, Vulture, Rhino and Scorpion) | Inner Demons | Norman Osborn | Silver Sable | Kingpin | Shocker | Tombstone | Taskmaster | Black Cat | Screwball | Hammerhead | Walter Hardy | Yuriko Watanabe
Marvel's Spider-Man: Miles Morales: Roxxon Energy Corporation (Simon Krieger) | The Underground (Tinkerer) | Prowler | Rhino | Kingpin | Norman Osborn | Doctor Octopus | Vulture
See Also
Black Cat Villains | Cloak & Dagger Villains | Morbius: The Living Vampire Villains | Prowler Villains | Punisher Villains | Scarlet Spider Villains | Silk Villains | Silver Sable Villains | Solo Villains | Sony's Spider-Man Universe Villains | Spider-Girl Villains | Spider-Gwen Villains | Spider-Man 2099 Villains | Spider-Man Noir Villains | Spider-Woman Villains | Supaidaman Villains | Venom Villains