Wiki Targeted (Entertainment)
Play Sound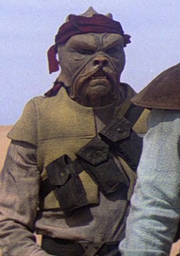 Kithaba is a minor antagonist in Star Wars Episode VI: Return of the Jedi.
He was portrayed by stuntmen Dickey Beer.
Biography
Kithaba was a Klatooinian assassin employed by crime lord Jabba the Hutt as a skiff guard. When Jabba decided to executed Luke Skywalker, Han Solo and Chewbacca by feeding them to the Sarlacc, Kithaba was one of the guards assigned to the sand skiff to supervise the execution. However, Luke's droid R2-D2 slipped him his lightsabre and he was able to get free using the Force and attacked his guards. Kithaba was knocked off the skiff during the fight, and landed next to the Sarlacc pit. However, he survived, albeit injured, and lived through much of the fighting before the Sarlacc coiled its tongue round him and dragged him into the pit, where he was devoured.