Jafar says: Read my lips and come to grips with the reality!


This article is a stub and is in need of expansion. You can help Villains Wiki by expanding it.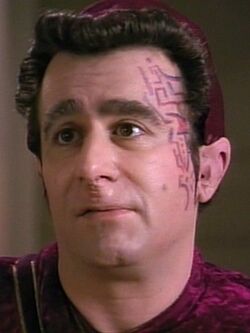 | | | |
| --- | --- | --- |
| " | Why don't you accept your fate? You will return to your chair and you will sit there. You will entertain me and you will entertain my guests. And if you do not, I will simply kill somebody else. Him, perhaps. It doesn't matter. Their blood will be on your hands too, just like poor Varria's. Your only alternative, Data, is to fire. Murder me. That's all you have to do. Go ahead. Fire. If only you could feel rage over Varria's death. If only you could feel the need for revenge, then maybe you could fire. But you're just an android. You can't feel anything, can you? It's just another interesting intellectual puzzle for you. Another of life's curiosities. | " |
| | ~ Fajo threatening Data before his own downfall. | |
Kivas Fajo is a Zibalian trader in the 24th century, who was was educated on the planet Iraatan V, appearing in one episode of Star Trek: The Next Generation, The Most Toys as the main antagonist of the episode.
He was portrayed by Saul Rubinek.
History
By 2366, Fajo owned a trade ship called the Jovis and had become known throughout the Stacius Trade Guild for his large collection of rare and precious items. One of his competitors was Palor Toff. Aboard the Jovis, Fajo was assisted with his collection by Varria, who began working for Fajo in 2352.
In 2366, Fajo attempted to add Lieutenant Commander Data to his collection. When the water supply at the Beta Agni II colony became contaminated with tricyanate, Fajo supplied the USS Enterprise-D with hytritium, tricyanate's only known antidote, ferried in shuttles as it was too unstable for safe transporter use. After disabling Data, Fajo staged a shuttle explosion making it appear to Starfleet and the crew of the Enterprise that Data had been destroyed. When Data initially refused to cooperate, Fajo's threatened to kill Varria unless Data did as he was told.
Meanwhile, after discovering that Beta Agni's contamination came from sabotage, not a natural disaster, the Enterprise crew became suspicious of the trader who had provided exactly enough of the rare counteragent and needed to hear only a few pieces of Fajo's collection to conclude that Data had likely been added to it. The Enterprise set a pursuit course for the Jovis.
When Varria attempted to help Data escape, Fajo's personality peaked to anger, and he killed her with a Varon-T disruptor, showing no remorse. He then threatened Data to either return to his chair and sit there with no hope of escape or he will kill others so that the blood will be on Data's hands. Witnessing the act, and without knowledge that the Enterprise was returning for him, Data prepared to kill Fajo with the Disruptor, concluding logically that Fajo's very existence conflicted with Data's own regard for life. Fortunately for Fajo, Data was transported to the Enterprise just as he opened fire, and Fajo's life was spared, the Enterprise arriving just in time. Unfortunately for the trader, however, he was arrested and his collection was confiscated. Everything he ever looted would be returned to their proper owners, and when Fajo asks if this brings joy to Data having lost everything, the android simply replies he's just an android.
Personality
Fajo's personality was very childish and almost obsessive about his collection, and his speech mannerisms reflected that. He was also very controlling of others, and would often try to get his way through his brash and snippy attitude, becoming very upset if he didn't get his way. His methods could be unscrupulous if it suited his goals.
Fajo showed no sign of any moral fiber. Ultimately, he valued possessing unique and rare items only — he cares nothing for the welfare and lives of other beings. He disregarded Data's right to personal freedom and certainly did not mind killing his own people. He easily killed Varria, his servant for 14 years, without any sign of remorse, and even attempted to pass the responsibility to Data as a result of his disobedience and attempt to escape.
Background
He was original to be portrayed by the late David Rappaport. However, David Rappaport attempted suicide over the weekend after a few days of filming, and the role was subsequently recast with Saul Rubinek taking over as Fajo.

Villains
Movies
Star Trek: The Motion Picture: V'Ger: Klingons ( Barak )
Star Trek II: The Wrath of Khan: Augments (Khan & Joachim)
Star Trek III: The Search for Spock: Klingons (Kruge, Torg, Maltz) | Valkris
Star Trek IV: The Voyage Home: Whale Probe | Kamarag
Star Trek V: The Final Frontier: The One | Klingons (Klaa & Vixis) | Sybok
Star Trek VI: The Undiscovered Country: Khitomer Conspiracy (General Chang, Nanclus, Valeris, Admiral Cartwright, Patrick West, Harlan Burke, Thomas Samno)
Star Trek Generations: Tolian Soran | Klingons (Lursa & B'Etor)
Star Trek: First Contact: The Borg (Borg Queen)
Star Trek: Insurrection: Son'a (Ahdar Ru'afo & Gallatin) | Matthew Dougherty
Star Trek: Nemesis: Remans (Shinzon, Viceroy, Tal'aura, Suran & Donatra)
Star Trek (2009): Romulans (Nero & Ayel)
Star Trek Into Darkness: Khan | Alexander Marcus
Star Trek Beyond: Krall | Manas | Kalara
Television
Ah-Kel | Anan 7 | Apollo | Arctus Baran | Ardra | Arik Soong | Armus | Arthur Coleman | Khan | Ba'ul | Balok | Banean Doctor | Basso Tromac | Ben Finney | Benjamin Maxwell | Beta XII-A entity | Bok | The Borg | Broca | Brunt | Cardassian Union (Dukat, Damar & Cardassians) | Charlie Evans | Chu'lak | Clown | Colonel Phillip Green | Crell Moset | Crystalline Entity | Culluh | Cyrus Redblock | D'Ghor | D'Nesh | Damrus | Danby Connor (MU) | Denevan parasites | Dereth | Dexter Remmick | Doctor Chaotica | Dolim | Dr. Janice Lester | Dular Garos | Duras | Ekosian SS (Melakon) | Elim Garak (Mirror Universe) | Ellen Landry | Equinox EMH | Erik Pressman | Evil Kirk | Fallit Kot | Gabriel Lorca (MU) | Garth of Izar | Gary Mitchell | Gorgan | Gorn | Female Changeling | Gowron | Hagath | Harry Mudd | Henoch | Hikaru Sulu (MU) | Hoshi Sato (Mirror Universe) | Ibudan | Ilon Tandro | Imperial Starfleet | Ira Graves | J'Dan | Jabin | James Leyton | James T. Kirk | Jaro Essa | Jem'Hadar | Jev | John Frederick Paxton | John Gill | Jonathan Archer (Mirror Universe) | Joran Dax | Julian Bashir (Changeling) | Karnas | Kathryn Janeway (Kyrian Recreation) | Kar Kantar | Kazon | Kennelly | Kieran MacDuff | Kila Marr | Kira Nerys (Mirror Universe) | Kivas Fajo | Kodos the Executioner | Kol | Kol-Sha | Koloth | Konmel | Kor | Korris | Kras | Krax | Kunivas | L'Rell | Landru | Lazarus | Leland | Lenore Karidian | Letek | Locutus | Locutus | Lon Suder | Lore | Lutan | Luther Sloan | M-113 Creature | Maab | Madred | Malcolm Reed (MU) | Malon | Maras | Marla McGivers | Martok (Changeling) | Matthew Harris | Matthew Ryan | Maxwell Burke | Michael Eddington | Michael Jonas | Miles O'Brien (Changeling) | Morag (Klingon) | Na'kuhl | Nagilum | Navaar | Neela | Neural Parasites | Nomad | Norah Satie | Nyota Uhura | Oracle of the People | Patar | Paul Stamets (MU) | Pavel Chekov (Mirror) | Pe'Nar Makull | Philippa Georgiou (MU) | Professor Moriarty | Q | Rao Vantika | Redjac | Regent of Palamar | Dr. Roger Korby | Romulan Commander (Balance of Terror) | Ron Tracey | Rota Sevrin | Rudolph Ransom | Sabin Genestra | Sela | Seska | Seven of Nine (KR) | Shran | Silaran Prin | Silik | Sobi | Spawnmother (2364) | Spawnmother (2376) | Sphere-Builders | Spock (Mirror Universe) | Sulan | Surata IV Vine | Sylvia Tilly | Sylvia (Ornithoid) | T'Kuvma | T'Paal | Tahna Los | Talosian Keeper | Talosians | Tarah | Tarr | Tedran | Terra Prime | The Albino | The Doctor (Kyrian Recreation) | Thot Gor | Thot Pran | Tomalak | Toral | Trabe | Traeg | Travis Mayweather (MU) | Trekal Darhe'el | Trelane | Tret | Tristan Adams | Ulis | Ux-Mal Entity | V'Las | V'latak | Valdore | Verad Kalon | Ves Alkar | Voq | Wesley Crusher | Weyoun | William Ross | Winn Adami | Worf (Mirror Universe) | Zorn
Community content is available under
CC-BY-SA
unless otherwise noted.