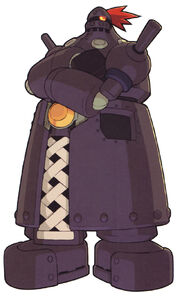 Klaymoor is a minor villain from Megaman Legends 2. He is a retired sky pirate, who is already rich enough due to his job. He goes disguised on the meeting on the Sulphur-Bottom along with the Bonnes and Glyde, where they hear about the keys to the Mother Lode, a legendary treasure, so they agree to join forces to retrieve the keys. Klaymoor convinces his old-time friend Bola to help him, so the two split up to search on different islands. He goes to the Nino Ruins find the key there, but Volnutt finds it first. Angered, Klaymoor fights him but loses, so he retreats. As Volnutt tries to leave the ruins, Klaymoor stops him and demands a rematch. However, Klaymoor ends paralyzed due to a back pain, so Bola appears and rescues him. Later on, he give up on the search for the keys, leaving Glyde and the Bonnes all by themselves.
Community content is available under
CC-BY-SA
unless otherwise noted.