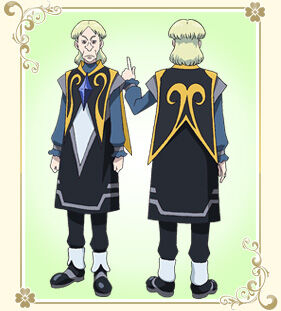 Klein is a middle-aged man has only appeared in episodes 9, 22, 23, 35, 36, 42, 46, 47 and 48. He appears to be one of the elite members of Labyrinth.
He was voiced by Koji Hiwatari.
Appearance
His theme colors are shades of yellow and indigo.
History
He appears as Moebius right-hand and gives Eas, Westar and Soular some orders of Moebius. He also sends the mail about Eas' death time, but when she is resurrected as Cure Passion, he is surprised.
He assists Moebius' plan to control the parallel worlds and he observe the inhabitants from Labyrinth. When he finds out, that they are cheering the Pretty Cures who decides to fight them, when Northa is defeated. He transforms into his monster form and beat them down. Northa propounds to fuse together and he accepts this.
The fusion of them is powerful enough to stand against the Cures strongest attacks and beats them down, but the energy of the inhabitants gives the Cures the power to transform into Cure Angels. Then, Northa, Klein is finally defeated by the attack Loving True Heart and both Klein and Northa turn back into their original forms.
In Episode 49 it is revealed that he was created by Moebius using the DNA of a Lizard.
Abilities
Klein is able to navigate Moebius' computer system which allowed him to observe the people of Labyrinth. He can also teleport.
He can transform into a large humanoid lizard; this form is strong and fast enough to defeat the Pretty Cures in combat. When he fuses with Northa, they become to a human-sized dragon-hybrid and become more powerful. It is strong enough to negate Triple Fresh and Happiness Hurricane and it is able to break out from Lucky Clover Grand Finale. This fusion is far stronger than Pretty Cures, but it weaker than the Cure Angels. It can uses energy blasts.
Trivia
He shares many similarities with Kawarino from Yes! Pretty Cure 5:

Both are the loyal right-hands of the main villains, Moebius and Desperaia, respectively.
Both look weak in their human form, due to Klein's middle-aged appearance and Kawarino's slim body, but they are physically the strongest members of their respective organizations.
Both can defeat the Pretty Cures by direct combat.
Both can transform into large-sized humanoid reptiles: Klein as a lizard and Kawarino as a chameleon.
Both of them transformed only once and in one of the finale episodes.
Both can make scary faces by widely open their eyes.
Both are (at least one of) the most evil members of their respective organizations.
Both are rarely active.

The fusion of Klein and Northa has the latters' voice actress.
Gallery
Community content is available under
CC-BY-SA
unless otherwise noted.