She-Hulk Trailer Dropped - The Loop
Play Sound



Click to help Cruella!

This scum Kludge is driving Cruella insane!
IT MUST BE REWRITTEN OR ADDED TO!!
So sayeth the great Lord of Darkness Sauron, or he will send Darth Vader to terminate you.

Help improve this article by rewriting, expanding, updating the poorly written text of the article. ✓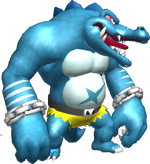 Kludge is the arch-enemy of Funky Kong from 2007 race game Donkey Kong Barrel Blast. He appeared in one game,but lacking in all other departments. He is unlocked if the Diamond Cup is won with a Kremling
Appearance
Kludge bears a resemblance to a member of the Kremling Krew though his relationship to any of these species is unknown. He has an "X" across his stomach, three white stripes on both arms, chains around his wrists, red eyes, and yellow shorts with a skull belt. His bongos are chained and has a blue "X" on the sides and are also spiked on the top and bottom.
Personality
Kludge has made him firm friends with Kip and Kass. Unfortunately, Kludge is pretty simpleminded thinking about too much at once tends to overheat his brain. His hobby is devouring anything and everything at the dinner table.
Kludge is seen training along Diddy Kong, Tiny Kong and Kip. In the Records cutscene, he is seen with Tiny Kong, Funky Kong, Dixie Kong and Kip looking at a scoreboard.

Story Role
In the game itself Kludge is the rival of Funky Kong and consequently has exactly the same status values. His main features.He is extremely powerful but lacks it at other points , In order to free it, the diamond cup must be managed with a cremling. In addition, he shows a childlike nature, which is why he has become acquainted with Kip and Kass.
Gallery
Trivia
 There are rumors, however, that he and Kalypso have a common relationship.