Click To Help DIO!

DIO has declared that this article has stopped in time, and any and all information on it may be outdated.
Help improve this article by checking and updating it's info wherever necessary
And now time resumes!

✓



Click to help Cruella!

This scum Knorda is driving Cruella insane!
IT MUST BE REWRITTEN OR ADDED TO!!
So sayeth the great Lord of Darkness Sauron, or he will send Darth Vader to terminate you.

Help improve this article by rewriting, expanding, updating the poorly written text of the article. ✓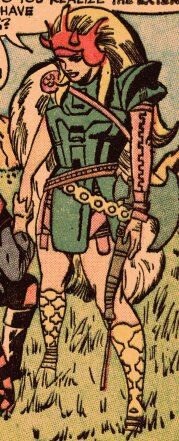 Though human sized, Knorda is an Asgardian queen of the Mountain Giants and possesses superhuman strength and durability, as well as being highly resistant to cold, aging and conventional disease. Given her garment, one would speculate that she is an experienced warrior. When Arkin the Weak tells Knorda that Thor was banished by Odin she leads her people and Arkin into combat though she is defeated when it is revealed that Thor's banishment is a ruse. In defeat she offers her axe and tells Arkin to never speak to her again.
Community content is available under
CC-BY-SA
unless otherwise noted.