Jurassic World: Dominion Dominates Fandom Wikis - The Loop
Play Sound
| | | |
| --- | --- | --- |
| " | Tell me, how much do you love your family? | " |
| | ~ Kores Botha to Will Sawyer. | |
Kores Botha is the main antagonist of the 2018 action thriller film Skyscraper. He is a freelance terrorist who sets a massive fire in the 96th floor of "The Pearl", the world's tallest building, and kidnaps Will Sawyer's daughter.
He is portrayed by Roland Møller, who also played Aleksander Bremovych in Atomic Blonde.
Biography
Kores Botha is first seen inside the basement floor of the Pearl when one of his henchmen kills a mechanical engineer. He later greets Will Sawyer's family, initially friendly towards them, after on he contacts his strike team who after breaching the administration facility, hack into the anti-fire measures and lock Zhao out.
He orders them to seal all fire doors from 95 to the ground floor and to deactivate all anti-fire measures from 96 to the top floor, opening the shaft air vents and allowing the fire to accelerate upwards via fresh oxygen from the shafts. He then frames Will Sawyer as the mastermind of the attack.
Botha later ambushes Zhao's security team after Zhao reluctantly agrees to evacuate, and wounds Zhou's head of security, Okeke. Botha attempts to take Zhao hostage, but Okeke attacks him. Botha kills Okeke, but allows Zhao to escape and seal himself in his penthouse. 
Botha learns Sawyer and his family are in the building, and kidnaps Sawyer's daughter, using her to coerce Sawyer into gaining access to the penthouse for him.
Sawyer gains access to the penthouse in which a brief struggle ensues between him and Zhao whom Sawyer overpowers and later learns from him that Botha was originally a business partner of his who worked for three powerful crime syndicates. Botha came to Zhao and extorted payments from him by threatening to cripple his labor force, Zhao payed him but secretly hid tracking software within his wire transfer which allowed him to trace all transactions as Botha laundered money from him. After the syndicates discovered that they were compromised, they threatened to destroy Botha if he didn't retrieve the data, Sawyer and Zhao devise a plan to retrieve his daughter and stop Botha from obtaining the drive. 
Within the Pearl's sphere, Botha who is preparing to evacuate the building in a parachute is encountered by Sawyer and Zhao, Zhao demands to be giving a parachute to which Botha forces one of his men to give to him, Zhao then tosses the drive to distract them while Sawyer retrieves his daughter. Zhao activates the Pearl's mirror panels making it difficult for them to pinpoint each other while simultaneously, his strike team at the administration facility is wiped out by police.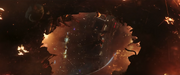 Following the struggle in the Pearl's sphere, Zhao is wounded while Botha's entire strike team is taken out by Sawyer, Botha manages to find Sawyer's daughter and holds her hostage with a grenade as he attempts to use her as leverage to force Sawyer to give him the drive or else threatens to kill her or them both, unbeknownst to him, the Sawyer he was talking to was a reflection of the real Sawyer who was standing behind him. Sawyer kicks Botha through a hole within the ground and drops the grenade after him, which explodes and kills Botha.

Villains

Villains
Animated Features
Stan Beals | Wasps
Live-Action Films
Ra's al Ghul | League of Shadows (Ra's Decoy) | Scarecrow | Carmine Falcone | Victor Zsasz | Arnold Flass | Joe Chill | Lex Luthor | Scrunt | German Drinking Team | Cherry | Xerxes | Theron | Ephialtes | The Immortals | Joker | Joker's Thugs (Thomas Schiff, Chuckles, Kilson, Happy, Dopey, Grumpy & Bus Driver) | Two-Face | Sal Maroni | The Chechen | Gambol | Lau | Bank Manager | Michael Wuertz | Burmese Bandit | Rorschach | Ozymandias | The Comedian | Doctor Manhattan | Moloch | The Flasher | Leslie Chow | Officer Franklin and Officer Garden | Melissa | Sam | Steven Wilkins | Mr. Kreeg | Laurie | Macy | Lord Ozunu | Takeshi | Hades | Acrisius | Medusa | Charon | Prokopion | Dioskilos | Kraken | Quentin Turnbull | Burke | Mal Cobb | Blue Jones | Kingsley | Russian mobsters | Kronos | Ares | Cyclopes | Makhai | Minotaur | Bane | Talia al Ghul | Barsad | Catwoman | John Daggett | General Fallon | The Giants | Lord Roderick | Wickie | Marshall | Black Doug | Precursors | Kaiju (Trespasser, Knifehead, Mutavore, Otachi, Leatherback, Raiju, Scunner, Slattern, Onibaba, Obsidian Fury & Raijin, Hakuja and Shrikethorn) | Artemisia | Artaphernes | M.U.T.O. | Satan | Mehmed II | Master Vampire | Dr. Mann | Mother Malkin | Mutsushiro Watanabe | Elias Kassar | General Lyons | Indominus rex | Vic Hoskins | Henry Wu | Lady Lucille Sharpe | Krampus | Krampus' Elves | Krampus' Toys | Krampus' Gingerbread Men | Gul'dan | The Horde (Blackhand the Destroyer & Orgrim Doomhammer) | Dean Redding | Tao Tei (Tao Tei Queen) | Skullcrawlers (Skull Devil) | Preston Packard | Newton Geiszler | Eli Mills | Ken Wheatley | Gunnar Eversol | Kores Botha | Xia | Mr. Pierce | Ku Klux Klan (David Duke, Felix Kendrickson, Walter Breachway, Ivanhoe & Nelson Walker) | Andy Landers | Connie Kendrickson | Kennebrew Beauregard | Howard Clifford | Ditto | Sebastian | Ann Laurent | King Ghidorah | Alan Jonah | Rodan | Asher Jonah | Emma Russell | Mechagodzilla | Apex Cybernetics (Walter Simmons, Ren Serizawa & Maia Simmons) | Baron Vladimir Harkonnen | Count Glossu Rabban | John Hartley | Nolan Booth | Sarah Black | Sotto Voce | Leatherface
See Also
Amblin Entertainment Villains | Batman Villains | Blumhouse Productions Villains | Christopher Nolan Villains | DC Extended Universe Villains | Dead Rising Villains | Dracula Villains | Dune Villains | Godzilla Villains | Jurassic Park Villains | King Kong Villains | MonsterVerse Villains | Netflix Villains | New Line Cinema Villains | Paramount Villains | Pokémon Villains | Superman Villains | Texas Chainsaw Massacre Villains | The Hangover Villains | The Toxic Avengers Villains | Universal Studios Villains | Warcraft Villains | Warner Bros. Villains | Watchmen Villains