We're Getting Mutants in the MCU - The Loop
Play Sound
Kraid is a major antagonist in the Metroid series. He is a dinosaur-like alien who acts as a Space Pirate general and is one of the two (four in Super Metroid) monsters Samus is required to defeat in order to reach Mother Brain.
Appearance
Metroid
In the very first game, Kraid, much like Ridley, was just merely a miniboss and comparable in size to Samus Aran, maybe even smaller. He is depicted as a yellow reptilian beast with green eyes and green fur on the back of his body. Horns are seen covering his body, one on his head, two in his chest, and three curved spikes on his back.
Super Metroid/Metroid: Zero Mission
In both Super Metroid, and Metroid: Zero Mission, Kraid's physical appearance changes dramatically. He becomes a giant dinosaur-like monster with three eyes, and three holes on his stomach which can shoot out t. rex-like arms.
Metroid Dread
In Metroid Dread, Kraid's appearance is similar to his design to Super Metroid and Metroid: Zero Mission, although his design is shown more obese and his neck is crooked. His scales are shown cracked and scarred, and the middle hole on his belly is purple and swollen.
Biography
Metroid/Metroid: Zero Mission
Kraid and Ridley are the two minibosses that must be fought in order to make it to Mother Brain. Kraid fights by shooting spikes out of holes in his stomach and boomerang-shaped spikes from his back. Upon defeating Kraid, Samus is rewarded with a 75 missile ammo capacity.
In Metroid: Zero Mission, Kraid fights similarly to how he was fought in Super Metroid, retconning his design from Super Metroid and the location of his battle from the original Metroid game. Once Samus deals the final blow, Kraid partially sinks into the ground and lets out a loud shriek before exploding, allowing Samus to gain the Speed Booster.
Super Metroid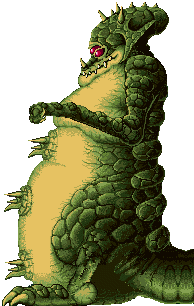 Kraid fights with razor-sharp claws and shoots out T. rex-like arms out of his stomach. His main weaknesses are his third eye and his mouth. When Samus shoots at the eye, Kraid's mouth opens for a second. Samus then shoots Kraid in the mouth with a Charged Beam, Missile, or Super Missile, injuring Kraid. She does this several times until Kraid is defeated, allowing her to gain the Varia Suit to venture into Norfair.
Metroid Prime
Kraid, known amongst fans as "Meta Kraid" in a manner similar to the game's Meta Ridley, was supposed to be a boss in the first Metroid Prime game, but was cut from the game as a result of time constraints. Although despite being scrapped, Kraid is mentioned in the manual of the game. Instead, Kraid makes a later cameo.
Metroid Dread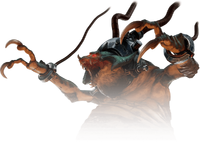 After decades since his last appearance, Kraid returns as a boss in Metroid Dread. While his return is never explained, one of the Chozo Archives depicts Raven Beak and the Mawkin Tribe restraining him, suggesting he was captured and brought to ZDR.
Found in Cataris, Kraid is in a large room attached to a machine restraining his neck and arms. Like usual, he attacks through spitting out balls, thrashing his arms, and shooting spikes out of his belly. Identically to her previous encounters with him, Samus must fire missiles into Kraid's mouth to damage him. As the battle continues, he restrains his arms to swipe at Samus. Countering his swipe with the Melee Counter allows Samus to shoot Kraid while he is stunned.
Once enough damage is dealt, a cutscene plays with Samus running up Kraid's belly before leaping over his head to shoot the cables holding the neck restraint. The restraint gives way and Kraid plummets into the lava, but not before shooting one last spike at Samus. Samus dodges it and uses it as a platform to reach the next room.
While Kraid is never seen again, he is most likely dead for good after ZDR explodes. When an X Parasite takes over Raven Beak, it transforms into a large monster resembling Kraid, suggesting that the X also absorbed Kraid as well.
Other Media
Super Smash Bros.
Super Smash Bros. Melee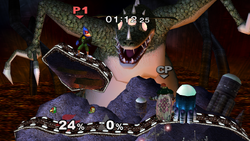 Kraid appears as a background character in the Super Smash Bros. Melee stage "Brinstar Depths", unlocked by playing 50 Vs. Mode matches. He will pop-up from lava, roar, and then whack the rocky stage with his claws, causing it to rotate to make the combatants fall into the lava below. There is also a trophy of Kraid that is unlocked alongside "Brinstar Depths".
Super Smash Bros. Brawl
Kraid appears as a Sticker that grants the player additional power for all head-based attacks.
Super Smash Bros. Ultimate
Kraid returns as a hazard for the "Brinstar Depths" stage, acting exactly like he did in Melee. His appearance is based on his Zero Mission appearance. He will only appear in the regular unaltered stage and not its Battlefield nor Ω form.
In "World of Light", Kraid is one of the twenty-four master spirits who runs a Dojo after being defeated. His spirit battle is a stamina battle against a giant King K. Rool on the Ω form of Brinstar Depths. When Kraid's Dojo is unlocked, he will teach four spirits the Tank Style, which restricts movement and jump velocity for stronger offense and defense power.
Nintendo Land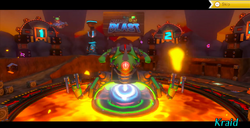 Kraid is a boss in three missions of the Nintendo Land minigame "Metroid Blast". He occupies the center of the Norfair-themed stage and has a 360 degree of range. Unlike the rest of the enemies, Kraid is stationary and can only rotate on his own axis. To defeat Kraid, the red spots on his body must be hit, causing him to open his mouth, where the player must fire three charged missiles into his mouth to damage the massive spot in his transparent belly. Every time his weak spot is hit thrice, he rises higher from the lava and summons Zebesians and Cyclons to help him. After three rounds, Kraid's weak spot explodes, destroying him.
He is fought in missions "10. Hostile Colossus", "24. Kraid's Army", and "30. The True Final Battle". The first mission simply has the player defeat Kraid. The second mission has the player defeat Kraid within five minutes, with Cyclons and Geemers accompanying him. The third mission has the player battle both Kraid and Ridley. Attacking Ridley only stuns him temporarily, making Kraid the real target to defeat. Once Kraid is defeated, so too will Ridley.
Trivia
Kraid's roars in Zero Mission are stock roars used by the Tyrannosaurus rex from the 1959 film The Land Unknown, and by King Kong from the 1976 remake of King Kong.
In Metroid Dread, using sequence breaking to obtain bombs early can make Samus reveal a hidden pipe that blasts her into Kraid's swollen middle belly hole and blast bombs inside of him, completely bypassing the second phase.
External Links

Villains
Subspace Army
Ancient Minister | Bowser | Bullet Bills | Duon | False Bowser | False Diddy Kong | False Peach | False Samus | False Zelda | Galleom | Ganondorf | Goombas | Hammer Bros. | King Statue | Koopa Troopas | Master Hand | Petey Piranha | Primids | Rayquaza | Ridley | Porky Minch | Shadow Bugs | Tabuu | Wario
World of Light
Crazy Hand | Dharkon | Dracula | Galeem | Galleom | Ganon | Giga Bowser | Master Hand | Marx
Playable Characters
Bowser | Bowser Jr. | Dark Pit | Dark Samus | Donkey Kong | Enderman | Ganondorf | Incineroar | Kazuya Mishima | King Dedede | King K. Rool | Koopalings (Larry, Roy, Wendy, Iggy, Morton, Lemmy, Ludwig) | Mario | Meta Knight | Mewtwo | Piranha Plant | Ridley | ROB | Sephiroth | Wario | Wolf O'Donnell | Zombie
Bosses
Crazy Hand | Dark Emperor | Dharkon | Dracula | Duon | Galeem | Galleom | Ganon | Giga Bowser | Marx | Master Hand | Master Core | Metal Face | Petey Piranha | Porky Minch | Rayquaza | Ridley | Tabuu | Yellow Devil
Assists Trophies/Poké Ball Pokémon
Andross | Arceus | Black Knight | Burrowing Snagret | Chain Chomps | Chef Kawasaki | Darkrai | Deoxys | Devil | Dr. Wily | Entei | Elec Man | Ghirahim | Giratina | Ghosts | Gray Fox | Hammer Bros. | Klaptrap | Knuckle Joes | Kyurem | Lakitu | Lord Nightmare | Metroid | Meowth | Mimikyu | Mother Brain | Palkia | Phosphora | Shadow the Hedgehog | Skull Kid | Spinies | Starman | Unown | Waluigi
Trophies/Spirits/Stickers
Acro | Affinity | Air Man | Akuma | Alraune | Albert Wesker | Amalthus | Andrew Oikonny | Antasma | Aparoids | Aparoid Queen | Arlon | Ashnard | Axel | Baba | Baby Bowser | Babylon Rogues (Jet the Hawk, Wave the Swallow, Storm the Albatross) | Balrog | Banzai Bills | Bass | Big Boss | Bio Rex | Birdo | Black Shadow | Blood Falcon | Bokoblins | Blippers | Bloopers | Bombers | Bomb Man | Bonkers | Boos | Boom Boom | Boom Stompers | Box Boxer | Boxy | Broom Hatters | Bugzzy | Bumpety Bombs | Bulborbs | Burt the Bashful | Buzzy Beetles Byrne | Cackletta | Calamity Ganon | Camus | Cappys | Captain Syrup | Carmilla | Chandelure | Chaos | Chaos Kin | Chargin' Chucks | Claus | Clubberskulls | Colonel Pluck | Condor | Cragalanche | Crash Man | Creepers | Count Bleck | Count Cannoli | Cranky Kong/Donkey Kong (arcade) | Cut Man | Daphnes | Dark Man 4 | Dark Matter | Dark Mind | Darknuts | Daroach | Deadly Six (Zavok, Master Zik, Zeena, Zomom, Zazz, Zor) | Death | Deathborn | Devil Jin | Demise | Demon King Arzodius | Diggernaut | Dimentio | Dive Man | DJ Octavio | Don Bongo | Donkey Kong Jr. | Drackys | Dragaux | Dr. Ivo "Eggman" Robotnik | Drill Man | Dry Bones | Eagle | E-123 Omega | Edelgard von Hresvelg | Eggplant Wizard | EggRobos | Emerl | E.M.M.I. | Ender Dragon | Erazor Djinn | Evil Ryu | Father Balder | Fawful | Fiery Blowhog | Fire Man | Flages | Flash Man | Fortitudo | FU | Fynalle | Gangrel | Galacta Knight | Galactic Fiend Kraken | Galaxy Man | Guardians | Garon | Gengar | General Guy | Geese Howard | Gharnef | Ghasts | Ghosts | Gleeok | Goda | Gold Bone | Golems (Kirby) | Golems (Dragon Quest) | Gomorrah | Gooper Blooper | Gordos | Goro Akechi | Gravity Man | Great Reaper | Great Sabrecats | Grief | Gruntilda | Guts Man | Hades | Hard Man | Hawke | Heihachi Mishima | Helmaroc King | Hewdraw | Hooktail | Hoopa Unbound | Hot Heads | Ice Man | Igor | Infinite | Ing | Inspired | Iori Yagami | Iridescent Glint Beetle | Iron Golems | Jade Face | Jeanne | Jin | Jin Kazama | Julius | Juri Han | Kalypso | Kamek | Kammy Koopa | Kanden | Karate Kong | Kass | King Bob-omb | King Boo | King Dice | King Dodongo | King Hippo | King Knight | King Olly | King Slimes | Kip | Kludge | Knight Man | Kracko | Kraid | Kritters | Kuma II | Kyle Merkulov | Leon Powalski | Lethiniums | Liquid Snake | Loptr | Lord Fredrik | Lurchthorns | Lyon | MB | M. Bison | Magnamalo | Magolor | Mahvas | Majora | Malladus | Malos | Master Belch | Master Kohga | Mecha Ridley | Medeus | Medusa | Megontas | Meta-Knights (Axe Knight, Javelin Knight, Mace Knight, Trident Knight, Blade Knight) | Metal Man | Metal Sonic | Metroid Prime | Mimicuties | Moblins | Mockiwis | Moley | Monoeyes | Mouser | Mr. Frosty | Mr. L | Mr. Shine and Mr. Bright | Mugly | Nabbit | Napalm Man | Natah | Necrozma | Nihilego | Nightmare | Nina Williams | Ninja Kong | Nipper Plants | Noxus | Nruffs | Nutskis | O'Chunks | Octoman | Octoroks | Olaf | Ornes | Pandora | Panther Caroso | Paper Bowser | Parasite Queen | Paz Ortega Andrade | Peckish Aristocrabs | Phantom Ganon | Pico | Pidgits | Piglins | Pigma Dengar | Pigmasks | Plague Knight | Plasma Wisps | Plasm Wraith | Pom Pom | Pompy | Poppy Bros Jrs. | Princess Shroob | Quaggled Mireclops | Queen Metroid | Queen Sectonia | Quick Man | Rabbid Kong | Rabbids | Raphael the Raven | Reapers | Redd | Rhea | Revolver Ocelot | Riku | Risky Boots | Rockys | Rodin, the Infinite One | Roger the Potted Ghost | Rouge the Bat | Roxas | Rufus Shinra | Ryuichi and Ryuji | Sagat | Scarfies | Scurvy Crew | Shadow Beasts | Shadow Man | Shadow Queen | Shaft | Shake King | Sheegoth | Shield Knight | Shotzos | Shroobs | Shy Guys | Sidesteppers | Sigma | Sir Kibbles | Skeletons | Skull Man | Skuttlers | Slash Man | Slimes (Dragon Quest) | Slimes (Minecraft) | Smoky Prog | Snake Man | Snowmads | Solidus Snake | Space Pirates (Kid Icarus) | Space Pirates (Metroid) | Spark Man | Specknoses | Specter Knight | Spire | Squeakers | Starmans | Stu | Sword Man | Swooping Snitchbug | Sylux | Tacs | Tatanga | Thanatos | The Devil | The Skull | Therion | The Three Mage-Sisters (Francisca, Flamberge, Zan Partizanne) | Tiki Tak Tribe (Kalimba | Gong-Oh | Maraca Gang | Wacky Pipes | Cordian | Banjo Bottom | Xylobone) | Tiki Tong | Top Man | Trace | Travis Touchdown | Turks (Elena, Reno, Rude, Tseng) | Turret Tusk | Twinbellows | Twinrova | Ultimate Chimera | Vaati | Validar | Vega | Viridi | Viruses | Vivian | Vorash | Waddle Dees | Waddle Doos | Walhart | Walkys | Wart | Weavel | Wheelies | Whispy Woods | Whomps | Wigglers | Wind Man | Wollywog | Wood Man | Xord | X-Parasites | Yaldabaoth | Yuga | Yveltal | Zangief | Zant | Zero | Zingers | Zoda | Zurees
Others
Ansem | Billy Kane | Chang Koehan | Choi Bounge | Dr. Coyle | Dragonborn | Master Xehanort | Ryuji Yamazaki | Saïx | Solon | Spiders | Springtron | Team Rocket Grunts | Vanitas | Xemnas | Yiga Foot Soldiers