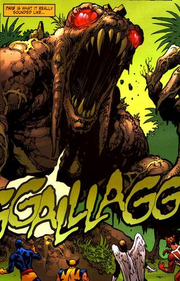 Krakoa is a living island from Marvel comics and one of the first foes the new X-Men faced.
The complete truth about Krakoa's origin is unknown, however it is believed that Krakoa came to be as a result of nuclear experiments in the Pacific Ocean. When Professor X detected a powerful mutant signal on a remote island in the middle of the pacific using Cerebro, he dispatched the original team of X-Men to investigate. It would turn out that the island Krakoa was the mutant that Xavier detected. Krakoa would capture the X-Men in order to feed off of their strong mutant energies. Xavier would send two other rescue teams to bring back the X-Men. The first consisted of young and inexperienced mutants that Krakoa was able to defeat quickly. The second rescue team consisted of older mutants from around the globe. The second team would defeat Krakoa and rescue the team. Krakoa was lifted into the orbit by Polaris. Krakoa body is currently in space and is presumed to be dead.
Community content is available under
CC-BY-SA
unless otherwise noted.