Jurassic World: Dominion Dominates Fandom Wikis - The Loop
Play Sound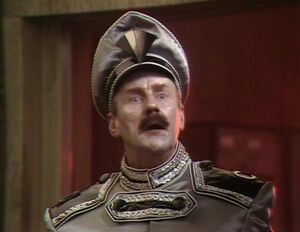 Kroagnon is the main antagonist of the Doctor Who story "Paradise Towers".
He was portrayed by the late Richard Briers, who also portrayed Stephen Wentworth in Midsomer Murders and Mr. Smee in the 2003 Peter Pan film.
Biography
Kroagnon was known as the Great Architect and had a lengthy list of architectural achievements. However, he became unbalanced and began viewing the buildings he designed as works of art that would be ruined if people lived in them. He tried to stop people living in one of his creations, Miracle City, and, when he was forced out, left behind booby traps to kill those who moved in.
Since nothing could be proven, Kroagnon continued to find work and was hired to design Paradise Towers. He began making it lethal for residents again, installing killer robots in the towers swimming pool. Before he could complete the work however, his brain was removed from his body and buried in the towers basement, with the towers used to evacuate those too old or young to fight in a war.
Kroagnon entered into an alliance with the Chief Caretaker and together they began programming Paradise Towers' robotic cleaners and other robotic devices to kill residents and caretakers and take their bodies to Kroagnon, who could communicate through a stationary, robotic form. The Chief Caretaker was unaware of Kroagnon's true identity and intentions, while Kroagnon slowly began to act independently, ordering killings without the Chief's knowledge. He eventually had the Cleaners bring the Chief to him, at which point he killed him and transplanted his brain into the Chief's body.
Alive and mobile again (although seemingly having some difficulty controlling his new body's movement and speech, giving him a zombie-like appearance), Kroagnon sought to wipe out Paradise Towers' remaining residents. He had the Cleaners clear the lower levels with toxic gas and took up base in the Caretakers' Headquarters.
The Doctor contacted Kroagnon and deliberately insulted him, criticising his work. Young Towers resident Pex then contacted Kroagnon and offered to lead him to the Doctor. This was all part of a trap, intended to lure Kroagnon into a room that had been rigged to explode. However, Pex panicked and, instead of delaying Kroagnon, brought him to the corridor above the room before the trap was ready. The Doctor attempted to push Kroagnon into the booby trap anyway but Kroagnon proved too strong and came close to killing him. Pex intervened and flung himself at Kroagnon. They toppled through the booby trapped doorway and the resulting explosion killed them both.
Trivia
Richard Briers' main role in the story was that of the Chief Caretaker. He portrayed Kroagnon in the story's climatic episode, once he had taken over the Chief's body, as well as voicing the disembodied Kroagnon in earlier episodes.