| | | |
| --- | --- | --- |
| " | Then, we save the half that deserves to live. | " |
| | ~ Kron | |
| | | |
| --- | --- | --- |
| " | NEERA! | " |
| | ~ Kron shouting Neera's name. | |
| | | |
| --- | --- | --- |
| " | If you ever interfere again, I'll kill you. | " |
| | ~ Kron threatening Aladar | |
Kron is one of the main antagonists (alongside the Carnotauruses) of Disney's 39th full-length animated feature film Dinosaur.
He was voiced by Samuel E. Wright, who also played the Alien Brain Boss in the Courage the Cowardly Dog series. While his vocal sound effects are provided by Frank Welker, who also did the vocal sound effects of all of the other dinosaurs in the same film.
Personality
Kron is the self-proclaimed oppressive leader of the horde of dinosaurs who try to survive after a meteor wipes out part of Earth. And in absolute chief, Kron, who promises to guide them to a better future, demands in return total devotion, great zeal and blind obedience. No one, therefore, can derogate from his rules and challenge his orders.
Kron benefits from an enormous charisma and a brutal behavior allowing him to impose respect and obedience to the smallest species but also to the giants of prehistory, in particular Baylene and Eema, respectively brachiosaurus and styracosaurus who, despite their large size, fail to discuss with their boss. Distraught after the destruction of their habitat, all the surviving animals offered themselves to the one who, thanks to an enormous power of persuasion, managed to convince them to follow him to a new land. And despite the disappointments of the trip, some specimens dying of fatigue on the road, no one dares to fight the sometimes stupid orders of the leader.
It must be said that Kron has a shocking argument to keep everyone in their place. Allowing anyone to leave the horde if they wish, he promises the more reckless certain death if they stray from the group. In close ranks, those who have already lost everything therefore remain behind him. And Kron has no mercy on latecomers and slower little animals. He refuses to slow down the pace of the march to help those he considers to be the weak. He also considers this exodus as a good way to strengthen the new blood and eliminate those he sees as parasites. In his remarks, Kron is explicitely racist (if indeed a dinosaur responding to his instincts can be) and he seems to hope without batting an eyelid that this catastrophe will make it possible to sort out the species, the strongest surviving the weakest.
Brutal, with no sense of compassion for anyone, including his allies, Kron is mostly a stubborn and grumpy leader. Considering his word as the only truth, he does not really think and balances his orders. When Bruton advises him on a better protected place for the group's rest, Kron categorically refuses. When the water runs out, he doesn't even consider digging. At the risk of losing part of his horde, he orders to resume walking. And when he finds himself blocked in front of a scree preventing entry into the Land of Nests, he imagines he can climb the place, again at the risk of his life.He refuses to listen to Aladar who recommends going through a safer passage. Leader since the beginning of the adventure, Kron does not accept being wrong. And when the herd abandons him, he wants to show everyone that he is right by starting to climb the rock pile. This stubbornness costs him his life when, chased by a Carnotaur, he still decides to climb the rock, ignoring he makes himself an easy prey for the predator and causing, despite Aladar's help, his own downfall.
Despite his cruel behavior, Kron certainly remains the closest-to-reality movie dinosaur. By sacrificing the weakest for the survival of the strongest, he behaves in effect like any wild animal. He also genuinely and really loves his sister Neera despite refusing to follow her advices. When she leaves him for Aladar, having enough of him, Kron is really distraught.
Appearance
Kron is a large, slender lavender Iguanodon with blue eyes, purple spikes, teal stripes, and a tan underbelly.
Biography
When Aladar and his lemur family have just narrowly escaped from a pack of hungry and carnivorous Velociraptors, a sandstorm blows up, impairing their sight. Aladar looks up and sees Kron leading the dinosaur herd to which Kron knocks him down and shouts at him to stay out of his way. When the sandstorm settles, the herd soon stops to rest, and Aladar meets the two old dinosaurs named Baylene, Url, and Eema (who say that Kron the leader is driving them unmercifully to the Nesting Grounds), so when Kron walks by Aladar asks her "What's his problem?". Strangely enough here, Aladar cannot immediately remember who Kron is until Eema reminds him despite having met before.
Aladar soon stops him and asks him if he could slow it down a bit for the old dinosaurs who are having trouble keeping up, to which Kron sarcastically replies "Let the weak set the pace? Now there's an idea.". He then tells Aladar to leave the thinking to him and to watch himself, to which Kron's sister named Neera replies to Aladar, "Don't worry, that's how my brother treats newcomers, no matter how charming they are.".
The next day, as the herd is traveling to get to the lake, Kron tells his second-in-command named Bruton to give orders that the herd must keep up because if a predator catches anyone, they are on their own. Kron and Bruton then continue to drive the herd unmercifully across the hot sunny desert, losing a couple of members in the process, until they finally reach the lake.
However, when Kron reaches the top, he and the rest of the herd are shocked to see that the lake is a dry bed caused by the destructive fireball earlier in the film because there is no water here. Bruton appears by his side and tells him that the rain might have possibly collected somewhere else, and asks him "What do you want us to do?". Kron tells Bruton to take a scout with him and check the whole perimeter to see if there water is anywhere. When he reminds the herd that they are just a few days away from the nesting grounds, he orders the herd to keep moving. Neera tells Kron that if they keep moving like this lacking water, they will lose at least half of the herd, to which Kron replies that they then save the half that deserves to live. Luckily for everyone, Aladar finds water by having Baylene press down on her foot, causing water to seep up out of the ground. Far from grateful, Kron pushes his way into it and drinks the water for himself showing no mercy for the herd. Soon afterward, however, Kron and the herd rested for the night.
In the meantime, Bruton and his scout named Creto were assaulted by the two Carnotaurus during their search for water, and only Bruton escapes with severe wounds while the scout is eaten by a Carnotaurus. As Kron watches the herd sleep (and suspiciously eyes Aladar and Neera becoming closer), Bruton returns and informs him that the Carnotaurus are coming, but Kron is shocked and angrily berates him for leading them to their location.
As Kron moves the herd, Neera and Aladar approach and ask what was going on, to which Kron says that the Carnotaurs are coming and if they do not move, they will catch up to them. Aladar tells Kron that the old ones will not make it, to which Kron says that their deaths will slow down the predators and allow the rest of the herd to escape. Refusing to let the old ones be sacrificed like this, Aladar tries to stop the herd, but Kron furiously pushes him down and threatens him that if he ever interferes again, he will kill him. Kron then pushes Neera along with the herd while Aladar stays behind with his family, Eema, Baylene, and Url, making sure that they at least can leave the dry lake bed at their own pace.
Kron continues to push the herd on unmercifully through the desert until they finally reach the rocky hill entrance into the Nesting Grounds, and discover to their horror that it has been blocked by a landslide. Neera suggests that they will find a way around the rock wall, but Kron tells her that the herd will climb over it the next morning. Next morning, sure enough, as he had promised, Kron orders the herd to start climbing the wall, which they do until Aladar returns, telling Kron to get the herd out of there because a Carnotaurus is coming and that he knows a safer way to the Nesting Grounds. He also tells him that the herd cannot get over the rocks because there is a sheer drop on the other side. Kron stubbornly refuses to listen, and Aladar eventually yells that Kron is going to kill the herd, and attempts to lead the herd out of the canyon in spite of possibly disobeying Kron's bossy orders. However, Kron becomes enraged and says that they are staying with him. He violently attacks Aladar, but he then gets knocked to the ground by him twice. He then throws sand in his eyes, slashes him across his chest with his spiked thumb by making a deep cut, knocks him into the ground, and almost kills him by delivering a deadly strike until when Neera pushes her brother away from him. After that, Aladar's life was eventually saved by Neera in the process. Before Kron's eyes, she and the herd abandoned him and proceeded to follow Aladar out of the canyon.
At that moment, the ferocious Carnotaurus appears and charges at the herd. Kron begins climbing the hill, and in a last attempt to regain leadership, urges the herd to do the same, accusing Aladar of leading the dangerous predator right to them. However, Aladar and the herd all manage to stand their ground together and bellow their way past the savage beast, while Kron stupidly continues to go up the hill, determined to prove Aladar wrong. Though foiled by the herd, the Carnotaurus sees Kron and starts to climb the hill after him, while Neera and Aladar follow in order to help him. Kron manages to reach the top, only to discover that Aladar was right about the sheer drop, and is promptly cornered by the Carnotaurus. Kron tries his best to fight the Carnotaurus, but the aggressive beast then bites into his back and throws him against a rock, mortally wounding him.
Just before he could finish him, Neera and Aladar come and knock the Carnotaurus off of the cliff. It may be possible that Kron reforms slightly as he tries to fight the Carnotaurus, but he eventually dies of his horrific injuries after the battle, as Neera is left grief-stricken and inconsolable when she discovers his corpse after the Carnotaurus has been killed. Despite everything that he had already done, since he may have tried to reform, Neera is deeply saddened by Kron's death, as he was still her brother, but is comforted by Aladar before they depart for the Nesting Grounds.
Gallery
Images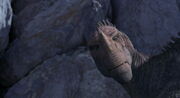 Videos
Trivia
Kron's voice actor in the movie, Samuel E. Wright is the same actor who also voiced Sebastian the Crab in Disney's 1989 animated film The Little Mermaid.

The difference is that whereas Wright voiced Sebastian with a high Jamaican tone, he voiced Kron with a lower and more menacing tone.
He is so far the only animated villainous movie character to be voiced by Samuel E. Wright.

His actions and demeanor are similar to that of Niju from Balto 2: Wolf Quest.
Because of him having a nasal crest, Kron is sometimes believed to be an Altirhinus. However, he is still an Iguanodon because his sister Neera is one or she may be his adoptive sister.

His design may obviously be based off of the earlier models of Iguanodon by the late British paleontologist Gideon Mantell, who originally discovered Iguanodon.

James Earl Jones, Forest Whitaker, Gene Hackman, the late Marlon Brando, and the late Robert Stack were all considered for the role of Kron before Samuel E. Wright was cast.

In fact, Mufasa was portrayed by Samuel E. Wright in the 1997 Broadway musical version of Disney's The Lion King, and his voice was provided by James Earl Jones in the animated media franchise The Lion King. In the 2019 live-action remake of The Lion King, Jones also reprised the role of Mufasa from the 1994 film.

Samuel E. Wright (who voiced Kron) and Max Casella (who voiced Zini) were also part of the original Broadway cast of The Lion King. Casella originated the role of Timon in this version. Alfre Woodard (who voiced Plio) also voiced Sarabi in the 2019 live-action remake of The Lion King.

Kron's supervising animator is Eamonn Butler.
It is debatable if Kron is really evil or if he is just an anti-villain, because his darwinist behavior can be interpreted either as ruthless tyranny or as prudent and desperate leadership whose purpose is to save most of the herd, sacrificing the weak.
A deleted scene shows Kron saves Neera and the young orphans from the raptors, angrily stating that they would not have such a chance next time.
His Swedish dubbing was provided by Mikael Persbrandt, who also played Victor Karlosson in Eurovision Song Contest: The Story of Fire Saga, as well as the Swedish dubbing for Shan Yu in Mulan.

Villains
Animated Features
Queen Grimhilde | Magic Mirror | Honest John | Gideon | Stromboli | Coachman | Coachman's Minions | Monstro | Chernabog | Zeus | Vulcan | Boreas | Man | Ronno | Aconcagua | Toy Bull | The Wolf | Tetti-Tatti | Lumpjaw | Willie | Rustlers | Mr. Winkie | Weasels | Brom Bones | Headless Horseman | Lady Tremaine | Anastasia Tremaine | Drizella Tremaine | Lucifer | Queen of Hearts | Card Soldiers | Cheshire Cat | Walrus & Carpenter | James Hook | Neverland Pirates (Mr. Smee) | Tick Tock | Rat | Si & Am | Maleficent | Diablo the Raven | Maleficent's Goons | Cruella De Vil | Jasper & Horace | Madam Mim | Shere Khan | Kaa | Bandar Log (King Louie) | Edgar Balthazar | Prince John | Sheriff of Notthingham | Sir Hiss | Captain Crocodile | Rhino Guards | Wolf Arrowmen | Trigger & Nutsy | Heffalumps and Woozles | Madame Medusa | Mr. Snoops | Brutus & Nero | Amos Slade | Chief | Mr. Digger | The Bear | Horned King | Horned King's Army (Creeper & Gwythaints) | Cauldron Born | Orddu, Orwen & Orgoch | Arawn | Professor Ratigan | Thugs (Fidget, Felicia & Bartholomew) | Bill Sykes | Roscoe & DeSoto | Ursula | Flotsam & Jetsam | Percival C. McLeach | Joanna | Beast | Gaston LeGume | LeFou | Asylum D'Loons (Monsieur D'Arque) | Tom, Dick, Stanley & Walter | Wolves | Jafar | Iago | Razoul | Prince Achmed | Gazeem | Cave of Wonders | Scar | Hyena Clan (Shenzi, Banzai & Ed) | John Ratcliffe | Claude Frollo | Frollo's Soldiers (Captain Phoebus, Brutish Captain, Oafish Guard, Pierrat Torturue & Henriet Cousin) | Hades | Pain & Panic | Fates | Cerberus | Titans (Lythos, Hydros, Pyros, Stratos & Cyclops) | Nessus | Hydra | Nemean Lion | Shan Yu | Hun Army (Hayabusa & Elite Hun Soldiers) | Cecil Clayton | Sabor | Clayton's Pirates | Firebird | Black Triangles | Jack-in-the-Box | Kron | Bruton | Kuzco | Yzma | Kronk | Lyle Tiberius Rourke | Rourke's Mercenaries (Helga Sinclair) | Leviathan | Vikings | Gantu | John Silver | Pirates (Scroop, Onus, Hands, Turnbuckle, Blinko, Longbourne, Fayvoon, Grewnge, Krailoni, Hedley, Torrance, Mertock, Verne, Crex & Zoff) | Nathaniel Flint | Alameda Slim | Rico | Willie Brothers | Mr. Wesley | DOR-15 | Bowler Hat Guy | Dr. Calico | Dr. Facilier | Lawrence | Facilier's Shadow | Shadow Demons | Ian the Gator | Marlon the Gator | Reggie, Darnell & Two Fingers | Friends on the Other Side | Mother Gothel | Stabbington Brothers | Zhan Tiri | Turbo | Cy-Bugs | Sour Bill | Wynnchel & Duncan | Prince Hans | Duke of Weselton | Erik & Francis | Wolves | Yokai | Alistair Krei | Mr. Yama | Dawn Bellwether | Doug Ramses | Woolter | Jesse | Sheep Cops | Ram Thug | Duke Weaselton | Mr. Big | Polar Bear Thugs (Koslov, Raymond & Kevin) | Te Kā | Tamatoa | Kakamora | Arthur | King Runeard | Namaari | Druun
Live-Action Movies
Captain Nemo | Pony Sugrue | Prince John (1952) | Red Stick | Bigfoot Mason | Chato | Samuel Mason | Harpe Brothers | The Marten | Wilse Owens | Kuala | Vicky Robinson | Ute Chief | Jacques Lebeau | Makoos | Durante | Barnaby | James Haggin | Cattlemen | Alonzo Hawk | Comanche Chief | Apaches | Mr. Dawes Sr. | Tanamashu | Judge Huggins | Mountain Ox | Peter Thorndyke | Havershaw | Vince Heber | Mrs. Satterfield | A.J. Arno | Chillie Walsh | Colonel Pierson | Ab Cross | Colonel Heller | King Leonidas | Bookman | Swinburne | Mr. Eben | Mark Pierson | Hugh McRae | Sam Eagle Speaker | Kerwood Krinkle | Frank Sitwell | Hnup Wan | Dr. Terminus | Gogans | Charles Olympus | Wooly Bill Hitchcock | Big Mac | Hans Reinhardt | The Watcher | George McKinzie | Alec Frost | Bluto | Vermithrax Pejorative | Master Control Program | Sark | Ed Dillinger Sr. | Program Guards | Mark Jennings | Kelly | Mr. Dark | Mike | Rosie Little | Hunters | Nome King | Princess Mombi | Connie | Bullwhip | Parker | Buzz | Wolf's Owner | Timber Wolf | Hunter | Eagle | Alistair Patton | Patton Sr. | Judge Doom | Toon Patrol (Smartass, Greasy, Psycho, Wheezy & Stupid) | Abdullah | Mr. Patel | Nigel | John Merrick | Beauty Smith | Luke & Tinker | Sykes | Cherokee | Lip-Lip | Fritz | Neville Sinclair | Lothar | Nigel Snyder | Joseph Pulitizer | Delancy Brothers | Charles Hendrickson | Terrence Wheeler | Winifred Sanderson | Mary Sanderson | Sarah Sanderson | John Ricketts | The King and the Duke | Pap Finn | Cardinal Richelieu | Comte de Rochefort | Milady de Winter | Borg Guillarson | Leland Drury | Heath | Miners | Lloyd Halverson | William Boone | Buldeo | John Wilkins | Tabaqui (1994) | Sergeant Harley | Bandits | Sergeant Clairbourne | Shere Khan (1994) | Bandar Log (1994) (King Louie (1994) & Kaa (1994)) | Gilbert Sipes | Juice | Ranch Wilder | Injun Joe | Emmett | Tony Perkis | Agent Woods | Jack and Ralph | Ashcan and Pete | Aunt Sponge | Aunt Spiker | Rhino | Skeleton Pirates | Shark | Cruella De Vil (1996) | Jasper and Horace Badun (1996) | Mr. Skinner | Jean-Pierre Le Pelt | Alonzo | Norman Snively | Ricky King | Charlotte | Lyle Van de Groot | Max & Thor | Lion | Beatrice Stanhope | Stepmother | Calliope | |Minerva | Chester Hoenicker | Wilson Croft | Smith & Wesson | Bennett Hoenicker | Luanne LeSeur | Meredith Blake | Natalya | Popov | Frank Slater | Shere Khan (1998) | Tabaqui (1998) | Bandar Log (1998) | Eddie Taffet | Andrei Strasser | Elliot Coleye | Dr. Claw | Kramer | RoboGadget | PAT | Malcolm | Snerbert | Lana Thomas | Elliot T. Jindraike | Professor Siles | Jennifer Stone | Toy Santa | Louise Walker | Mr. Sir | Charles "Trout" Walker | Kissin' Kate Barlow | Linda Walker | Sheriff | Doug & Gordon | Hector Barbossa | Crew of the Black Pearl (Bo'sun, Scratch, Pintel & Ragetti) | Master Gracey | Madame Leota | Ramsley | Zombies | Werecat Lady | Carla Santini | Lord Kelvin | Black Scorpions (General Fang) | Inspector Fix | Viscount Mabrey | Ian Howe | Bill Fawcett | Zaphod Beeblebrox | Frankie & Benjy | Prostetnic Vogon Jeltz | Vogons | Humma Kavula | Gag Halfrunt | Royal Pain | Stitches | Lash | Speed | Penny Lent | Jadis the White Witch | Jadis' Secret Police (Maugrim & Vardan) | Ginarrbrik | General Otmin | Thantos DuBaer | Dr. Kozak | Jack Frost | Davy Jones | Crew of the Flying Dutchman (Maccus & Kraken) | Cutler Beckett | East India Trading Company | Janice Avery | Queen Narissa | Mitch Wilkinson | Sinon Bar Sinister | Cad Lackey | El Diablo | Henry Burke | Miraz | Telmarines (Glozelle & Sopespian) | Nikabrik | Hag & Werewolf | Kendall Duncan | Tess Tyler | Speckles | Lucinda | Oswald Granger | Red Queen | Knave of Hearts | Card Soldiers | Jabberwock | Jubjub Bird | Hamish Ascot | Morgana le Fay | Morganians (Maxim Horvath, Abigail Williams, Sun Lok, Drake Stone & Marrok) | Nizam | Ms. Stout | CLU 2 | Rinzler | Gem | Black Guards | Blackbeard | Angelica Teach | The Spaniard | King Ferdinand VI | King George ll | San Than | Matai Shang | Tal Hajus | Jenny | Latham Cole | Butch Cavendish | Jay Fuller | Evanora | Theodora | Maleficent (2014) | Diaval | King Stefan (2014) | King Henry | The Witch | The Wolf | Lady Tremaine (2015) | Grand Duke (2015) | Anastasia Tremaine (2015) | Drizella Tremaine (2015) | Lucifer (2015) | David Nix | Shere Khan (2016) | Bandar Log (2016) (King Louie (2016)) | Kaa (2016) | Fleshlumpeater | Giants (Bloodbottler & Bonecruncher) | Pramod Kadam | Beast (2017) | Gaston LeGume (2017) | LeFou (2017) | Asylum D'Loons (Monsieur D'Arque (2017)) | Tom, Dick & Stanley (2017) | Wolves (2017) | The King (2017) | Armando Salazar | Crew of the Silent Mary (Lesaro) | Scarfield | It | Sugar Plum Fairy | Tin Soldiers | William Weatherall Wilkins | V.A. Vandevere | Neils Skellig | Rufus Sorghum | Jafar (2019) | Iago (2019) | Cave of Wonders (2019) | Scar (2019) | Hyena Clan (2019) (Shenzi, Kamari & Azizi) | Queen Ingrith | Gerda | Borra | Rat (2019) | Devon & Rex | Isaac | Artemis Fowl | Opal Koboi | Briar Cudgeon | Troll | Alexander Hamilton | Aaron Burr | Thomas Jefferson | James Madison | Maria Reynolds | James Reynolds | King George III | Bori Khan | Hun Army (Xian Lang)
Other Animated Movies
Br'er Fox & Br'er Bear | Giant Magnet | Evil Clown | Merlock | Dijon | Oogie Boogie | Lock, Shock & Barrel | Bill Bluff | BluffCo Industries (Guy Graham, Bob & Bluff Agents) | Gloomius Maximus | Ivan Krank | Von Talon | Cufflingk and Underlingk | Kazar | Wildebeests (Blag) | Scab and Scraw | Vidia | Jacob Marley | Old Joe | Supervisor | Mr. Whiskers | Shelley | Were-Rat | Sea Monkeys | Mr. Burgermeister | Ripslinger | Zed | Ned | Zarina
Direct-to-video/Disneytoon Studios Sequels
Abis Mal | Sa'Luk | Forty Thieves | Maestro Forte | Jesters | Zira | Outsiders (Nuka & Vitani) | Mack McCro | Jim Bob | Supreme Commander | Morgana | Undertow | Cloak & Dagger | Bradley Uppercrust III | The Gammas | Buster | Sarousch | Pom-Pom | Tad White | Jacques von Hamsterviel | Reuben | Sparky | Leroy | Erik Hellstorm | Ashton Carnaby | Edgar Volgud | Krakken | Lil Lightning | Bandits | Mama Gunda | Uto & Kago | Marina Del Rey | Cad Spinner
Shorts, Television, Comics and Video Games
Peg Leg Pete | Old Man Tree | Phantom Blot | Skeletons | Grim Reaper | Mad Doctor | Demon Cats | Gustav the Giant | Lonesome Ghosts | Doctor Vulter | Solego the Chaos God | Arpine Lusene | Eli Squinch | Sylvester Shyster | Fantomius | Inquinator | Spectrus | Zafire | H. U. Hennessy | Jolly Roger | Witch | Pluto's Devil | Zeke Midas Wolf | Boogeymen | Captain Katt | Mortimer Mouse | Butch the Bulldog | Beagle Boys | Foxy Loxy | Ajax Gorilla | Witch Hazel | Adolf Hitler | Nazi School Teacher | Little Hans | Fat Cat | Norton Nimnul | Aldrin Klordane | Baby Thaddeus | Ratso Ratzkiwatzki | Julius | Dr. Frankenollie | Mizrabel | Miss Hendra | Huntsman | Huntsgirl | Dark Dragon | Al Roker | Chuckles | Princess Irmaplotz | Grace Goodwin | Molly | Shadow Blot | False Shadow Blot | Foxy Loxy | Goosey Loosey | Oswald Gardner | Commander Heist | Lazlo | Jordan Buttsquat | Suzi | Chip Whistler
Disney Parks
Alien | Lava Monster | Mad Hatter | Nebula Ghosts | Professor J.T. Wu | S.I.R. | Yeti (Expedition Everest) | Yeti (Matterhorn Bobsleds)
See Also
101 Dalmatians Villains | 2010 Marvel Animated Universe Villains | 20th Century Studios Villains | A Twisted Tale Villains | Air Bud Villains | Aladdin Villains | Alice in Wonderland Villains | Amphibia Villains | Artemis Fowl Villains | Atlantis Villains | Beauty and the Beast Villains | Big Hero 6 Villains | Buena Vista International Villains | Buzz Lightyear of Star Command Villains | Cars Villains | Cinderella Villains | Club Penguin Villains | Darkwing Duck Villains | Descendants Villains | DuckTales Villains | Fantasia Villains | Fillmore! Villains | Frozen Villains | Gargoyles Villains | Gravity Falls Villains | Hamilton Villains | Haunted Mansion Villains | Hercules Villains | Incredibles Villains | Kim Possible Villains | Kingdom Hearts Villains | Lilo & Stitch Villains | Little Einsteins Villains | Marvel Animated Movie Universe Villains | Marvel Cinematic Universe Villains | Medfield College Villains | Mighty Ducks Villains | Milo Murphy's Law Villains | Mulan Villains | Muppet Villains | Narnia Villains | Peter Pan Villains | Phineas and Ferb Villains | Pinocchio Villains | Pirates of the Caribbean Villains | Pixar Villains | Recess Villains | Robin Hood Villains | Sleeping Beauty Villains | Snow White Villains | Sofia the First Villains | Star Wars Villains | Star vs. the Forces of Evil Villains | Super Robot Monkey Team Hyperforce Go! Villains | Tangled Villains | Tarzan Villains | The Hunchback of Notre Dame Villains | The Jungle Book Villains | The Lion King Villains | The Little Mermaid Villains | The Owl House Villains | The Princess and the Frog Villains | The Proud Family Villains | Toy Story Villains | Treasure Planet Villains | Wander Over Yonder Villains | Winnie the Pooh Villains | Wreck-It Ralph Villains | X-Men Movie Villains | Zootopia Villains
Community content is available under
CC-BY-SA
unless otherwise noted.