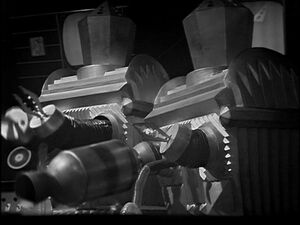 The Krotons are the main antagonists of the 1969 Doctor Who story "The Krotons". It remains their only on screen appearance, although they have made a few appearances in other media.
History
A Kroton spaceship crashlanded on the planet of the Gonds, leaving only two survivors. The Krotons depended on mental energy to power their spacecraft but found the native Gonds too primitive. They enslaved the Gonds under a facade of benevolence, educating them in a manner designed to both limit their knowledge and increase their intelligence. Periodically, they selected the two most promising students to "serve" them but, finding them of insufficient intelligence, they drained their mental energy and disintegrated their bodies. The arrival of the Second Doctor, Jamie and Zoe both exposed the Krotons' true nature and gave them the opportunity to leave the planet: The Doctor and Zoe had enough mental energy to both revive the two Krotons and join them in crewing their spacecraft. The Doctor worked with the Gond scientist Beta to develop sulfuric acid, which he realised the Krotons were vulnerable to. Although the treacherous Gond councillor Eelek turned the Doctor and Zoe over to the Krotons, they managed to introduce the acid to their life support system, killing them.
In the novel Alien Bodies, the Eighth Doctor and Sam encountered the Krotons when they arrived among the parties bidding for the Doctor's corpse, having intercepted an invitation meant for the Daleks. They ended up trying to use force to obtain the body after offering destructive weapons as payment.
In the Big Finish audio Return of the Krotons, the Sixth Doctor and Charley discovered a crashed Kroton spacecraft which had acquired human colonists as batteries. The Doctor defeated the Krotons by causing the humans' mental patterns to become temporarily unstable.
The short story "The Dreaming" has the Eleventh Doctor battling the Krotons during his time on Trenzalore, defeating them but not until after they destroy a grain store.