Doctor Strange in The Multiverse o Madness - The Loop
Play Sound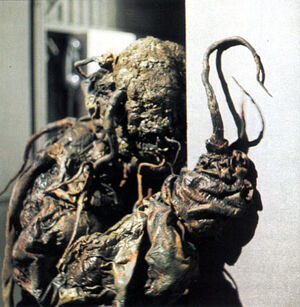 The Krynoids are the main antagonistic faction in the Doctor Who story "The Seeds of Doom". This was their only appearance on screen although they have appeared in other media.
History
The Krynoids are an intelligent vegetable lifeform, who travel through space in pairs in pod form. Once activated on a planet, they will attempt to become the dominant lifeform, gaining control of all plant life and wiping out all animal organisms. Two Krynoid pods arrived on Earth thousands of years ago and became buried in frost. One of them was discovered by an Antarctic expedition in the present day. The Fourth Doctor headed to the scene with Sarah and uncovered the second pod, but was unable to stop the first pod germinating and infecting expedition member Charles Winlett. He slowly transformed into a Krynoid, killing the other two expedition members. Meanwhile, planet-obsessed millionaire Harrison Chase had learned of the pod's discovery and sent two employees, Scorby and Keeler to retrieve it. They succeeded and blew up the camp, destroying the first Krynoid.
Back in England, Chase deliberately caused the pod to germinate and it infected Keeler. He made an even more dramatic transformation into a Krynoid, developing a non-humanoid appearance of a large vegetable mass and growing to cover the whole of Chase's mansion. Chase approached the Krynoid as a willing ally and was accepted into the group mind, while the Krynoid turned the local vegetation against all other humans, killing them. The Doctor eventually arranged for the RAF to bomb the house, destroying the Krynoid.
Two BBV-produced audio plays focused on the Krynoids, depicting invasions in both the present day and medieval times. The Big Finish audio play "Hothouse" saw the Eighth Doctor battling the Krynoids, who were being used a tool by an eco-warrior. One of the short stories in the Tales of Trenzalore collection saw the Eleventh Doctor battling a Krynoid who arrived on Trenzalore, eventually destroying it by freezing and then shattering it.