Wiki Targeted (Entertainment)
Play Sound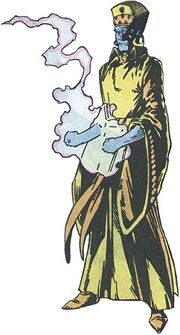 Kulak is a DC Comic Books Villain, and an enemy of Doctor Fate.
History
For aeons, Kulak was a high priest of the world of Brztal. For whatever reasons, Kulak decided to use his sorcery to destroy civilizations on many worlds. Under unknown circumstances Kulak was somehow imprisoned millennia ago on the planet Earth.
Years Later
Years Later, archaeologists managed to find the Tomb of Kulak. They accidently opened Kulak's tomb, when that happened Kulak awoke, broke free from his prison, and attempted to destroy the Earth. Because of this, Kulak became an enemy towards Doctor Fate.

Villains
Comics
Adolf Hitler | Amos Fortune | Atomic Skull | Avatar of Tech | Black Adam | Blackbriar Thorn | Brainwave | Brutale | Captain Nazi | Crime Champions | Darkseid | Demons Three | Doctor Destiny | Doctor Polaris | Dragon King | Eclipso | Empty Hand | Evil Star | Extant | Felix Faust | Fiddler | Fisherman | Gambler | Gentleman Ghost | Gog | Ian Karkull | Icicle | Injustice Society | Johnny Sorrow | Key | Kid Karnevil | King Kull | Kobra | Kulak | Major Force | Mekanique | Mirror Master | Monocle | Mordru | Nekron | Onimar Synn | Per Degaton | Plasmus | Psycho-Pirate | Roulette | Science Squad | Secret Society of Super Villains | Solomon Grundy | Spectre | Spirit King | Sportsmaster | Thinker | Ultra-Humanite | Vandal Savage | Weather Wizard | Weeper Wizard | Wotan
Movies
Justice Society: World War II
Charles Halstead | Brainiac
Television
Stargirl
Injustice Society of America (Icicle, Brainwave, Sportsmaster, Tigress, Solomon Grundy, Gambler, Dragon King, Anaya Bowin, & Wizard) | Eclipso | Injustice Unlimited (Cindy Burman, Fiddler, & Artemis Crock) | Shade