Doctor Strange in The Multiverse o Madness - The Loop
Play Sound

✓
| | |
| --- | --- |
| | This Article Contains Spoilers - WARNING: This article contains major spoilers. If you do not wish to know vital information on plot / character elements in a story, you may not wish to read beyond this warning: We hold no responsibility for any negative effects these facts may have on your enjoyment of said media should you continue. That is all. |
Kurozumi Kanjuro is a samurai of Wano and an antagonist in One Piece. A member of The Nine Red Scabbards, who were the retainers of Kozuki Oden. Kanjuro is, in fact, a member of the Kurozumi Family and has been serving as a spy for Shogun Orochi since the beginning.
He was voiced by Takumi Yamazaki in the Japanese version, and by Ben Bryant in the English dubbed version.
Personality
Like Orochi, the persecution of his family has made Kanjuro a twisted man with a similarly demented disposition, however, he lacks the perverse sense of revenge against the people of Wano that Orochi enforces under his rule, and instead is apathetic. Instead, Orochi describes Kanjuro as "having no heart" and indeed similar to the Vinsmoke Brothers (who were also described in a similar manner) Kanjuro lacks empathy and sympathy.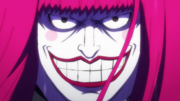 Befitting his appearance resembling traditional Japanese Kabuki performers and his own upbringing within a theater Kanjuro is a brilliant actor whose dedication was unmatched by even CP9's extensive undercover work in Water 7. Playing the role of a dedicated servant to Kozuki Oden while secretly passing off and sending information to Orochi for years without raising suspicion. Oden scoffed at the notion of there being a traitor among his retainers and even after the Samurai were left with no other choice but to realize that they had a mole none suspected Kanjuro until he himself revealed it. Kanjuro is very dedicated to playing his role to the utmost perfection and was willing to die as a Kozuki Clan retainer alongside Oden and the other Scabbards, and in fact, has longed for a place to die since he was very young.
When the Scabbards were on their way to Onigashima to confront Kaido, Kanjuro revealed himself to them in a dramatic manner. He admits that he does not mean any harm but wanted to act out his role. While revealing himself as the traitor, Kanjuro was unapologetic and happy to see the baffled looks on their faces. Although he himself claims that he never hated any of them, he was clearly proud of his role.
However with Kanjuro's pride in his acting also comes great rage when he finds that things did not go as intended such as when Luffy, Kid, and Law appeared at Port Tokage to aid the Scabbards, and when Denjiro revealed that they had been misled by the luck of Kin'emon failing to notice an alternate way to interpret Yasuie's instructions on the secret code card.
Relationships
Family
Parents: He loved his parents and was horrified to watch them be killed. He wanted to avenge the unfair persecution they endured and joined Orochi to do so.
Kurozumi Orochi: Kanjuro is Orochi's most trusted spy. They first met after Orochi killed the people who had assassinated Kanjuro's parents, Orochi offered him the chance to take revenge. He gave Kanjuro his devil fruit and entrusted Kanjuro to the Kozuki family as a spy to ensure of that the prophecy of Orochi's death does not happen. Wanting to avenge his parents and look for a place to die, Kanjuro agreed and always helped Orochi by doubling the amount of money Oden gave Orochi. Orochi expressed fascination in Kanjuro's acting skills and how far he is willing to go to pretend to be a loyal member of the Nine Red Scabbards. Orochi views Kanjuro as a capable spy and entrusts him to carry out his mission. When Kanjuro reported his return after time traveling, Orochi believed it and tried to stop the Nine Red Scabbards from leaving Wano. After the supposed success of the plan to stop the Fire Festival, Orochi had Kanjuro drop his role and deliver Momonosuke, something he did without hesitation. Orochi was happy to see Kanjuro after twenty years, as the latter bowed to him in respect but dismayed to hear from him that their plan to stop the rebels failed. Orochi ordered Kanjuro to destroy Onigashima. However, he failed due to Big Mom. When he arrived to Orochi while pin downed with rubble due to the seastone nail, Orochi ordered Kanjuro to kill Hiyori. Unfortunately for him, Kanjuro attacked Orochi instead.
Enemies
Nine Red Scabbards: Kanjuro has been a retainer of the Kozuki family for no less than 21 years of his life meeting Oden at age 18 and not exposing himself until he was 39, factoring in being sent 20 years into the future and Kanjuro's deception is over 30 years old for those who did not travel into the future; Denjiro, Inuarashi, Nekomamushi, Kawamatsu and Ashura Doji. Prior to his true allegiance was revealed, Kin'emon showed great care towards his comrade and wanted to save him in Dressrosa and the reason that he had been captured was that he had sacrificed himself so that Kin'emon could go after and rescue Monomosuke. The others saw him as a good ally, while they suspected a spy but never it could be him.
Once he revealed his actions and true allegiance, they were all horrified and angered by his actions, with Kin'emon attempting to kill him in retaliation but failed. They were also disgusted that he withheld his true artistic talents from them.
However, the fact that Kanjuro failed to pick up that Kin'emon had simply gotten lucky and misread the instructions when the other Nine Red Scabbards could (similarly to how Blackbeard couldn't place Luffy as being Ace's brother while the commanders of the Whitebeard Pirates could) shows his own ignorance about the people that he'd spent years of his life with. He did not expect for Denjiro to reappear with reinforcements before he briefly fought and mocked Kawamatsu by taking Monomosuke. Later on, he confronted them outside the castle where he once more mocked them before he fought and lost against Kikunojo. Despite his betrayal, they were all devastated by his defeat with Kin'emon even showing his respects by leaving his hat on Kanjuro.
Kozuki Family: Prior to his betrayal, Kanjuro acted as a loyal retainer to the family. According to himself, he had no hate of Oden and enjoyed the good times he spent with them. However, when told to drop his act, he had no problems with kidnapping Oden's son, Momonosuke, and would go onto mock and belittle the boy for his inability to lead and for amounting to nothing but a hostage for Orochi and Kaido. He also stated his intentions of killing the still living Hiyori to Kawamatsu, mocked the late Oden and Toki, and beat Monomosuke for attacking him, all hypocritical acts to not wanting to harm them.
Straw Hat and Heart Pirates: Kanjuro deems the Straw Hats and Heart alliance as a threat. Prior to being revealed a spy, they helped in saving him. After his role as a spy ended, he reported to Orochi about everything they have done in Wano even trying to have Orochi destroy Thousand Sunny and the bridge to ensure they will not get to Onigashima. He was also sure they would fail with Law imprisoned. However to his shock, he failed as he did not count on the attack of the Thousand Sunny being ineffective (due to being created by Adam Tree) and all people already made it out of the bridge, due to the misdirection by Kin'emon as well as Denjiro's manipulation. The alliance is also interested in taking down Orochi along with Kaido.
Abilities and Powers
As a Samurai retainer of Kozuki Oden and a member of the renowned Nine Red Scabbards, Kanjuro is a strong samurai who is treated as a legend in Wano. The Shogun of Wano, Orochi who has the backing of Kaido, takes the Nine Red Scabbards and their continued existence as the most potent threats to his rule when he previously dismissed CP0 as nothing to his governance with Kaido's backing.
While Kinemon initially implied that Kawamatsu, Ashura-Doji, and Denjiro were stronger than the other scabbards, Kanjuro was shown to be capable of clashing and repelling Kawamatsu using his oversized brush against Kawamatsu's sword. This moment indicates that he was hiding the full extent of his abilities all this time, as the uses of his Devil Fruit and physical abilities and tactics were far above what Kanjuro ever showed as a Scabbard.
Apparently he had very poor drawing skills being of very little help, but in reality he had great drawing skills, creating a clone of himself at the time of announcing his betrayal.
External Links