Jurassic World: Dominion Dominates Fandom Wikis - The Loop
Play Sound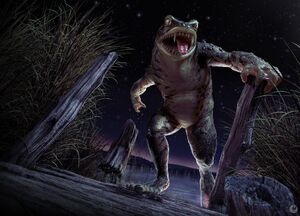 The Lake Monster is the secondary antagonist and titular monster of Scooby Doo! Curse of the Lake Monster. It is a giant human-sized frog creature with sharp fanged teeth.
It was voiced by Carey L. Jones.
History
The Lake Monster first appears when it wreaks havoc upon the club's opening night party. Scooby Doo and the gang decide to investigate a lighthouse keeper named Mr. Uggins, who was the only person to take a photo of the Lake Monster, in which he tells the gang a story about the Lake Monster: how when people were settling Erie Point, a old woman named Wanda Grubwort warned the villagers not to come onto her land. They paid no absolute attention to her, so she used her magical staff - which used moonstones as the source of her power - to turn a frog into a horrible monster that attacked the villagers. She was later tried for witchcraft and was burnt at the stake.
Velma shows the gang the footage of the Lake Monster meeting a mysterious figure at the beach. She trys to zoom in on the footage, but she destroys the footage by spilling her green tea on the computer. The gang finds Velma unconscious on the beach the next day. Shaggy then notices warts on Velma's hand. Later on, the gang drives to the home of the woman who is Wanda's descendant. They notice the mysterious figure in the window and, after a long chase in the house, unmask the figure, who is actually revealed to be a very warty Velma. However, she claims to not be Velma, and attacks the gang. The gang wakes up moments later, and learn the ghost of Wanda Grubwort has possessed Velma. The gang later arrives in a underwater cave, where the possessed Velma summons the Lake Monster's minions, but Shaggy bursts out of hiding and commands Velma to stop, and Wanda orders the Lake Monsters to attack the gang. Daphne and Fred, meanwhile, reach a dead end.
The Lake Monster's minions burst through the wall. At the same exact time, Shaggy tries to save Velma by singing her favorite song. Velma eventually joins in, and successfully manages to break free of Wanda's control. Wanda tries to grab ahold of her staff, but Scooby smashes the witch's staff, destroying the witch and turning the Lake Monster and its minions back into normal frogs.
Gallery

Villains