Obi-Wan Finale - The Loop
Play Sound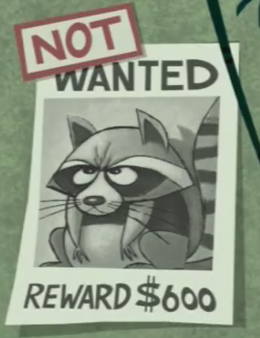 Larry Raccoon is a minor antagonist in My Gym Partner's a Monkey, only appearing in "Bad News Bear". He is a juvenile delinquent the first and only student to be expelled from Charles Darwin Middle School.
As Larry, he was voiced by Phil Lamarr, while as Ding Bang, he was voiced by Cree Summer.
Biography
In "Bad News Bear", Principal Pixiefrog informed Adam and Jake about an expelled student by the name, Larry Raccoon. He warned the duo that if they kept up their current antics, they'd end up like him. Little did he know, Larry tried sneaking his way back into the school, disguised as a panda bear student named "Ding Bang" He gave them both punishments as well. Adam's punishment was introducing the new foreign exchange student, "Ding Bang" to the school, while Jake filed for Mrs. Warthog.
Ding Bang caused lots of trouble, vandalizing school property and stealing things from other kids and Adam had to pick up after him. Ding Bang was also left unharmed since his species was labeled as endangered. This meant that every time Ding Bang messed with someone, they'd project all their anger onto Adam, resulting in him getting beaten up. The students eventually found a loophole in the "leaving Ding Bang unharmed" rule, and found out that he'd be in gym class, when they play dodgeball. A class where they were supposed to beat him with balls.
In gym, before the students could even start balling him, Jake came in through the fish tube and water splashed all over Ding Bang. It came to light that Ding Bang was actually Larry Raccoon, painted like a panda bear in disguise, and his plan of trying to get himself back into the school came out. Larry begged for a second chance at a decent education, but Principal Pixiefrog denied it. When they kids found out he was responsible for all the trouble he caused, everyone (including Adam), pelted him with dodgeballs, running him out of the school.
In "Pride and Pixiefrog", Larry made a background cameo as one of the students in line, helping Principal Pixiefrog construct his Memorial Colosseum. He was standing next to his disguised self, Ding Bang Panda.
Gallery
Trivia
Despite everything that was explained in "Bad News Bear", Larry was shown as an attending student again in "Pride and Pixiefrog". He was even standing next to Ding Bang, as a separate entity, in complete contradiction to the fact that Ding Bang was a fictional persona and that he was expelled.