| | | |
| --- | --- | --- |
| " | You do not want to see me get out of this chair! ERGO, OPEN YOUR YAPPER ONE MORE TIME AND I'M GONNA ARCHITECT A WORLD OF PAIN ALL OVER YOUR CANDY ASS! ERGO! VIS-A-VIS! | " |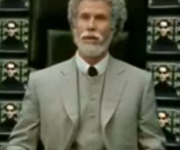 Larry the Architect is a Will Ferrell parody of the Matrix villain with the same name. He is the main antagonist of MTV Movie Awards Reloaded.
History
Larry the Architect created the Matrix and many video games such as Dig-Dug and Frogger. In the year 2003, Larry encounters Justin Timberlake, Seann William Scott and Neo. He wants Seann and Justin to be the hosts of the 2003 MTV Movie Awards instead of Neo. He keeps interrupting Neo angrily. He has a cat named Muffin.
Personality
Larry likes speaking affluently just for the fun of it.
Quotes
"Is there an echo in here?"
"Ergo, concordantly, vis-a-vis. You know what? I have no idea what the hell I'm saying. I just thought it would make me sound cool."
"You, my friend are completely pussy-whipped."
"Watch the sass, Captain Sassy Pants."
"No, YOU WON'T LET IT! I'M THE ONE WHO TALKS! Okay? MOUTH SHUT, EARS OPEN!"
"The door on your left leads Sissy-Boy back to his bitch."
"Go host the shit out of that show."
Trivia
Community content is available under
CC-BY-SA
unless otherwise noted.