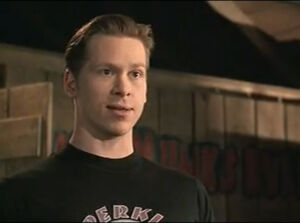 Lars is one of Tony Perkis' camp counselors and the secondary antagonist of the 1995 Disney film "Heavyweights".
He was portrayed by Tom Hodges.
Biography
Not much is known about Lars but he seems to be Austrian due to his accent. Though seemingly devoted to Tony, once the kids overthrow Tony, they leave Lars in the woods and one of the kids learned if Lars doesn't have a job, he'd get deported.
They ask Lars if he's with them or against them. Lars immediately switches sides and even joins the binge eating party. Once Pat takes over, he stays on as a camp counselor and truly seems to like Pat being in charge of the camp, even cheering with rest of the camp when Gerald wins the go-cart race.
He had a crush on Nurse Julie but accepts that she had feelings for Pat and even cheered when Pat and Julie kiss.