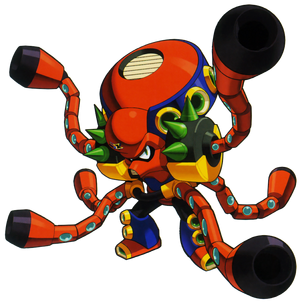 Launch Octopus (known in Japan as Launcher Octopuld) is one of the eight Maverick bosses from Mega Man X. He was a Maverick Hunter from the 6th Marine Unit under Sigma, following his revolt in order to perfect his battle strategies and achieve beauty in combat. His main weapon is the Homing Torpedo, in which he launches various piranha-like drones which home into his target. He can also create a whirlpool to pull the player, after which he grabs him and drains his health. His weakness is the Rolling Shield. The player can also use the Boomerang Cutter to cut his tentacles.
In Mega Man X5, it is revealed he was a friend/brother to Squid Adler, depending on the translation (in the initial English localization, his name is mistranslated as "Octopardo").
Gallery
Community content is available under
CC-BY-SA
unless otherwise noted.