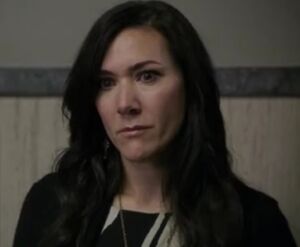 Lauren Matthews
is the main villainess from "Society Hill," episode 1.06 of 
Body of Proof
.
She was played by Nadia Dajani.
Lauren Matthews is a longtime employee for the Society Fair magazine, which had Daphne Zimmer as its editor. She worked for Daphne for 11 years, but she felt underappreciated due to the fact that she was competing with interns for a journalism award. Having had enough, Lauren went to Daphne's home and confronted her, only for Daphne to eject her and even fire her. This led to a fight between the two women, which included Lauren shoving Daphne into her pool—with a lock of her hair falling off into the pool during the struggle. Shortly afterwards, Lauren picked up Daphne's space heater and tossed it into the pool, killing Daphne via electrocution. After the murder, the villainess unplugged the heater to cover her tracks, and was shocked while doing so, leaving a burn on her right wrist.
Two days after the murder, the evil Lauren figured that she had covered everything, but the lock of hair was still in the pool, and that led to Lauren being revealed as Daphne's killer. Megan Hunt entered Detective Morris' interrogation of Lauren and pointed out her burn on her wrist, whlch was followed by Megan uncovering Lauren's role in Daphne's death. Lauren confessed to the murder, stating that she went to Daphne's home to complain, and that she was fired afterwards. Following this, Lauren was arrested by Morris.
Community content is available under
CC-BY-SA
unless otherwise noted.