This article's content is marked as Mature
The page Mature contains mature content that may include coarse language, sexual references, and/or graphic violent images which may be disturbing to some. Mature pages are recommended for those who are 18 years of age and older.


If you are 18 years or older or are comfortable with graphic material, you are free to view this page. Otherwise, you should close this page and view another page.
| | | |
| --- | --- | --- |
| " | It's my first time, so just bear with me. | " |
| | ~ Laurie before killing Steven. | |
Laurie is a major antagonist in the 2007 horror film Trick 'r Treat.
She is a young woman who, along with her sister Danielle and her friends Maria and Janet, tricks and lures men to their deaths on Halloween night, as they are all werewolves.
She was portrayed by Anna Paquin.
Biography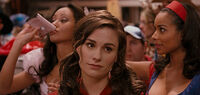 At the beginning of the film Laurie is is shy and self-conscious. Her older sister, Danielle, tries to boost her confidence by taking her to a Halloween party with two of her friends Janet and Maria. The girls all dress in fairy tale costumes and Laurie ends up as Little Red Riding Hood, a choice she despises though her sister tells her "it's tradition". They walk through town on the way to the party picking up dates but Laurie is disappointed and discouraged. She opts to meet the girls at the party later.
Meanwhile, a young woman makes out with a masked man in an alley. He affectionately kisses her neck but, when she looks down, she sees blood running down her body. The man smiles, revealing blood on his fangs.
The woman screams and makes her way to the street where the people are gathered for the parade. A couple walks by, but ignores her, thinking she's just another drunk party-goer covered in make-up blood. The woman turns around to see the vampire standing behind her and screams as he swings his cloak around her. He leaves her dead body on the sidewalk leaning against a building, as if she's merely passed out, and walks away.
At the bonfire party in the woods, Danielle stands alone worrying about Laurie. Janet assures her that Laurie's fine but Danielle wonders, saying that their mother "always said Laurie was the runt of the litter". As Laurie walks down a dimly lit path in the woods, she senses someone is following her and shouts out that she's not in the mood and they'd better come out. When no one responds, she turns and comes face to face with the vampire.
He grabs her by the neck and holds her against a tree, saying, "My, my, what big eyes you have", before biting her neck. At the party, the girls are startled when a cloaked body falls out of a tree near the fire. Danielle nervously approaches the body and removes the cloak to see the vampire, bleeding and begging for help. His mask is removed and Steven Wilkins blinks in the fire light, whimpering.
Laurie appears and assures everyone she's ok, despite the blood oozing from her neck. She approaches Wilkins and straddles him, telling him to bear with her since it's her first time. The other girls start to dance as Wilkins looks around in shock to see that all of their dates are dead. Laurie unbuttons his shirt as the girls rip off their skin, revealing coarse fur and lupine fangs. Laurie begins to change herself and leans down to Wilkins to whisper "My, my, what big eyes you have" before lunging into Wilkins' neck. The other werewolves finish the remains of their dates, howling at the moon. Sam is seen watching.
She is later on seen in the film for the last time when the girls laugh as they almost hit Rhonda on the road.
Personality
At first, Laurie is shown to be an insecure, anxious and vulnerable young woman who fears sexuality and men in general. However, she is in actuality a cunning and bloodthirsty werewolf, as she deliberately lured Wilkins into her stalking her into the woods, so she could transform into a werewolf and kill and devour him, losing her "virginity".
Gallery
Trivia
She is shown wearing a 'Little Red-Riding Hood' costume throughout the film, which is darkly ironic since Laurie herself is a werewolf.
Villains

Villains
Animated Features
Stan Beals | Wasps
Live-Action Films
Ra's al Ghul | League of Shadows (Ra's Decoy) | Scarecrow | Carmine Falcone | Victor Zsasz | Arnold Flass | Joe Chill | Lex Luthor | Scrunt | German Drinking Team | Cherry | Xerxes | Theron | Ephialtes | The Immortals | Joker | Joker's Thugs (Thomas Schiff, Chuckles, Kilson, Happy, Dopey, Grumpy & Bus Driver) | Two-Face | Sal Maroni | The Chechen | Gambol | Lau | Bank Manager | Michael Wuertz | Burmese Bandit | Rorschach | Ozymandias | The Comedian | Doctor Manhattan | Moloch | The Flasher | Leslie Chow | Officer Franklin and Officer Garden | Melissa | Sam | Steven Wilkins | Mr. Kreeg | Laurie | Macy | Lord Ozunu | Takeshi | Hades | Acrisius | Medusa | Charon | Prokopion | Dioskilos | Kraken | Quentin Turnbull | Burke | Mal Cobb | Blue Jones | Kingsley | Russian mobsters | Kronos | Ares | Cyclopes | Makhai | Minotaur | Bane | Talia al Ghul | Barsad | Catwoman | John Daggett | General Fallon | The Giants | Lord Roderick | Wickie | Marshall | Black Doug | Precursors | Kaiju (Trespasser, Knifehead, Mutavore, Otachi, Leatherback, Raiju, Scunner & Slattern) | Artemisia | Artaphernes | M.U.T.O. | Satan | Mehmed II | Master Vampire | Dr. Mann | Mother Malkin | Mutsushiro Watanabe | Elias Kassar | General Lyons | Indominus rex | Vic Hoskins | Henry Wu | Lady Lucille Sharpe | Krampus | Krampus' Elves | Krampus' Toys | Krampus' Gingerbread Men | Gul'dan | The Horde (Blackhand the Destroyer & Orgrim Doomhammer) | Dean Redding | Tao Tei (Tao Tei Queen) | Skullcrawlers (Skull Devil) | Preston Packard | Eli Mills | Ken Wheatley | Gunnar Eversol | Kores Botha | Xia | Ku Klux Klan (David Duke, Felix Kendrickson, Walter Breachway, Ivanhoe & Nelson Walker) | Andy Landers | Connie Kendrickson | Kennebrew Beauregard | Howard Clifford | Ditto | Sebastian | Ann Laurent | King Ghidorah | Alan Jonah | Rodan | Asher Jonah | Emma Russell | Mechagodzilla | Apex Cybernetics (Walter Simmons, Ren Serizawa & Maia Simmons) | Baron Vladimir Harkonnen | Count Glossu Rabban | John Hartley | Nolan Booth | Sarah Black | Sotto Voce | Leatherface
See Also
Amblin Entertainment Villains | Batman Villains | Blumhouse Productions Villains | Christopher Nolan Villains | DC Extended Universe Villains | Dead Rising Villains | Dracula Villains | Dune Villains | Godzilla Villains | Jurassic Park Villains | King Kong Villains | MonsterVerse Villains | Netflix Villains | New Line Cinema Villains | Paramount Villains | Pokémon Villains | Superman Villains | Texas Chainsaw Massacre Villains | The Hangover Villains | The Toxic Avengers Villains | Universal Studios Villains | Warcraft Villains | Warner Bros. Villains | Watchmen Villains