Lawrence Murphy is the main villain of the 1970 western, Chisum. He was played by Forrest Tucker.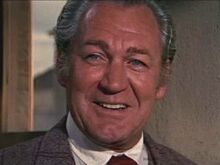 A rival land baron to good guy, John Chisum, and is willing to do whatever it takes to get control over the law and trade and territory of Lincoln County, New Mexico. As a land developer as well, he gathers a monopoly by buying every store and property he can get. Also he makes the prices higher and establishes the sheriff and deputies of the county. Murphy tries to take in an attorney, Alexander McSween, who later looks for work for Chisum and other righteous character, Tunstall, because of Murphy's selfish plans and personality.
Murphy then sends men of his to steal Chisum's cattle before he can sell them to the army. Chisum and the other heroes are able to ruin Murphy's plan. Murphy says a reason to his lackeys that taking of Chisum is he respects the law and around there Murphy owns it. Tunstall decides to go to Santa Fe to talk to and see Gov. Sam Axtell as he's had enough of Murphy but on his trip he's stopped and killed by Murphy's henchmen.
Chisum and the other heroes find Murphy's deputies and take them to town trial but Billy The Kid comes and shoots and destroys the deputies and then the sheriff. Then Murphy appoints new lawman Dan Nodeen and orders him to get Billy The Kid. Chisum then says if Murphy attempts to cross his land or cows again he's coming to see him Murphy replies this as a threat but Chisum punches and corrects him that it's a fact.
When Billy The Kid and his gang go to McSween's store to get dynamite so they can take Murphy's bank, McSween's wife rides to Chisum and lets him know of what is happening. Chisum goes to Murphy and engages in a fight with him one on one, which results with both guys falling off a balcony and Murphy gets himself pierced on steer horns that kill him.