Wiki Targeted (Entertainment)
Play Sound
This article's content is marked as Mature
The page Mature contains mature content that may include coarse language, sexual references, and/or graphic violent images which may be disturbing to some. Mature pages are recommended for those who are 18 years of age and older.


If you are 18 years or older or are comfortable with graphic material, you are free to view this page. Otherwise, you should close this page and view another page.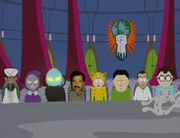 The Legion of Doom are a group of villains in the ComedyCentral television series South Park. They are a group of villains who antagonise the heroes on different occasions. They are a direct parody of the group of the same name from DC Comics.
There are two different versions of the Legion, the first one was led by Christopher Reeve and made up of various villains featured in the TV series, in real life, and in Marvel and DC Comics comic books, while the other version is led by Tom Cruise, and made up of various celebrities who were ridiculed by South Park.
History
The Legion of Doom was first formed in the episode Krazy Kripples, where Christopher Reeve formed the Legion, with their base being in the Swamp behind Christopher's Colorado vacation home. They planned to prevent Gene Hackman from getting his laws passed to put an end to his baby fetus-eating habit. The stem cells kept Christopher fit by reversing the effects caused by his paralysis, but despite this, Hackman suceeded in getting some laws passed and banished Christopher to the Phantom Zone.
A second version of the Legion of Doom later appeared in the episodes 200 and 201. In this two-parter, Tom Cruise gathers 199 other angry and annoyed celebrities whom the town of South Park had attacked/insulted in the past. Their goal is to file a lawsuit against South Park for all of the trouble they caused for them in the past. The Legion of Doom later forms an alliance with the Ginger Separatist Movement to share their resources. The Legion then put into place a plan to abduct Muhammad, the holy Prophet of Muslim faith, and utilise his power to free themselves of libel and slander. The Legion's plan, however, was foiled by the Super Best Friends, and all of the celebrities went back to their normal jobs.
Members
Christopher Reeve (1st Leader)
Tom Cruise (2nd Leader)
General Disarray 
Kim Jong-Il
Al Gore
Angelina Jolie
Barry Bonds
Ben Affleck
Bill Clinton
Bill Cosby
Billy Bob Thornton
Bob Saget
Bono
Brian Boitano
Brian Dennehy
Britney Spears
Brooke Shields
Charlie Sheen
Christopher Reeve
David Duchovny
David Letterman
Eric Roberts
Francis Ford Coppola
Fred Savage
Gary Condit
George Lucas
Harold Lloyd
Hillary Clinton
Indiana Jones
Jesse Jackson
Jimmy Buffett
John Edward
John Travolta
Johnnie Cochran
Kanye West
Kathie Lee Gifford
Kurt Russell
Lars Ulrich
Liza Minnelli
M. Night Shyamalan
Martha Stewart
Michael Bay
Michael Douglas
Michael Jackson
Michael Richards
Norman Wisdom
O.J. Simpson
Oprah Winfrey
Paris Hilton
Paul Watson
Pope Benedict XVI
Rob Schneider
Robert Redford
Rod Stewart
Rosie O'Donnell
Russell Crowe
Sarah Jessica Parker
Steve Irwin
Steven Spielberg
Sylvester Stallone
Tiger Woods
Tim Burton
Tina Yothers
Winona Ryder
Trivia
The only members to be on both iterations of the Legion of Doom are Osama bin Laden and David Blaine.
Just as the Super Best Friends were meant to be a homage to the Super Friends, the second iteration was referred to as the Legion of Doom to go with the homage. In addition, series creators Trey Parker and Matt Stone revealed in an interview, that when referring to the episode 200, they used the term "Legion of Doom".