Jurassic World: Dominion Dominates Fandom Wikis - The Loop
Play Sound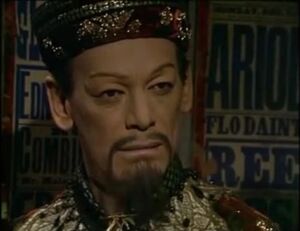 Li H'sen Chang is the secondary antagonist of the Doctor Who story The Talons of Weng-Chiang.
He was portrayed by the late John Bennett, who also played General Finch in Invasion of the Dinosaurs.
Biography
Li H'sen Chang was a Chinese peasant who witnessed the arrival of Magnus Greel from the future. Apparently believing Greel to be the god Weng-Chiang, Chang took him in and nursed him from the injuries he had sustained during his journey. Greel's time cabinet was taken by Chinese soldiers and given as a gift to an English diplomat. Greel urged Chang to help him recover it. He gave Chang mental powers which included hypnotism and a limited amount of mind-reading ability. He became the leader of Weng-Chiang's worshippers, the Tong of the Black Scorpion, and led them to London.
As cover while he and Greel searched the city, Chang began working as a stage magician at the Palace Theatre. He also used this as cover to kidnap girls and young women whose life essence Greel needed to drain in order to stay alive. Chang was assisted by the automaton Mr. Sin, who posed as his ventriloquist dummy. Chang had Sin kill Joseph Buller, the husband of one of his victims. The Doctor and Leela managed to capture the Tong and Chang encountered them when going to the police station, supposedly as an interrogator but in fact to slip the man a suicide pill.
Leela managed to substitute herself for one of the women Chang selected as donors for Greel, earning Chang Greel's wrath. Chang made a failed attempt to recover the time cabinet after it was discovered in the possession of Professor Litefoot and became more and more out of favour with Greel. When the Doctor turned up at the theatre, Chang made plans to kill him on stage, but instead the vengeful Greel humiliated him by making it look as though one of his tricks had killed the doorman, Casey.
Chang discovered that Greel had abandoned his base underneath the theatre. He fled into the sewers but was attacked and mauled by one of the giant rats he and Greel had left to guard the base, with his leg being chewed. Badly injured, he crawled to the Tong headquarters hoping to avenge himself on Greel but found it deserted. He was discovered there by the Doctor and Leela, and warned them Greel was at the Palace of the Dragon before dying of his wounds.
Trivia
Chang is portrayed by a white actor under "yellowface" makeup, an outdated and generally considered offensive practice. However, it was common at the time and also used with other Doctor Who villains such as Tegana and Mavic Chen.
The novel The Shadow of Weng-Chiang features Chang's daughter Hsien-Ko, who is still young in the 1930s as a result of absorbing energy from Greel's time cabinet.