Spider-Man: No Way Home Trailer Dropped - The Loop
Play Sound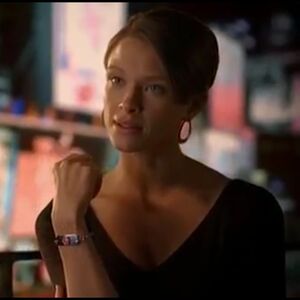 Lia Ramsey is the main antagonist from "Buzzkill", episode 4.08 of CSI: NY.
She was portrayed by Scottie Thompson.
History
Lia Ramsey is a model and the business partner of ad executive Damien Barnes, but as later revealed, Lia had secretly harbored resentment towards Damien. She had cooked up an idea for the party that took place in the beginning of the episode, which was centered around the martini mix campaign. One night before Lia was set to pitch the idea, Damien took the company's CEO to a strip club and took full credit for Lia's vision, and believing that her career was ruined because of her partner, Lia planned to kill Damien out of revenge.
Lia's plan involved filling a beach ball with sea water and inserting a jellyfish inside, and then cutting a slit on the ball so the jellyfish could escape and kill Damien with its toxic. After setting up her makeshift weapon, the scheming villainess tossed the ball to Damien so he could inflate it, but the jellyfish didn't escape until the ball was tossed around during the party and ended up in the hands of model Jenna Donovan, who ended up killed once the jellyfish made contact with her.
Jenna was believed to be the main target, with many different suspects in her murder, but it was in the episode's climax that Stella Bonasera and Lindsay Monroe discovered the jellyfish, and the female DNA led them to Lia in the episode's final scenes. When Damien stated that Lia tossed the ball to him, Stella deduced that Damien, not Jenna, was Lia's true target. Damien asked Lia why she would attempt to kill him, and in response to his question, the evil Lia snarled at Damien for stealing her idea for the parties, claiming that he ruined her career. Lia stated that she did not know that the jellyfish would harm anyone else. At the end of the episode, Stella then handcuffed and arrested Lia for Jenna's murder, as well as the attempt to kill Damien.