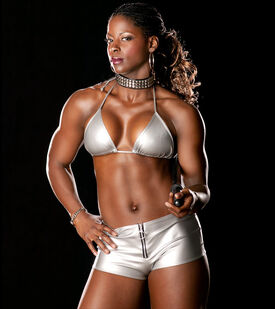 Linda Miles is a retired professional wrestler and valet best known for her tenure in WWE. She and Jackie Gayda won the second season of Tough Enough in 2002, but she's more commonly known for portraying a villainess under the name Shaniqua.
Linda briefly began her WWE career as a babyface after winning Tough Enough in 2002 and quickly engaged in a feud with the show's evil trainer, Ivory. It turned into a feud with both Ivory and co-winner Jackie Gayda after Jackie became a villainess and caused Linda to lose to Ivory. Their feud ended abruptly when both women were sent down to developmental.
It was in 2003 that Linda returned to WWE as a villainess, doing so as Shaniqua, the dominatrix-like manager for the Basham Brothers. She also re-inserted herself into the Divas Division, attacking Divas such as Torrie Wilson, Dawn Marie, and Nidia. A week later, the evil Shaniqua defeated Torrie and Nidia in a handicap match, and attacked fellow villainess Dawn Marie after her victory. Shaniqua's most memorable moment came when she was on the receiving end of a Clothesline From Hell from Bradshaw after she interfered on behalf of the Bashams against the APA. She returned with enhanced breasts and claimed that Bradshaw's clothesline caused permanent swelling. Shaniqua continued managing the Bashams until early 2004, when she was released from WWE.
Regarding her personality, Shaniqua was portrayed as a monster heel in the Divas Division, using her height (6 feet even) and strength to bully and destroy the other Divas.
Community content is available under
CC-BY-SA
unless otherwise noted.