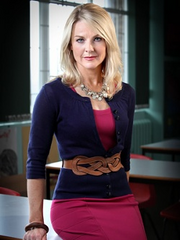 Linda Radleigh
is a former character from the BBC drama series
Waterloo Road
. Originally shown as a heroine, coming to be head of English and helping her old friend Michael Byrne out, her loneliness and jealousy causes her to start stalking and harassing him and eventually running him over.
She was portrayed by Sarah Hadland.
Role in the series
Linda first came to Waterloo Road in series 7 episode 13, as the new head of the English department. She was shown to be friendly, witty, intelligent and a good friend for Emily James when she discovered her sister, after being released from prison, had left without seeing her family. Her implied attraction towards the head, Michael, whom she knows of old, at first seems innocent enough, but after a one-night stand, which Michael refuses to take any further, and after Michael starts seeing Sian Diamond, things begin to take a more serious turn, starting with Linda keying Michael's car and later denying it, and then stalking him and sending him death threats. Michael rebukes her like she were a child when he discovers its her, leading her to run him over.
In the first episode of the summer term, Linda acts intimate with maths teacher Daniel Chalk, only to disguise the fact that she ran Michael over (Michael cannot remember a thing from the incident). Her alibi is that she had a new tire fitted that day, but Chalky discovers this to be false. She spins a story about Michael attempting to rape her in defense for her actions. When Chalky confronts Michael about this, the whole story soon comes out, and Linda is arrested for attempted murder, still screaming at Michael that she loves him.
Personality
Linda is not immediately dangerous, being a good teacher and friend to the pupils. But when she feels personally under attack, things begin to change. Linda is absurdly jealous when Michael and Sian get together (made doubly humiliating by the fact that Sian is already married) and her actions against him escalate to the point where she runs him over. It seems this act turns her into a more sinister individual in other ways, lying and using Daniel Chalk. When he accuses her of this, she simply replies, in disgust, 'As if I would fall for you!'
Community content is available under
CC-BY-SA
unless otherwise noted.